Posted by Sam Mallery on Feb 17th 2023
There are many benefits to shooting portraits with continuous LED lighting, like immediately seeing how the shadows fall and what your image is going to look like in real time. Transitioning between shooting stills and video without needing to adjust the lighting is another huge plus. The video below is by Jonny Edward, an accomplished editorial and fashion photographer, art director, and creative educator, and it's filled with useful tips for using continuous lights for photography. Here are some key takeaways from Jonny's video...
Try Large and Soft Light Sources
The first setup in Jonny's video features a textured, hand-painted background and a single large and soft light source. The light he's using is the Nanlite FS-300B, which is powerful, accurate, versatile, durably built, and best of all affordably priced. He's also using the Nanlite Para 120 Quick-Open Softbox. This combination provides a large light source that evenly throws attractive, soft light across his model and her dress. This is a classic look, and definitely worth trying because it's relatively easy to set up with just a single light to adjust.
Use a Hair Light and Avoid Hard Shadows
For his second setup Jonny mounts his FS-300B overhead and uses the Nanlite LT-80 Lantern Softbox, which casts smooth, soft light in all directions. This is also an amazing type of modifier to use above tables and desks when lighting one or more people. Because the light is evenly dispersed, Jonny uses a second fixture as a hair light to make the subject stand out from the background, giving the portrait more depth and dynamics. The light Jonny uses for this is the remarkably affordable Nanlite FS-60B.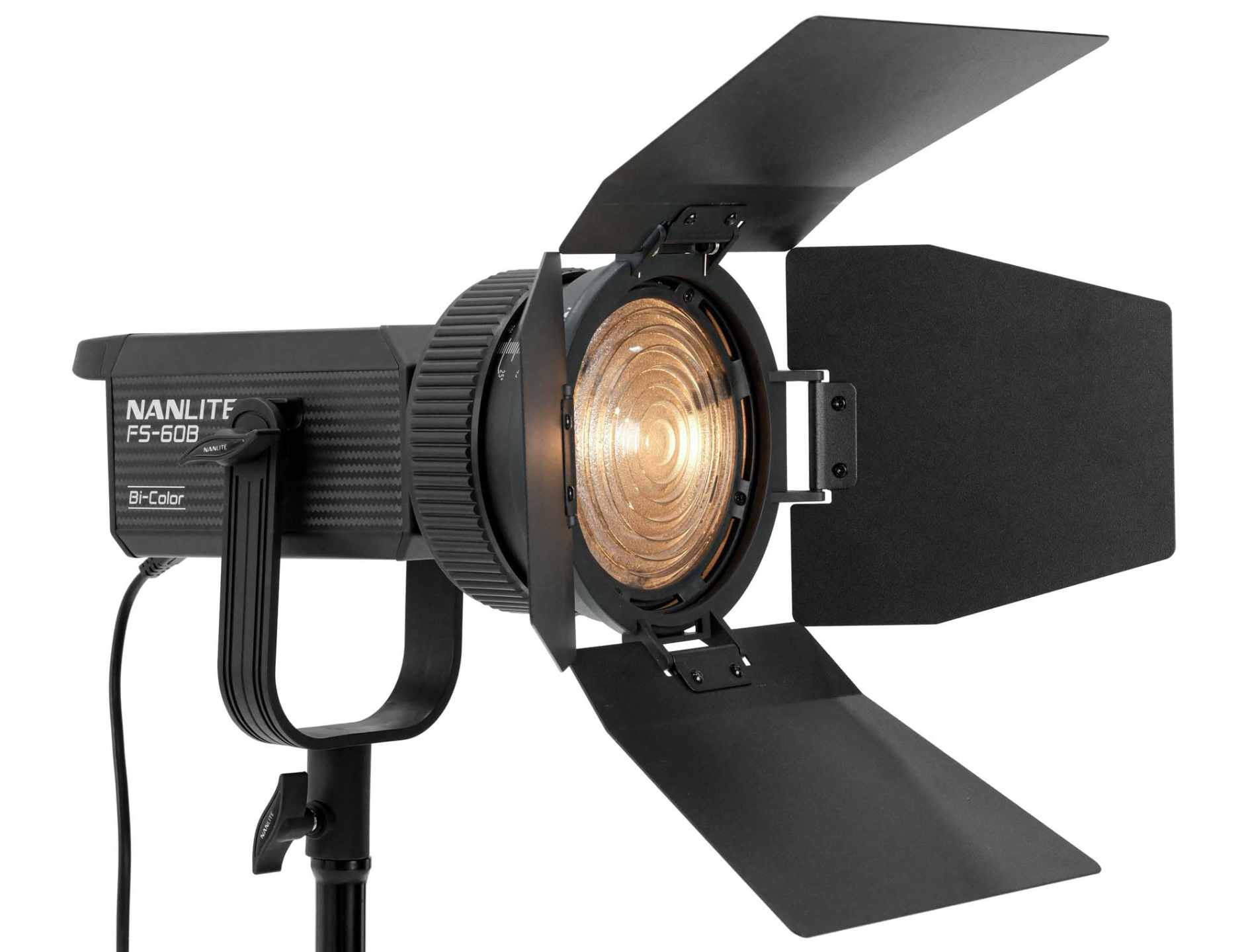 The modifier on the FS-60B is the Nanlite FL-11 Fresnel Lens, which comes with removable metal barn doors. Jonny uses these to concentrate the light on the model's hair, and avoid it spilling elsewhere. This creates the dynamic effect, but one thing to look out for are hard shadows that can potentially appear on the subject's face if they turn their head. Hard shadows can look interesting and compelling in certain situations, but in this case it was a look with avoiding.
Experiment with Light Modifier Placement
One of Johnny's biggest tips is to always remember to experiment. Try something new each time you shoot so you can keep growing as a photographer and an artist. In the video Jonny positions the FS-300B with the Para 120 Softbox behind the top edge of a red backdrop to mimic the look of the sun on the horizon. Then he takes matters a step further and tries something he's never done before: he uses the softbox as the background.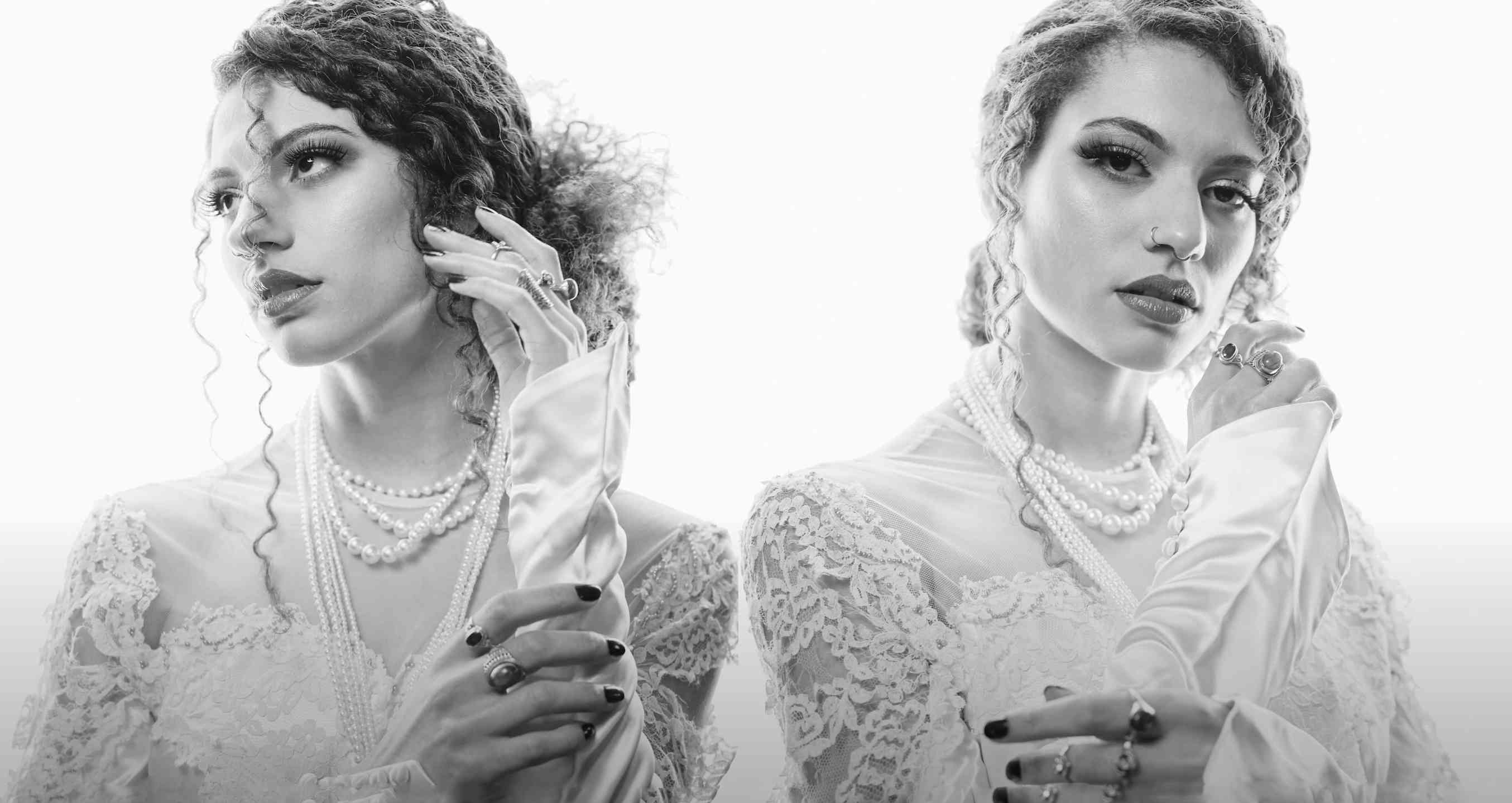 For both of these setups he uses the FS-60B in the ultra-compact and portable Nanlite Forza Softbox with FM Mount. To keep the light from spilling on surrounding objects, he uses the separately available Nanlite Forza Eggcrate for SBFMM60. Grids like this really help your subjects stand out from the background, and they're always worth experimenting with if you have them.
Shape Light with Projection Attachments
The last tip the Jonny shares is to explore the creative possibilities of projection attachments. These are advanced optical accessories that attach to the front of compatible spotlights. They add a substantial lens and focusing system to the attached light that not only greatly increases the output of the light, but also lets you shape the light in powerful ways.
In the video Jonny attaches the Nanlite PJ-FMM with 36° Lens to his FS-60B. He inserts a gobo, which projects a pattern onto the model, and then he blurs the focus so the projection appears as a soft dapple of shadow and light. The PJ-FMM Projection Attachments are compact, lightweight, and affordable, and they're compatible with Nanlite fixtures that have the compact FM Mount, like the FS-60B, Forza 60B II, Forza 60C, Forza 150 and more. Nanlite also makes a similar projection attachment for Bowens Mount lights, which is called the Nanlite PJ-BM.
Thanks for checking out this Nanlite tutorial video and blog post. We sincerely hope they were helpful!