Posted by Sam Mallery on Nov 2nd 2023
The Nanlite FC-300B and FC-500B spotlights were just launched a short time ago, and we're already releasing new firmware that adds these powerful new features:
You will now be able to update the firmware using just the NANLINK mobile app.
It optimizes the Bluetooth APP control protocol.
Optimizes the lighting data storage mechanism.
The first item on the list is the one we're excited about. After this, the next time you want to update the firmware, you can leave your USB jump drives in the drawer and carry out the entire process through Bluetooth using the free NANLINK app. This is an exciting new capability, and a clear sign that we're always hard at work improving your experience.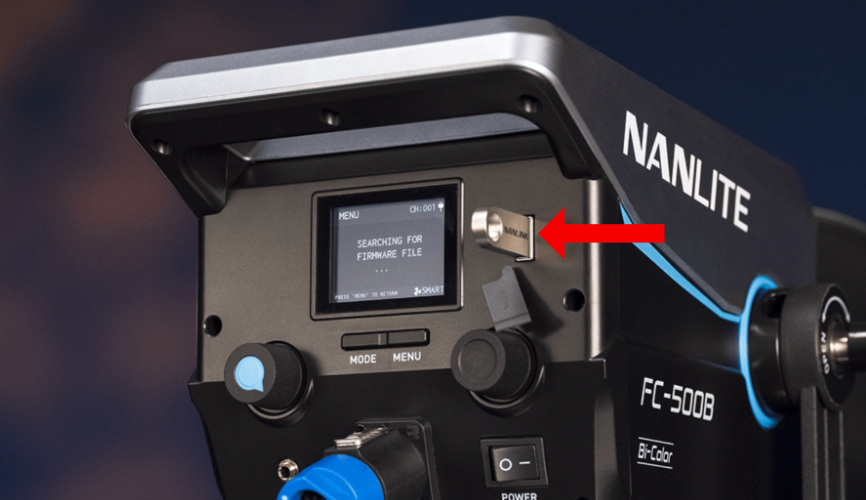 How to update the firmware of the Nanlite FC-300B & FC-500B
Like we said, the next time you need to update the firmware, a USB jump drive won't be necessary, but this time it will be. Both the FC-300B and FC-500B have USB-A ports. They're located to the right of the screens. This is what you need to do:
Get a USB-A jump drive (also referred to as flash drives) and erase it so it's completely blank, and when you do this, reformat it to either FAT or FAT 32 (if possible).
Download the firmware file and load it onto your USB-A drive (the link to download the firmware is provided below)
With your FC-Series light turned off, plug the drive into its USB-A port and then turn it on
Press the MENU button and with the right dial scroll down to FIRMWARE UPDATE and press the button in to select it
The screen will say "SEARCHING FOR FIRMWARE FILE...", then it will show "Found Firmware V1.01.02"
Turn the knob to highlight the word "UPDATE"
When "UPDATE" is highlighted, press the knob in to select it
The screen will show "UPDATING FIRMWARE" for a short time, then you will be done!
This link has the firmware downloads for both the FC-300B and FC-500B:
https://www.nanlite.com/service-productDetail?type...
When we said we provide USB ports on our products so you can update the firmware in the future to get new features and capabilities, this is what we were talking about. We hope you're enjoying your new FC-Series lights, and we appreciate you for choosing Nanlite!