Posted by Sam Mallery on Nov 2nd 2021
People love the Nanlite Forza 60 and 60B LED monolights because they provide an impressive amount of light in an ultracompact and lightweight package, but what if a light offered similar benefits for size and weight, yet provided twice as much output? This is exactly what you get with the new Nanlite Forza 150, which we are proudly announcing today!
The body of the new Forza 150 is a little bit larger than the 60 and 60B, but it's also smaller than the Forza 200, so it fills in the gap between these lights nicely. Even though it's got more power, the Forza 150 is a closer sibling to the Forza 60 and 60B, and one obvious shared feature is the one-sided yoke, which is easy to position and lock into place.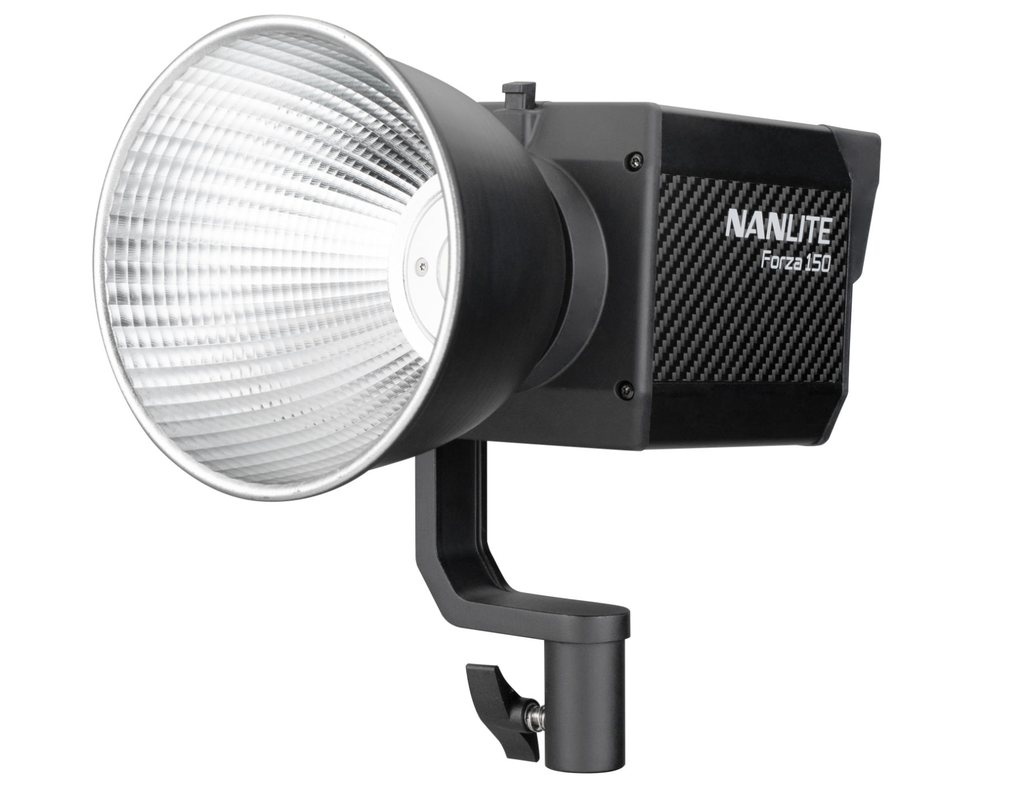 Like the Forza 60 and 60B, the new Forza 150 has the compact yet versatile FM Mount. A Bowens-Mount adapter is included, and it fits inside the provided travel case so you can use the Forza 150 with a vast number of light-shaping tools right out of the box. But the FM Mount is there for a reason.
When you need to keep your production kit as small and lightweight as possible, the FM Mount helps you save space. The mount itself is smaller, which enables the body of the light to be more compact than a light with a built-in Bowens mount. Nanlite provides a wide variety of modifiers and lenses that feature the FM Mount, and they maintain a more compact form as well.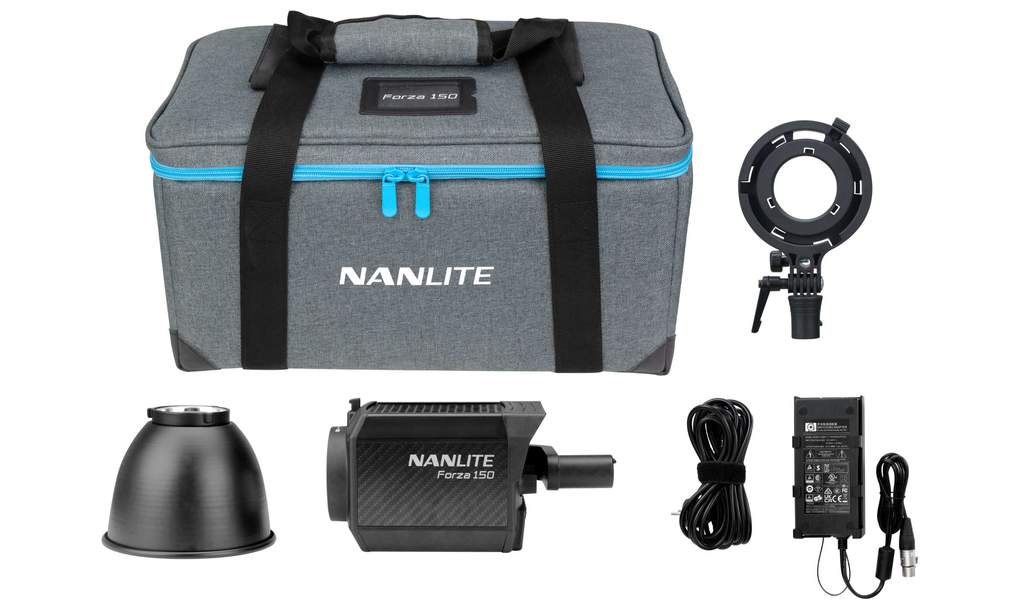 A Travel-Ready Photo & Video LED Light with Punch
Weighing only 3 lbs (1.36 kg), the Forza 150 outputs a beefy 27,960 Lux (2,587.5 fc) of 5600K daylight-balanced light at 1 meter when using the included reflector. Attach the separately available FL-11 fresnel lens (which features the FM Mount) and the output jumps up to a truly impressive 69,200 Lux (6,429 fc). Every Nanlite fixture provides highly-accurate color rendering, and the new Forza 150 is no different with a CRI of 96 and TLCI of 98.
Nanlite works hard to provide multiple control options for its products, which is why there are numerous ways to control the new Forza 150. It features built-in Bluetooth so you can control it directly with the NANLINK mobile app. It also has built-in 2.4G which lets you control the Forza 150 with the separately available WS-RC-C2 remote control, and when you need to do more elaborate lighting setups, 2.4G allows you to control the Forza 150 with the NANLINK app through the WS-TB-1 Transmitter Box. This option gives you in-depth, rock-solid control of large numbers of lights.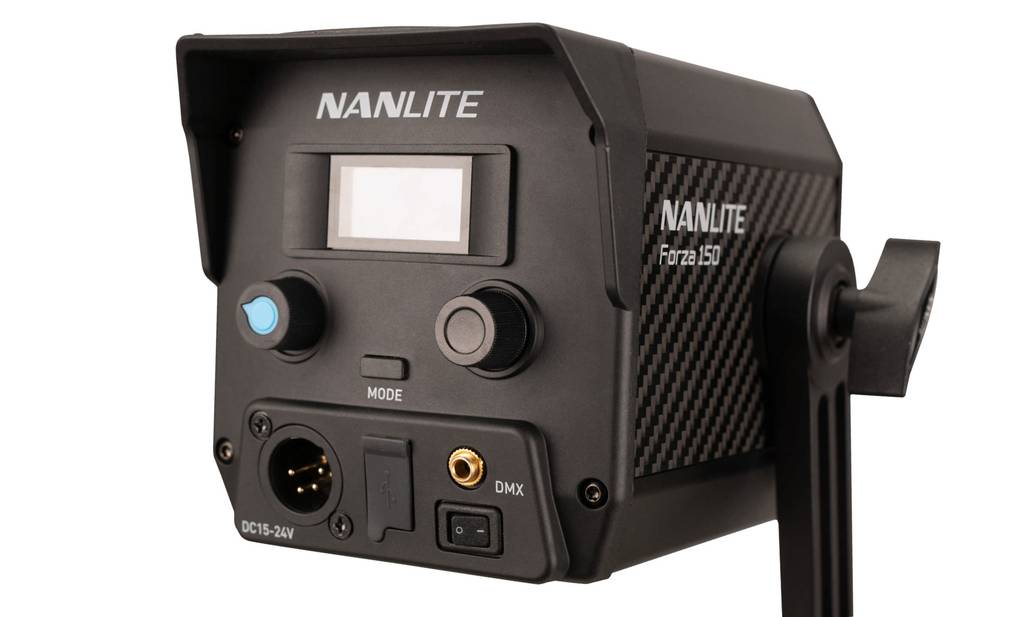 The back of the new Forza 150 reveals some of the ways this instrument is different from the 60 and 60B. In addition to the two push-button knobs and display, the Forza 150 also has a Mode button that will help you quickly find what you need. The power connector is a locking-XLR, which will prevent the light from accidentally losing electricity when in use. A USB port is onboard for future firmware updates, and a DMX connector opens up a world of possibilities for control.
All Nanlite Forza lights have the ability to be plugged into AC with their included power adapters, but you can also run these lights on batteries when you're working in the field. This is also true of the Forza 150, which can be powered from an AC outlet or with a separately available V-Mount battery.
There's a lot more to love about this new monolight, such as its 11 built-in effects, 0 to 100% dimming, standard 5/8" mount, and more. You can get ultra-creative by using it with a separately available Forza FM Mount Projector, and create beautiful, enveloping light with a separately available FM Mount Softbox. And don't forget that a Bowens-Mount adapter is included, making the Forza 150 compatible with an enormous amount of light modifiers.
We're excited to add this new and powerful member to the Forza family of premium-quality yet affordable LED monolights! Thanks for checking out this post. If you have any questions about the new Nanlite Forza 150, please contact us and we'll respond as soon as we can.