Posted by Sam Mallery on Mar 23rd 2022
We're excited to announce the new Nanlite PavoBulb 10C, an LED light bulb designed for creative production that produces highly accurate light in warm CCT tones, daylight-balanced light, and 36,000 different colors. It has 15 fully customizable effects, multiple control options, and it's compatible with a wide range of external batteries, making it prepared for the longest of shoots. PavoBulb can be screwed into any standard E27 lamp, which is the most common bulb socket size, but this isn't just a light bulb — PavoBulb is a complete platform for practical in-frame lights. Nanlite thought of every common need professionals have and delivered a ready-made solution with PavoBulb.
What is the Nanlite PavoTube 10C?
The PavoBulb 10C is a light bulb that transforms regular table lamps and other kinds of common fixtures into on-screen lights that you have complete control over. You can quickly dial in the exact color temperature, brightness, hue or effect that you need for your shot. If you're at a location where you can easily run AC power to these lights, PavoBulb gets all the power it needs that way. If it's inconvenient or impossible to plug a lamp into AC, PavoBulb features a USB-C port that's compatible with a wide range of external batteries, such as the popular powerbank batteries that are used to charge smartphones on-the-go.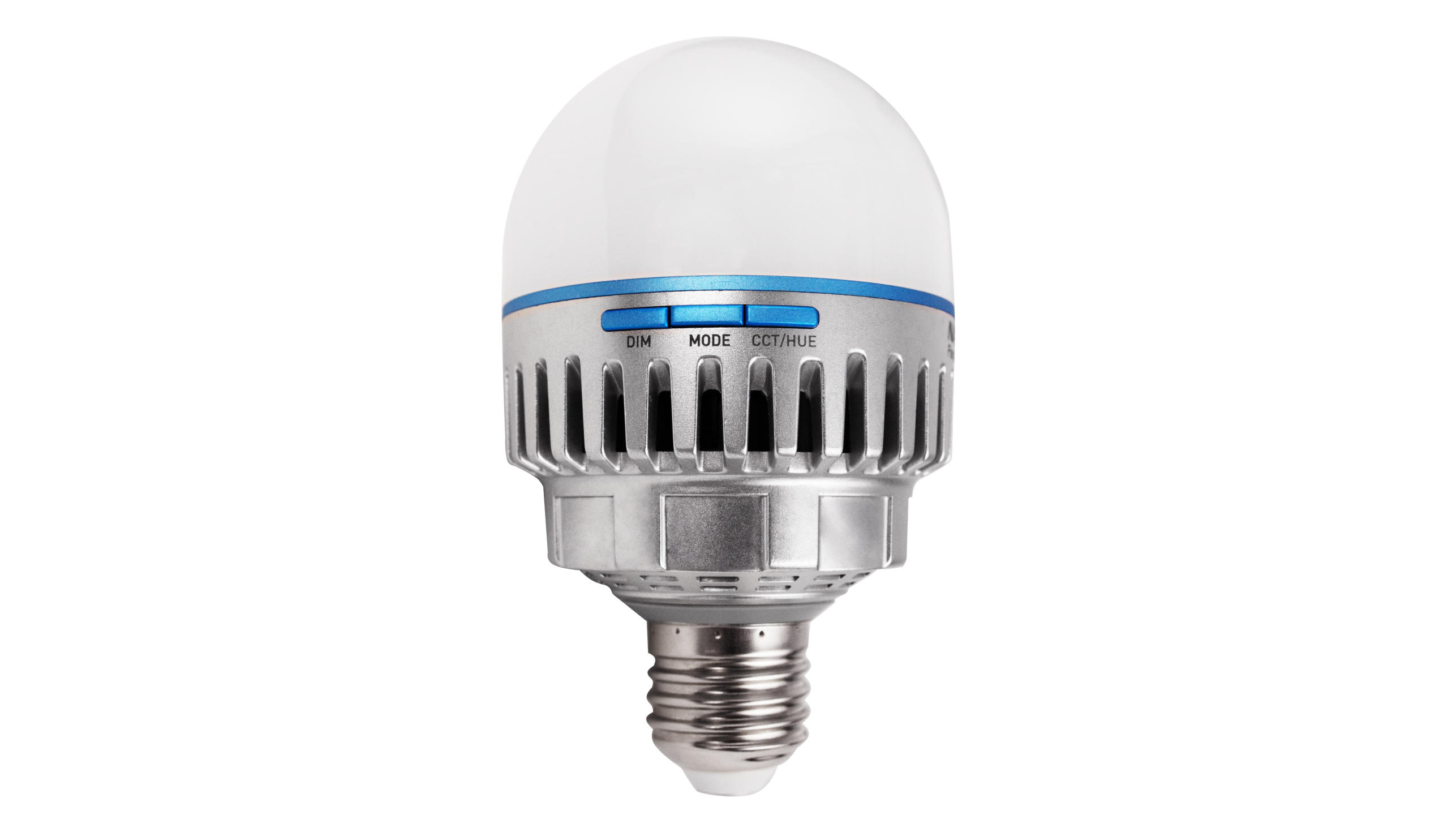 There are many situations where there are no fixtures like table lamps in a scene, but there are other types of practical lights, and PavoBulb can be used as these lights as well. For example, a storyboard panel may have an exterior shot of a street screen that features a pole with a light on it, and your chosen location has a pole but no light. PavoBulb can be that light. Or, imagine a long hallway shot that would come alive on screen if there were lights on the ceiling. PavoBulb fills this role as well. Its flexibility with external batteries and numerous mounting options allows you to quickly rig up these types of practicals, and then they can run for hours while you focus on other matters of your production.
PavoBulb 10C is an RGBWW LED light with a CCT Range of 2700-7500K, and you can adjust the green-to-magenta shift to match other light sources. The light is impressively accurate with a CRI of 95 and a TLCI of 97. For control options it has built-in buttons, built-in Bluetooth for directly controlling with the free NANLINK app for iOS and Android, built-in 2.4G for controlling with external remotes like the WS-RC-C2 or with the WS-TB-1 Transmitter Box for more elaborate setups. You can also control PavoBulb with DMX using the separately available Nanlite USB-C To DMX Cable. This accessory cable features XLR in and out for DMX, and a female USB-C port for feeding PavoBulb power.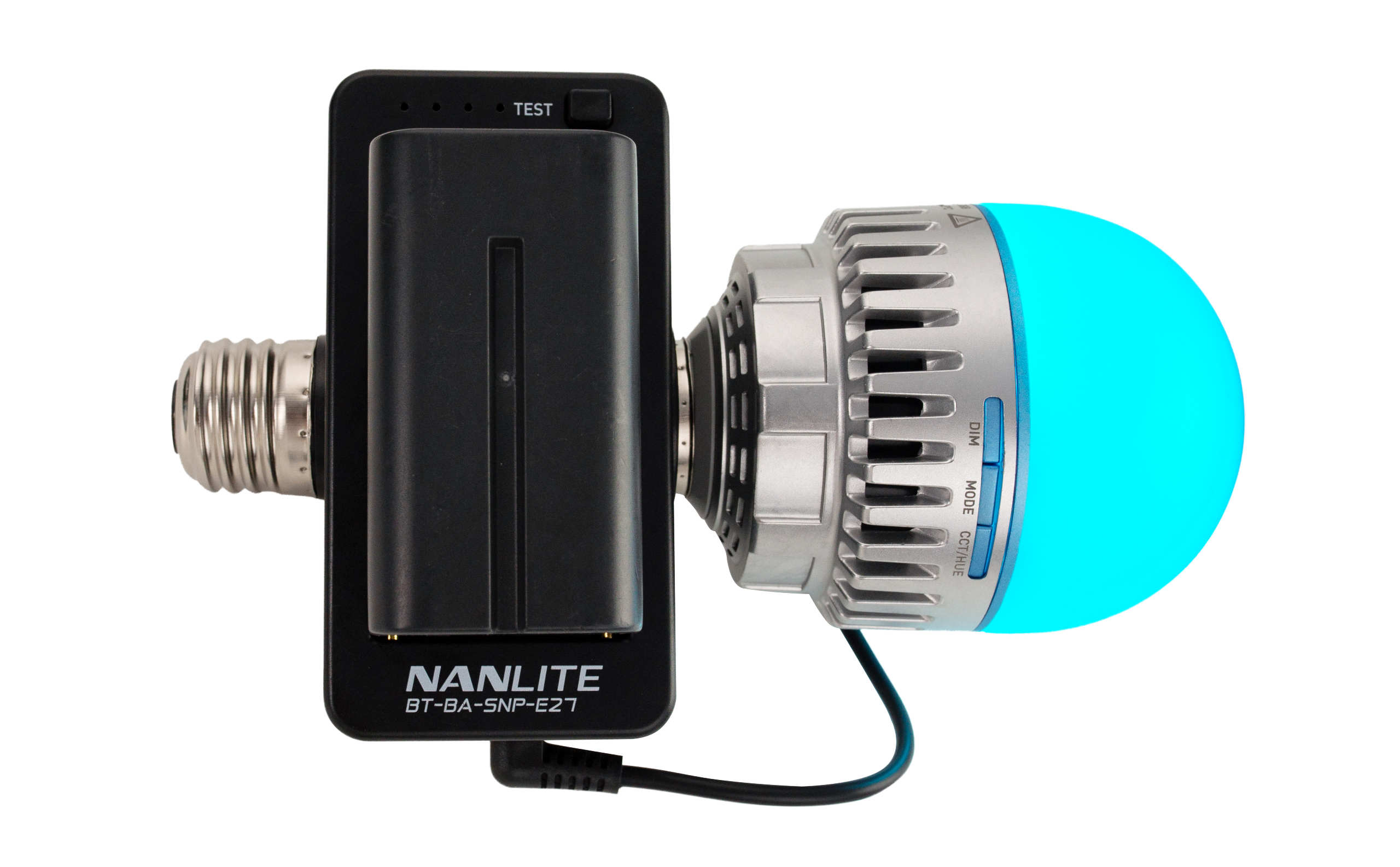 PavoBulb is extremely flexible when it comes to options for external battery power. A separate accessory called the Nanlite NP-F Battery Adapter and Mount lets you power PavoBulb with NP-F style batteries. This type of battery is extremely common in video production and filmmaking, and the run time with an NP-F 970 battery is 6.5 hours at 100% brightness. V-Mount batteries and other types of camera batteries often feature powered USB-A ports. You can connect PavoBulb with its included USB-A to USB-C cable this way and run it for an incredibly long time.
Another accessory that expands the capabilities of PavoBulb is the Nanlite Control Bank. This is a device that plugs into the USB-C port on PavoBulb and provides extra buttons for control, a screen so you can see the settings, and an external battery for long shoots. It makes it possible to fine-tune the settings of PavoBulb without using the NANLINK mobile app. There are times when you may choose to not use your phone for control. The battery on your phone may be low, and you want to reserve it for something else. Or maybe using your phone is less convenient. The Control Bank gives you direct control over PavoBulb and battery power. It may seem like an esoteric accessory at first, but when you have them on set, you will find that you use them quite often. Control Bank is also compatible with the PavoTube T8-7X LED Pixel Tube.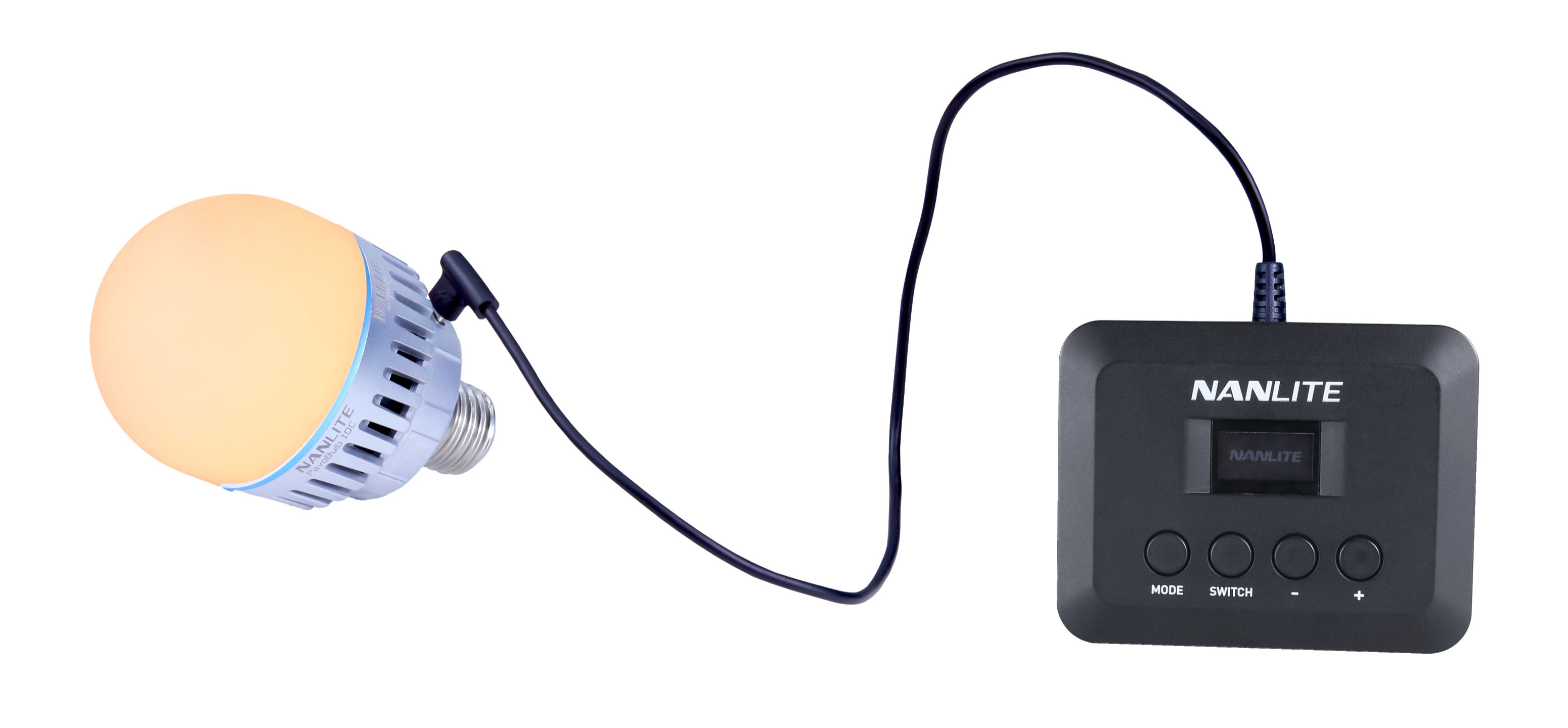 How Can You Mount PavoBulb 10C?
Since PavoBulb 10C has a standard E27 head, it can be screwed into any standard lamp or light fixture. So if there is a dome light in the ceiling of a room you're shooting in, you likely have a place to mount and power PavoBulb overhead. But outside of common lamps and lighting fixtures, there are still plenty of ways to rig-up and mount PavoBulb.
Another accessory that was made for PavoBulb is the Nanlite E27 Magnetic Mount and AC Adapter. It has a female E27 socket where you can screw in a PavoBulb, and the base is magnetic, so you can easily attach it to metal surfaces and objects. It comes with a removable AC power cable, so you can power PavoBulb with an outlet. Since the Nanlite NP-F Battery Adapter and Mount has a male E27 head, you can screw it into the E27 Magnetic Mount. With an NP-F battery you can now power PavoBulb for long periods of time while it's mounted up on a metal pole, stuck to the side of a metal staircase, stuck to a metal contraption on the ceiling, you get the idea.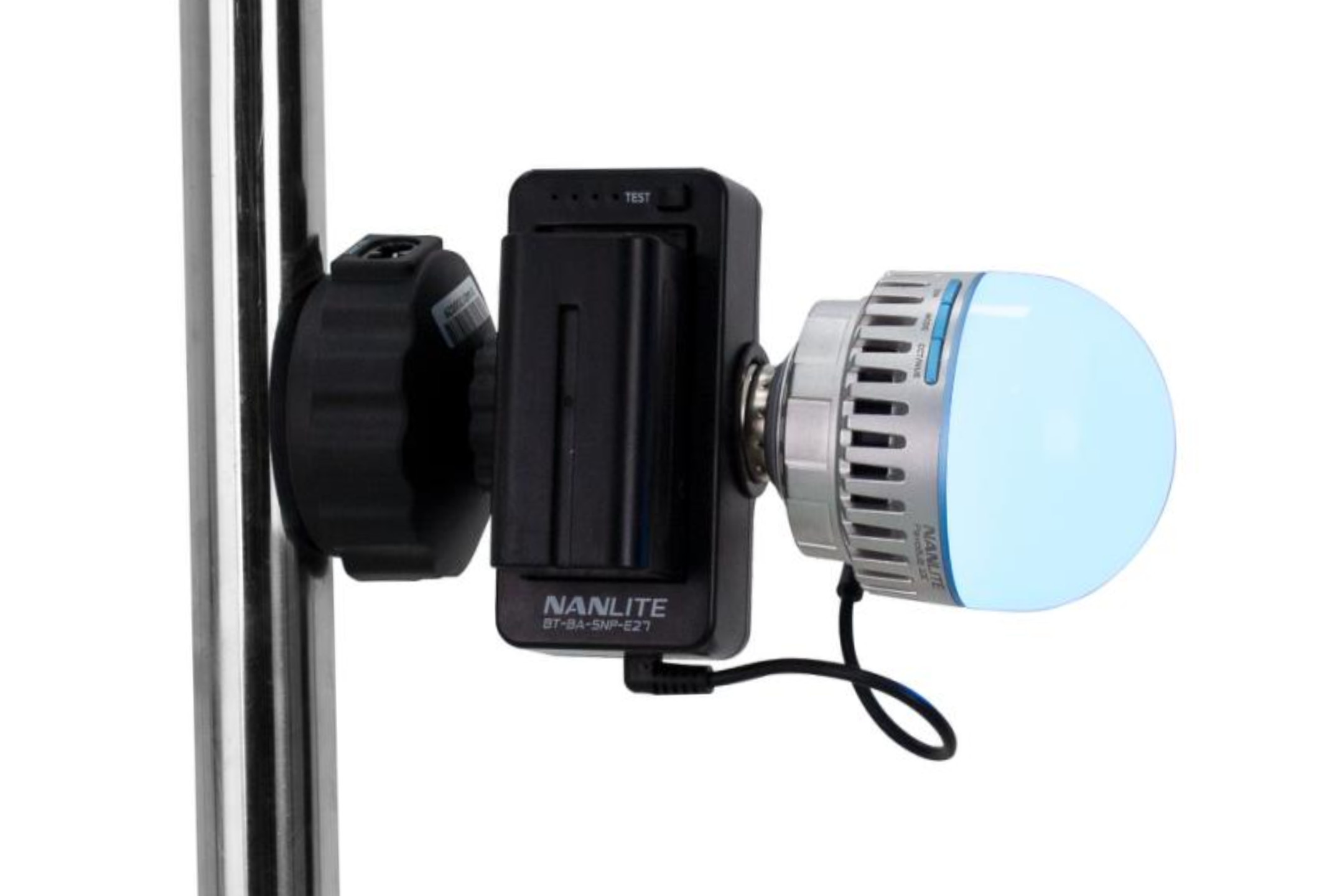 Not insignificantly, the base of the male E27 head on the NP-F Battery Adapter and Mount features a female 1/4 20 receiver, which means with some basic equipment you can mount PavoBulb just about anywhere. For example, with a mini-tripod that has flexible legs, like the Benro TablePod Flex, you can hang or affix a PavoBulb to just about anything. Anywhere you can envision a practical light being placed in a shot, you can make it happen with PavoBulb.
Adjustable Control of Light Spill
Yet another accessory that was made for PavoBulb is the Bouncer with Suction Cup. Sometimes when PavoBulb is mounted inside a lampshade or elsewhere, you may find that you want to control the light spill coming out of the top of the lamp, and perhaps adjust how much is hitting nearby walls or the ceiling. Instead of reaching for some black foil and gaff tape, grab a Nanlite Bouncer with Suction Cup.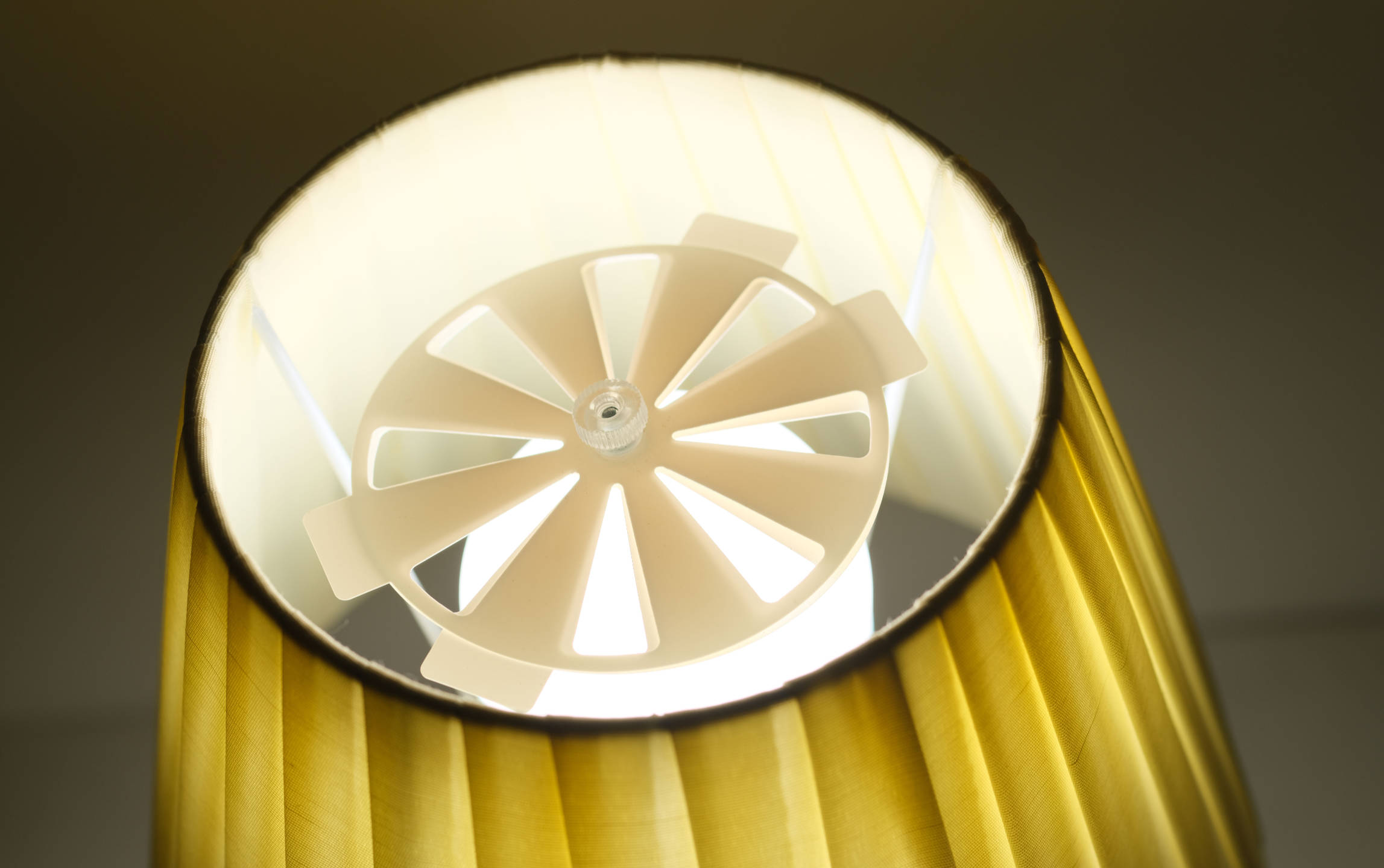 It easily attaches to the full-dome of PavoBulb 10C and it has an adjustable aperture that lets you quickly dial in just the right amount of spill for your scene. While we're on the topic of PavoBulb's dome, it features carefully engineered internal diffusion and a 205° beam angle. It produces pleasantly soft light that is simply attractive looking. Even with all of the useful tricks PavoBulb can perform, the quality of the light itself will likely be your favorite thing about it.
Why Does the 4-Light Kit Cost More than 4 PavoBulbs?
Great question. Thanks for asking. :) The Nanlite PavoBulb 10C is available individually, and it comes with a USB-C to USB-A cable. This is the least expensive way to get into using PavoBulb. It is also sold in 4 and 12-light kits. The kits come with custom hard cases and a large number of the accessories that have been covered in this article. The idea behind the kits is to supply you with everything you need for your practical lights in one box. Get one of these kits and you'll be prepared to chase any practical lighting ideas that pop into your head.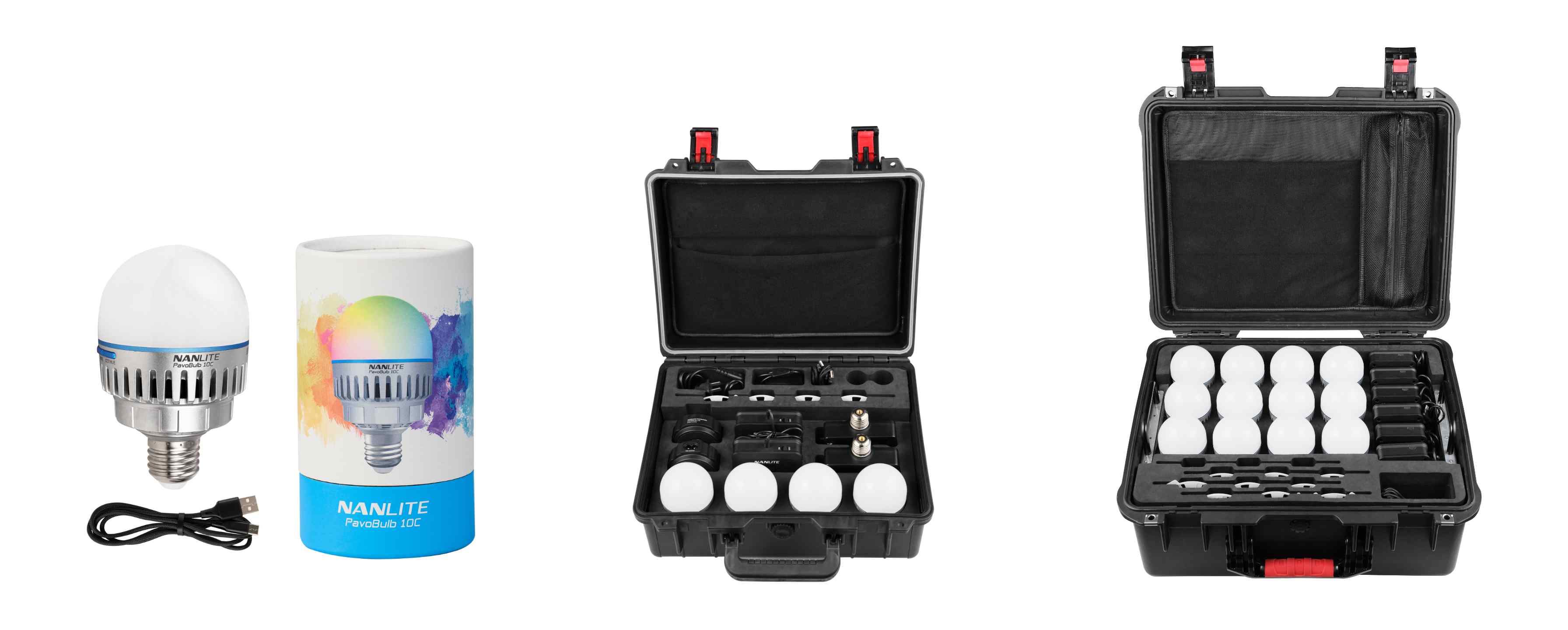 If you get 4 individual PavoBulb 10C lights, it is less expensive than buying the 4-kit. But, you get a lot more equipment with the 4-kit. The PavoBulb 10C 4-Light Kit comes with the custom hard case, 4 PavoBulb 10C, 2 Magnetic Mounts, 2 Control Banks, 2 NP-F Battery Adapter and Mounts, 4 Bouncers with Suction Cups, 2 USB-C Cables, and 1 AC Cable. The PavoBulb 10C 12-Light Kit comes with far more: a custom hard case, 12 PavoBulb 10C, 6 Magnetic Mounts, 6 Control Banks, 6 NP-F Battery Adapter and Mounts, 12 Bouncers with Suction Cups, 3 USB-C Cables, and 3 AC Cables. They all come with Nanlite's 2-year limited warranty that you can extend to 3-year limited by registering on NanliteUS.com.
Thanks for checking out this article! If you have any questions about the PavoBulb 10C, please contact us and we will respond as soon as we can. Taking care of our customers and future customers is our top priority! :)