Posted by Sam Mallery on Sep 6th 2023
We're excited to announce the Nanlite FC-500B and FC-300B bi-color LED spotlights, two fixtures that bridge the gap between our professional Forza Series and our AC-only FS Series. Like the names imply, the FC-500B has a rated power of 520 watts, and the FC-300B has a rated power of 350 watts, so they both deliver substantial amounts of output. With the ability to run uninterrupted on AC power, and a battery-power solution coming in the near future, the FC-Series will provide shooting-location versatility and high-power output to a wide range of content creators, photographers, and filmmakers at incredibly attainable prices.
Until now, every Nanlite point-source spotlight has shared an understated, minimal design. The new FC Series has more fun with its form, incorporating sleek lines and attractive finishes. They are modular lights with separate heads and power supplies. The heads feature the easy-to-use onboard controls and screen, Bluetooth and 2.4G are built-in for direct control with the free NANLINK app for iOS and Android, and other remote control options. Both lights also have locking metal 3.5mm DMX/RDM ports for advanced control (requires the separately available CB-DMX-3.5C-1/2 adapter cable).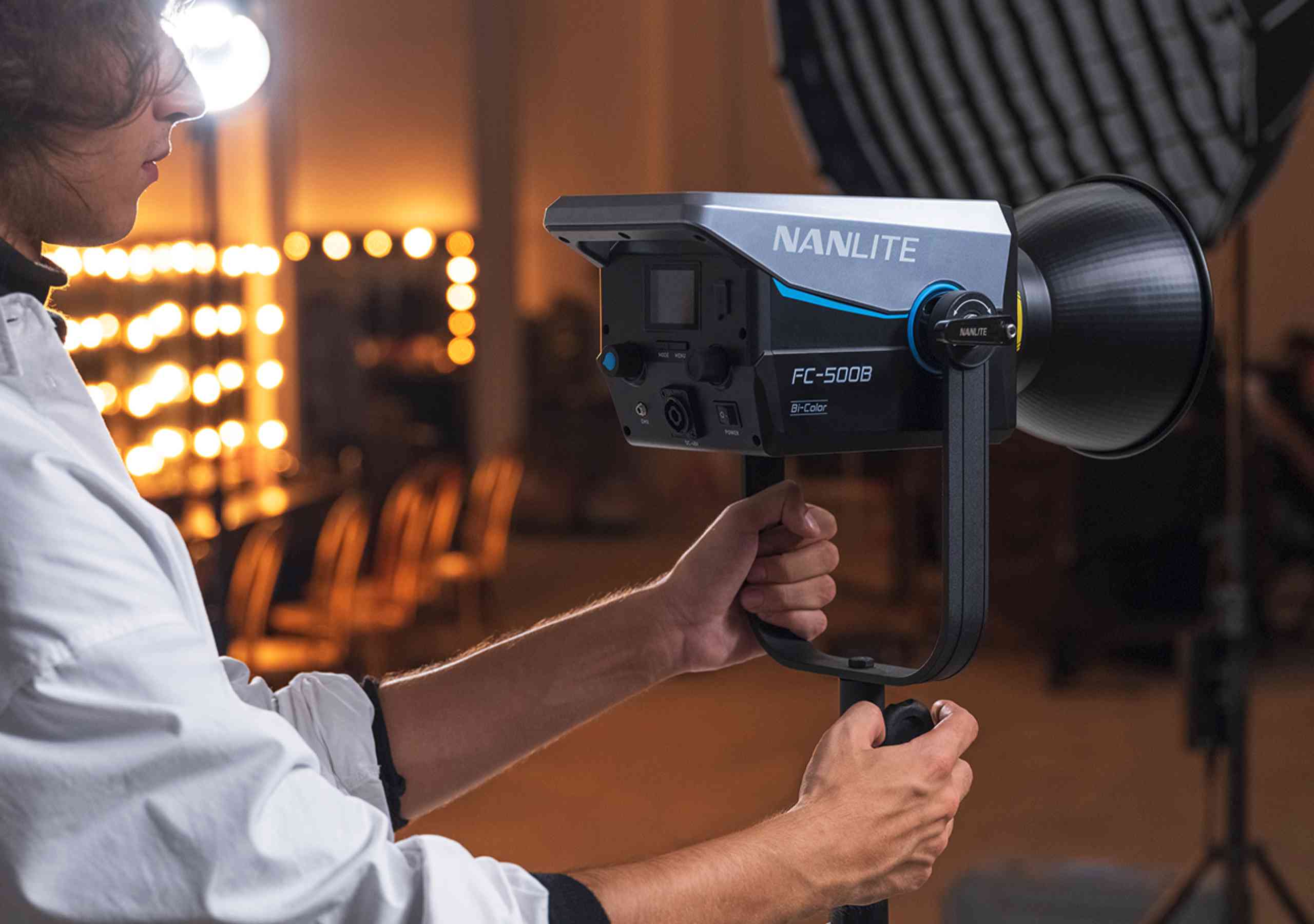 Both FC-Series lights ship in foam that was designed to also act as travel and storage cases. We made sure the components can quickly and easily be packed and removed, while also providing protection. Safety straps are built into the power adapters so they can be hung from light stands. Mounting plates are also built into the power adapters, so if you decide to purchase a separately available ASCPQRFZ Super Clamp, you can more confidently mount it to stands and trusses.
How are the FS Series different from other Nanlite products?
The new FC-Series lights inherit all of the desirable Nanlite family characteristics: high accuracy, excellent build quality, pro-level performance, flexible control options, and more. They differ from the FS-Series because the FC-Series will soon have the ability to run on battery power, they come with cases, and the FS-Series lights do not have separate power supplies. Forza Series lights have durable metal construction throughout and the ability to run on battery power with the included components, plus they come with padded fabric carrying cases.
Easy to Use, Yet Advanced
Both the FC-500B and FC-300B have the same one-sided, stepless lock that's found on our professional Forza lights. It lets you position the light exactly where you want it, and then quickly lock it into place with a single hand. The FC-300B has 0-100% dimming control, and the FC-500B has 0-100% dimming in 0.1% increments, so you can fine-tune the intensity. The bi-color COB light sources of these fixtures are protected with built-in glass, which will greatly increase their long-term use.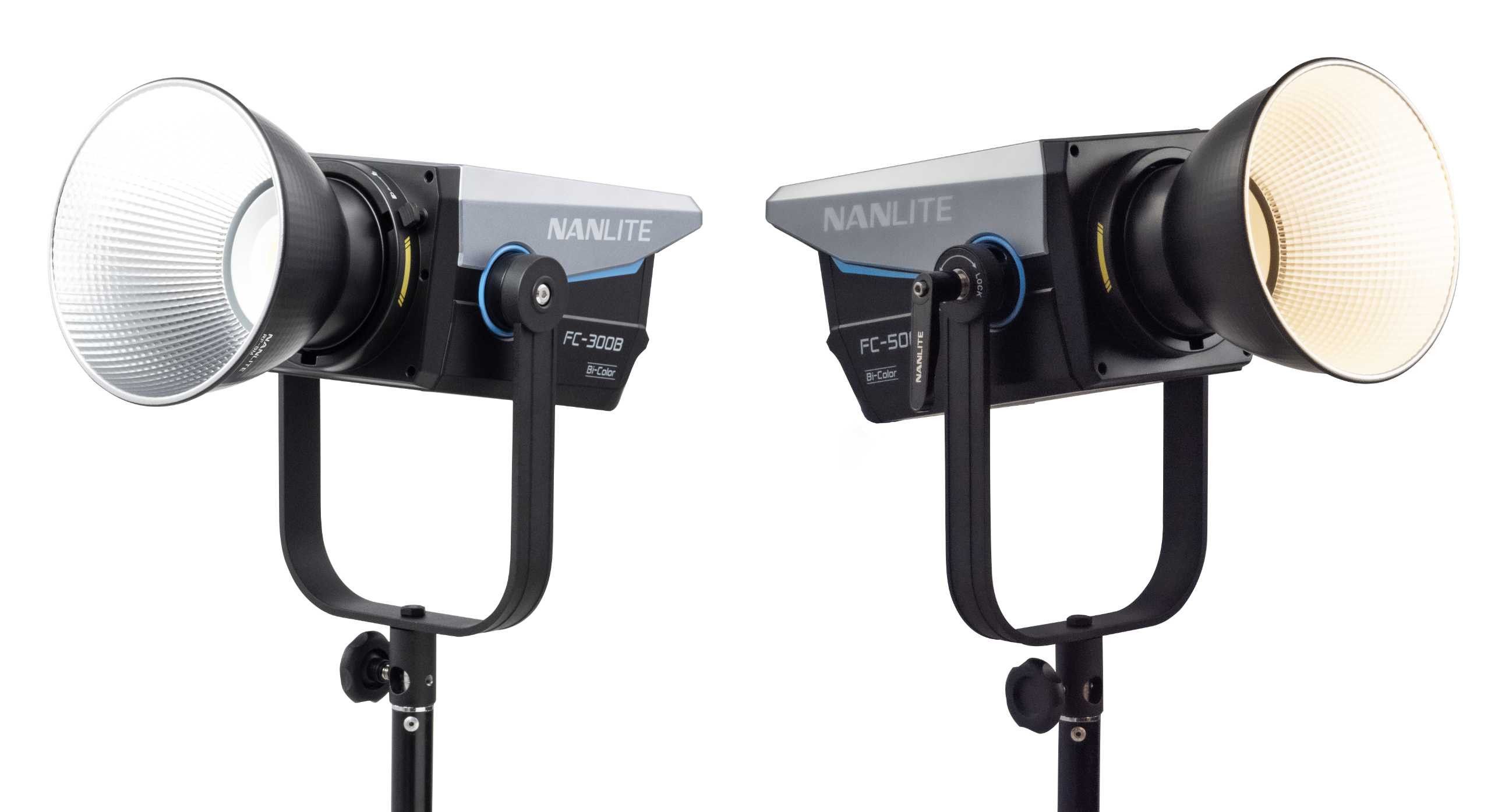 If a light doesn't meet our high standards for accuracy, then we don't call it a Nanlite. With an average CRI of 96 and TLCI of 98, both FC-Series lights will give you complete confidence in color accuracy. Your skin tones, on-camera subjects and environments will always look as natural as possible. They have additional accuracy scores of TM-30 Rf average 95 and a TM-30 Rg of 101/100.
The FC-Series lights have two modes: Maximum Output and Constant Output. When you need as much output power as possible, you choose Maximum Output mode. In situations where you want to change the color temperature of the light but you don't want the intensity of the light to change, you choose Constant Output mode. This is useful when you have the aperture and ISO of the camera set how you want them, and you don't want the intensity of the light to change.

Their wide CCT range of 2700K-6500K can easily be adjusted with an onboard knob, through the NANLINK mobile app, or with a separately available WS-RC-C2 handheld remote control. They both have 12 effects, and more can be created and saved as presets in the NANLINK app.
The built-in fans run quietly, but when you need absolute silence on set they can easily be turned off (reducing maximum output to 8% for the FC-500B and 15% for the FC-300B). You can also put the fans in LOW mode, which caps the maximum output to 50%, or SMART mode, which adjusts the speed automatically based on temperature.
Both FC lights have USB ports, which makes it possible to update their firmware, potentially adding new features in the future (which is something we often do).The USB ports can also be used to power wireless DMX receivers (sold separately).
The FC-Series lights have the nearly universal Bowens Mount, which means they're compatible with a vast number of light modifiers, in addition to soft boxes, lenses, and projection attachments made by Nanlite. A 45-degree reflector is included with the FC-Series lights, which substantially increases the light output. For example, the FC-500B outputs 65640 lux, 6098 fc @1m 5600K, compared to 21110 lux, 1961 fc bare bulb. The same setting and distance with the FC-300B outputs 37340 lux, 3469 fc, compared to 11210 lux, 1041 fc.
Simply put, these are both high-quality and versatile fixtures that provide lots of power for creative people. Like all Nanlite products, they were made in our own factory, so we have complete control over quality assurance. This means when you get them into your hands, they will perform excellently, letting you run free with your ideas.
Thanks for checking out this article! If you have any questions about the new Nanlite FC-500B or FC-300B, please contact us, and we will respond to you as quickly as possible.