Posted by Sam Mallery on Jun 29th 2022
The first thing people notice about Nanlite Forza lights when they see them in person is how appealingly compact they are considering how much output they provide, and to continue this tradition we're excited to announce the new Forza 150B. It's a bi-color version of the popular daylight-only Forza 150 LED Spotlight, as you can adjust the CCT range from 2700K-6500K. It's nearly the same size and weight as the Forza 150 and provides 80% of the brightness. When coupled with the separately available FL-11 Fresnel Lens or Forza Projector for FM Mount, the Forza 150B becomes a unique mini-fixture with super powerful output and light-shaping capabilities.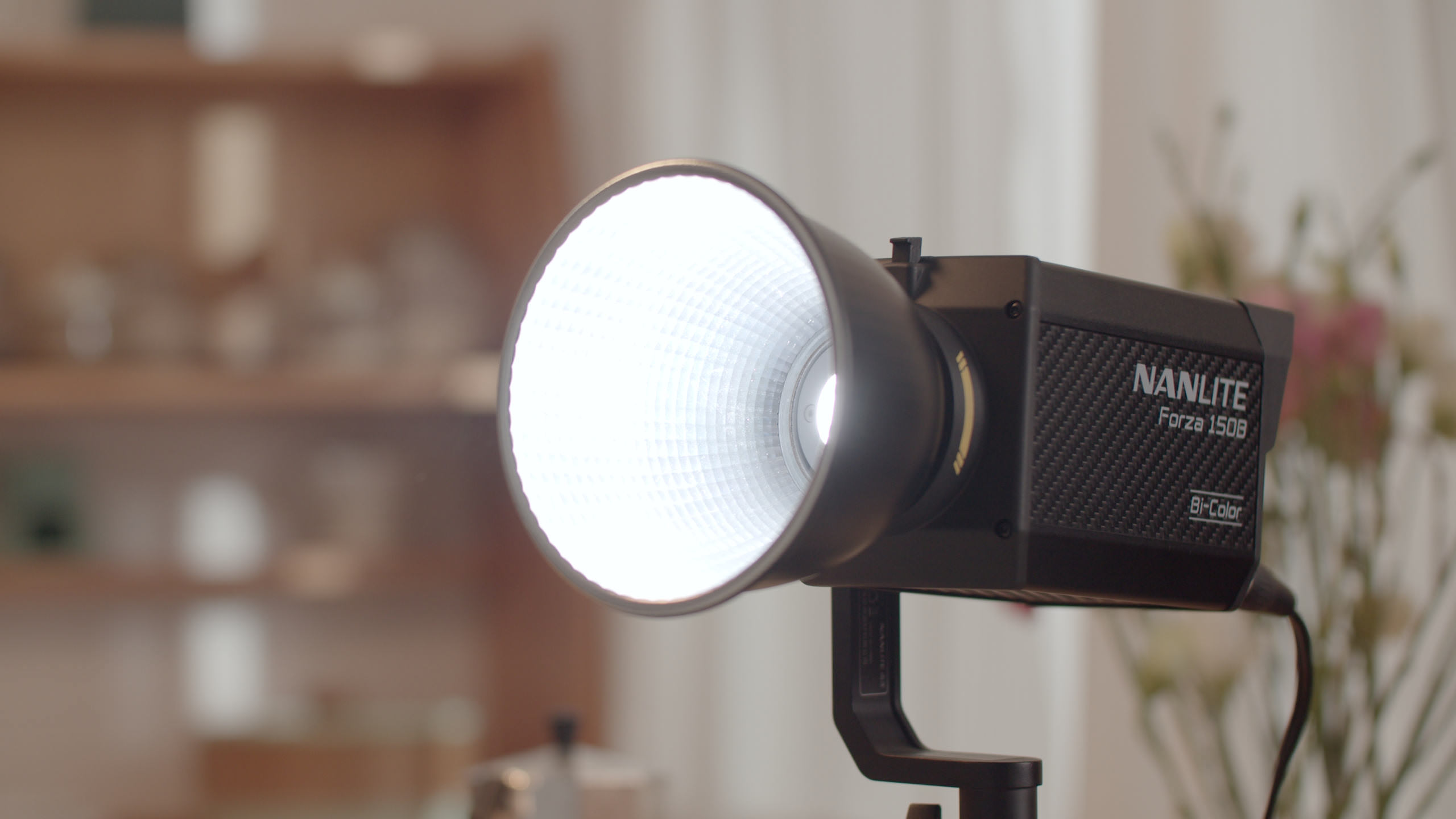 Small, Lightweight, Bright, and Bi-Color
The Nanlite Forza 150B weighs only 3.4 pounds yet it provides a formidable 23130 lux (2148 fc) @ 1m 5600K with the included reflector, and a staggering 54290 lux (5043 fc) with the separately available FL-11 Fresnel Lens. For a fixture that's only 9.7 x 5.2 x 4.5" in size, it delivers an impressive amount of bi-color output when you need it, and it fits into small cases and spaces.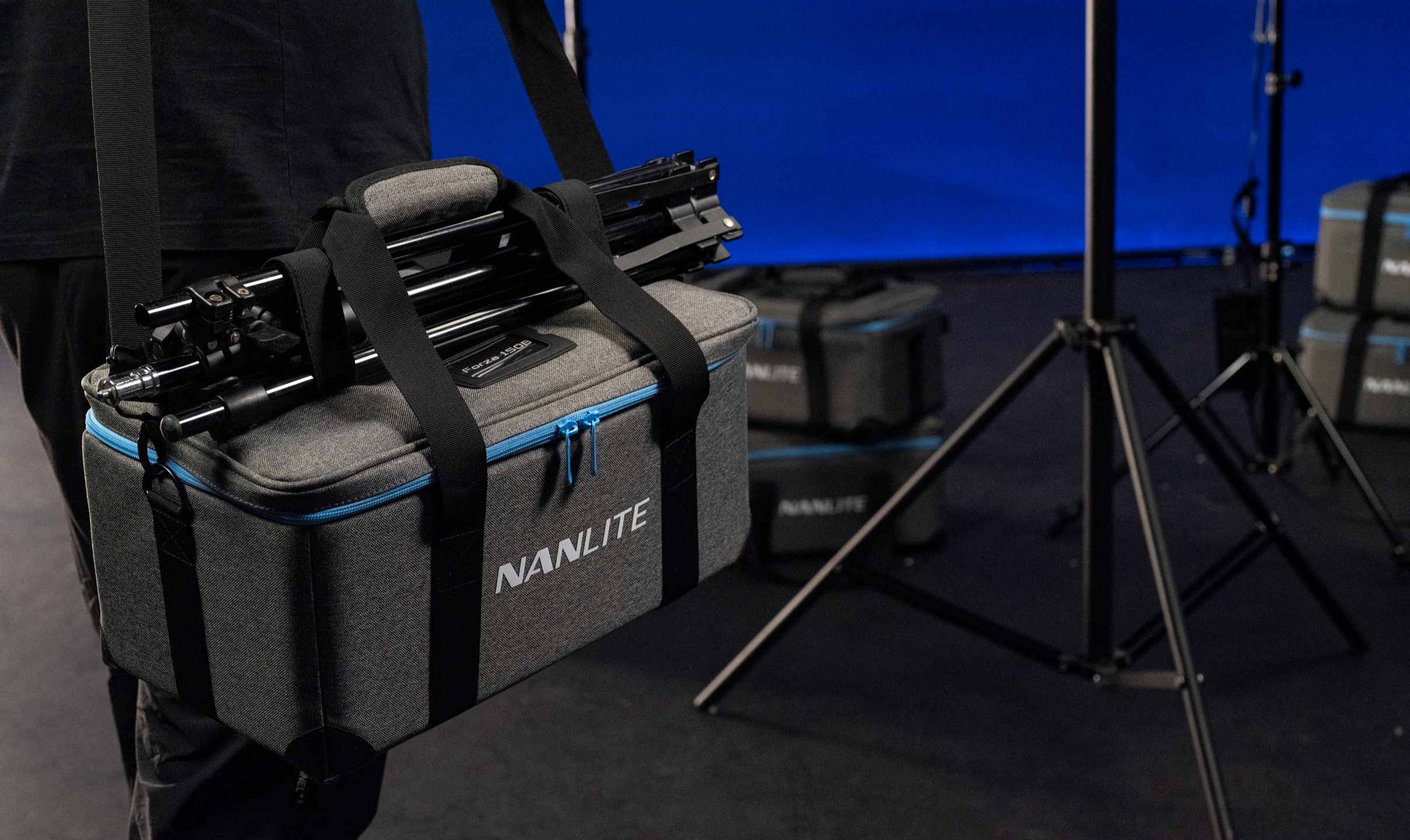 Like all Forza lights, the included case can hold a separately available light stand
A Multitude of Control Options
You can control Forza 150B with its built-in knobs, display, and Mode button, but it also can be controlled via 2.4 GHz with the WS-RC-C2 remote or WS-TB-1 Transmitter Box, through DMX/RDM, and with built-in Bluetooth and the NANLINK mobile app for iOS and Android. For DMX control you need the separately available Nanlite CB-DMX-3.5C-1/2 DMX adapter cable that features a locking 3.5mm connector.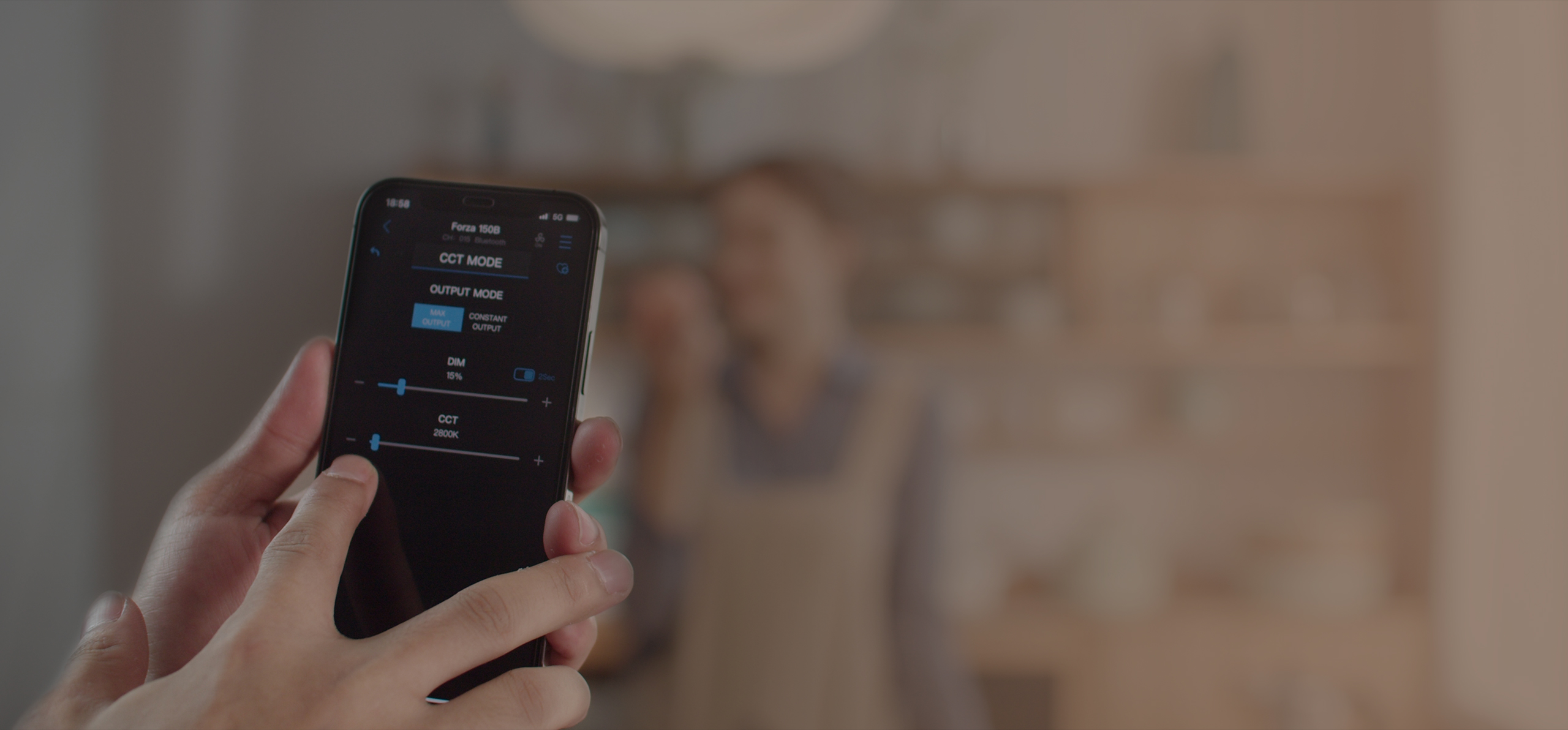 An Ecosystem of Modifiers and Bowens Mount
Forza 150B is compact because it has the same custom FM Mount found on the Forza 60, 60B and 60C. It's compatible with all the light modifiers for the FM Mount, such as the softboxes and our optically advanced Forza Projectors for FM Mount. A Bowens adapter with a built-in umbrella mount is included in the padded carrying case, which makes Forza 150B fully compatible with a vast number of light shapers.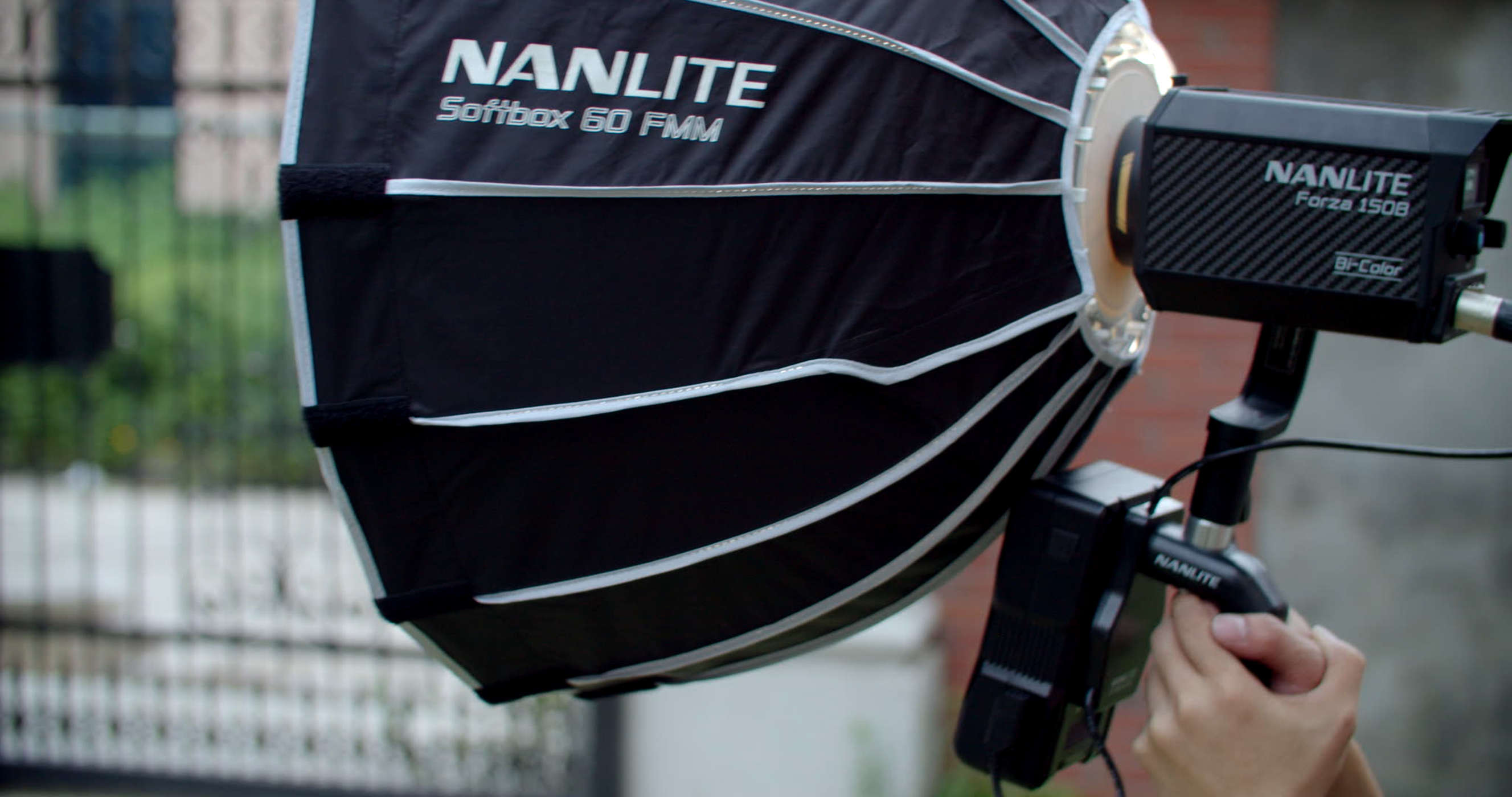 12 Effects and Firmware Upgradable
There are 12 inspiring effects in Forza 150B, which is many more than you'll find on other LED lights in this class. A USB port is integrated into the fixture, making it easy to add future firmware updates. The USB port can also be used to power wireless DMX receivers.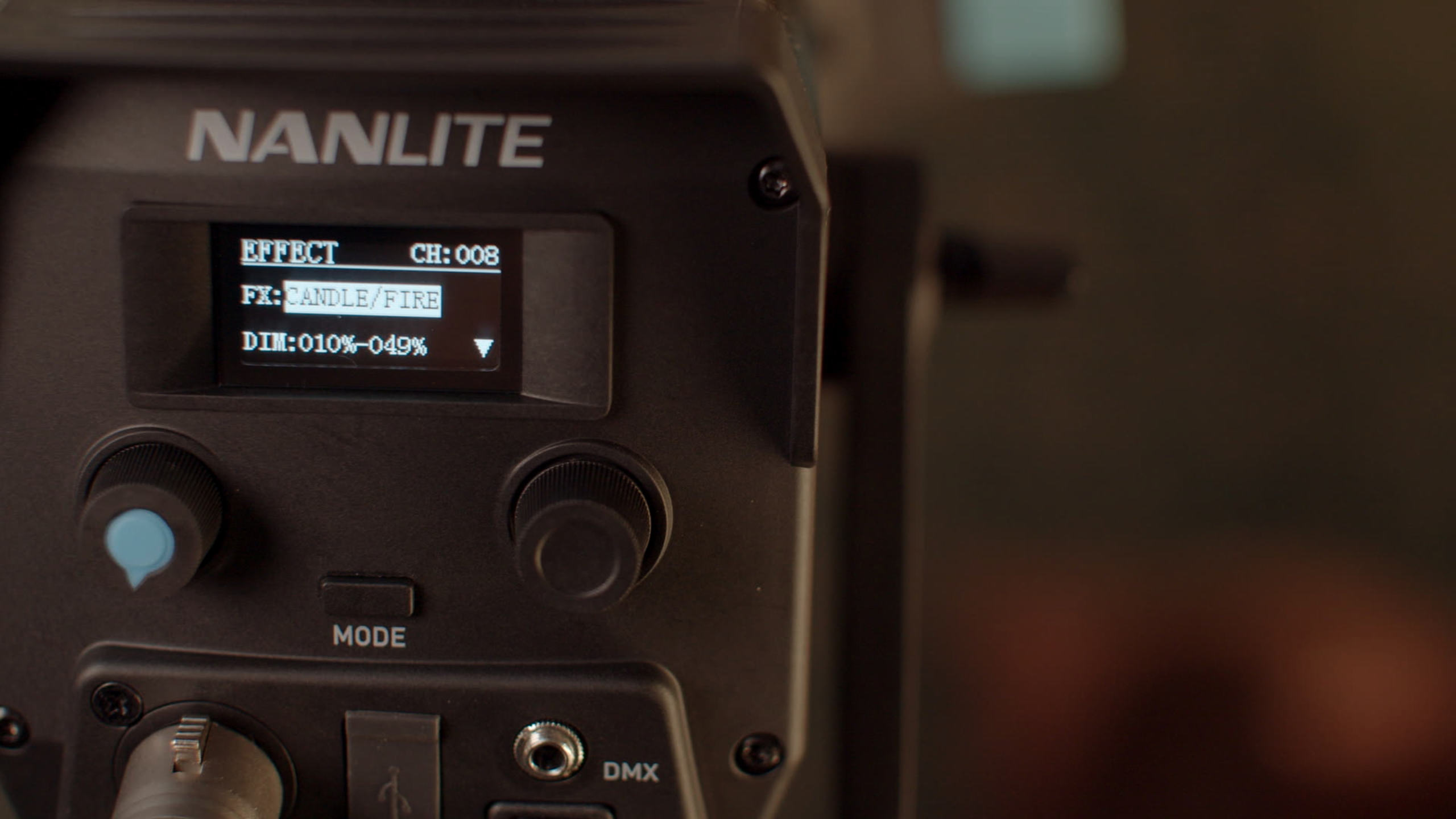 AC Power and Battery
A power adapter is included when you have access to AC outlets, but when you're shooting in the field Forza 150B can run on a V-Mount battery. The power adapter includes a V-Mount attachment plate, and the light will operate with either a 14.8V or 26V battery. A locking 4-pin XLR power connector is provided on Forza 150B to avoid unwanted disconnection. The Nanlite V-Mount Battery Grip with 4-Pin XLR Connector is compatible and available separately. It features XLR and D-Tap cables, and it can be handheld, mounted on a stand, and it rests stably on flat surfaces when a battery is attached.
With the introduction of the Forza 150B, the line of Forza hard-light LED fixtures has never been so complete. From the vivid RGBLAC colors of the Forza 60C to the sunlight-challenging power of the Forza 720, there's a battery or AC powered fixture available that meets your needs and makes a great addition to your kit.
Thanks for checking out this article! If you have any questions about the new Forza 150B spotlight, please contact us and we will respond as quickly as we can.