Posted by Sam Mallery on Jan 10th 2023
If there's a sweetspot in the Forza product line, it would have to be the 300's, because they perfectly realize the vision of being as powerful as possible, while also being compact, lightweight, and built tough. The new Nanlite Forza 300 II and 300B II definitely have the same enticing characteristics as the first generation, while adding new levels of versatility and power to the mix. The result are lights that can be your go-to instruments for any shoot, whether the set is in your home, on a professional sound stage, or out in the wilderness.
What's different about the Nanlite Forza 300 II and 300B II?
If you placed the new Forza 300 II models next to the originals, they would look somewhat similar, but also different in important ways. The yokes and locks have been completely redesigned, and the heads are slightly longer and wider, but also more than a half-an-inch shorter in height. The Control Units are radically different.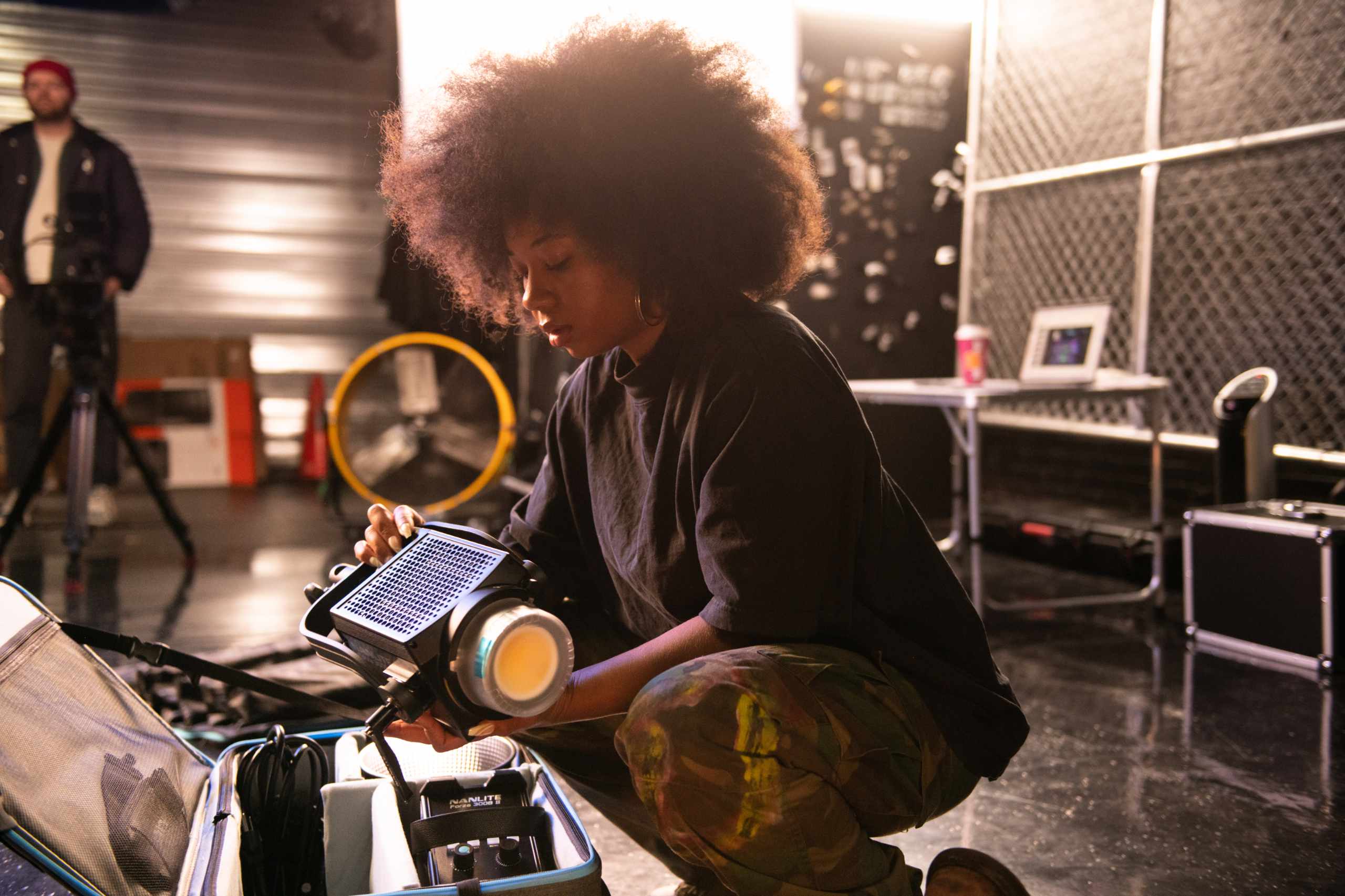 World's First 300W 5600K and Bi-Color LED Lights with G/M
The new Forza 300 II and 300B II are the world's first 300W LED 5600K and bi-color spotlights with +/- 80 green-to-magenta adjustment. They produce highly accurate light with excellent CRI and TLCI ratings of 96/97, with the 300 II being a daylight-balanced 5600K light and 300B II being bi-color with a CCT range of 2700K–6500K.
They're able to include G/M adjustment thanks to their innovative W(RG) and WW(RG) sources, which is what truly make them unique. In addition, the 300B II has a light chamber similar to the one on the Forza 60C, which is required to properly manage its different colored W and WW LEDs. With the addition of G/M adjustment, you can more accurately match ambient light sources, match light from other fixtures, and tweak the color to achieve the looks you desire.
Completely Redesigned Yokes & Locks
The all-important yokes on Forza 300 II and 300B II have been completely redesigned. They have new, single-sided, stepless locks that make it easy to accurately position and lock the lights in place. The yokes have a forward curve that allows greater tilting range when large modifiers are attached. They also now have umbrella mounts, which in combination with their standard Bowens Mounts, give you nearly unlimited light-shaping options. Like the previous generation, they also have mounting slots at their bases for either vertical and horizontal placement.
37% Smaller Control Units
While the heads of the Forza 300 II and 300B II got slightly larger compared to the first generation, the tradeoff was well worth it because this allowed us to shrink the Control Units by 37%. The original Forza 300 and 300B featured completely different Control Unit designs that had removable AC power supplies. The new Control Units on the 300 II and 300B II feature integrated power supplies, side-mounted V-Mount battery plates that are compatible with different sized and shaped batteries. Unlike the last generation, they don't have fans, and all of the cables attach to the top. A flat bottom is provided so you can rest the new Control Units on surfaces when in use. Metal loops for attaching safety wires are provided for rigging.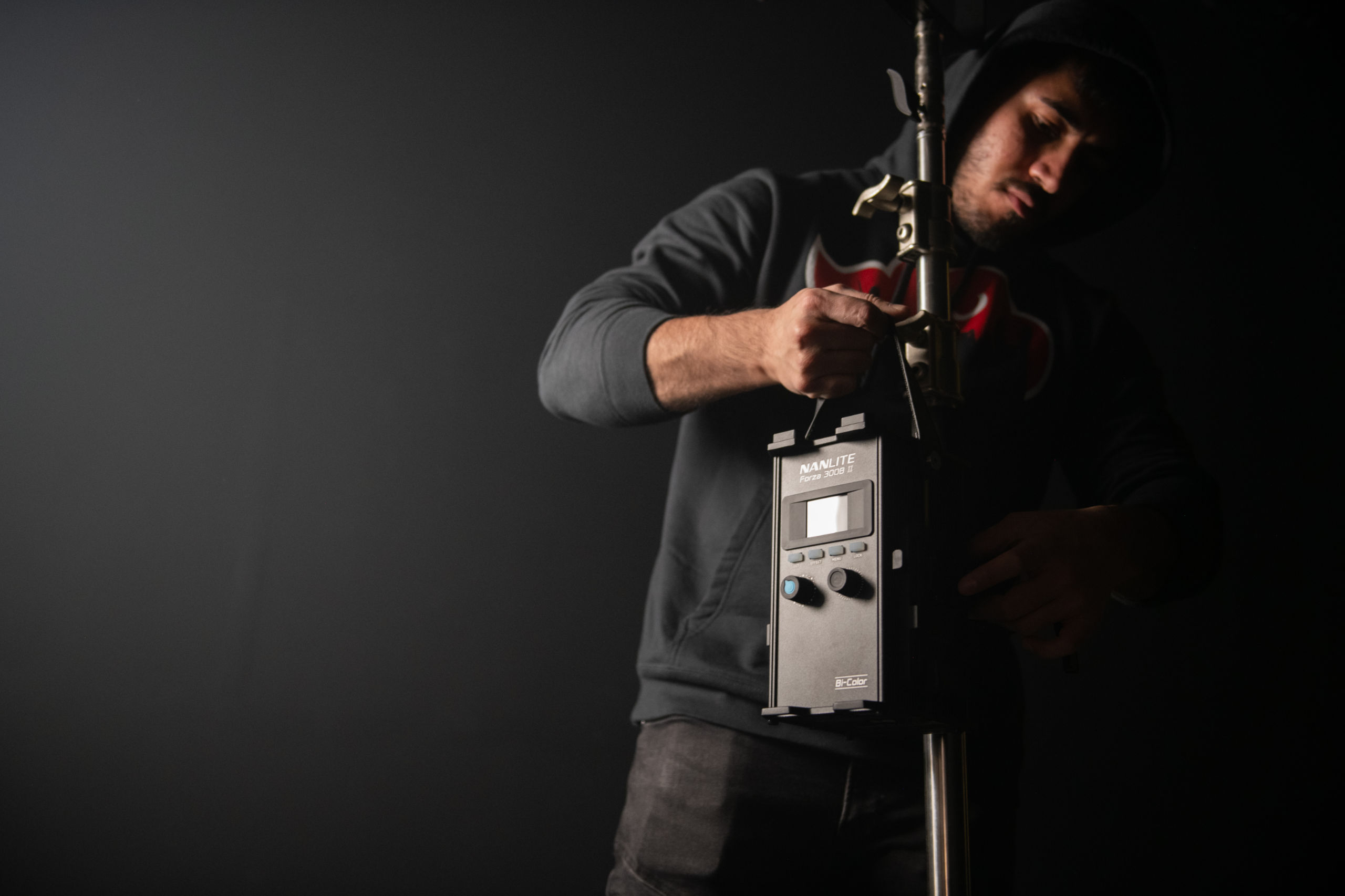 Excellent Quick-Release Clamps
The included clamp for attaching the Control Units to light stands is vastly improved in the Forza 300 II and 300B II. It's the same super-clamp that comes with the Forza 720 and 720B. This clamp is the Nanlite ASCPQRFZ, and it works on both round and square poles and trusses, it's durably built, and easy to use.
Runs On 1 or 2 Batteries
The Control Units of Forza 300 II and 300B II can operate on either 1 or 2 V-Mount batteries (or AC, of course). This is useful for short shoots when you need to travel light, and for longer shoots when you need to swap out batteries mid-take (pop one battery off, the spotlight continues to operate, pop a fresh battery in, etc.). These lights are also compatible with 14.4V-14.8V batteries (the original 300's could only run on two 14.8V batteries).
Cables Are Much Longer
Both the included head cables and power cables for Forza 300 II and 300B II are substantially longer than what came with the older generation. The head cables are 9.8 feet (3 m), the power cables are 19.8 feet (6 m). If you need even more length to mount your 300 II's up higher, you can get the 24.7-foot (7.5 m) CB-FZ-7.5M head cable, or the 39.5-foot (12 m) CB-FZ-12M head cable, both sold separately.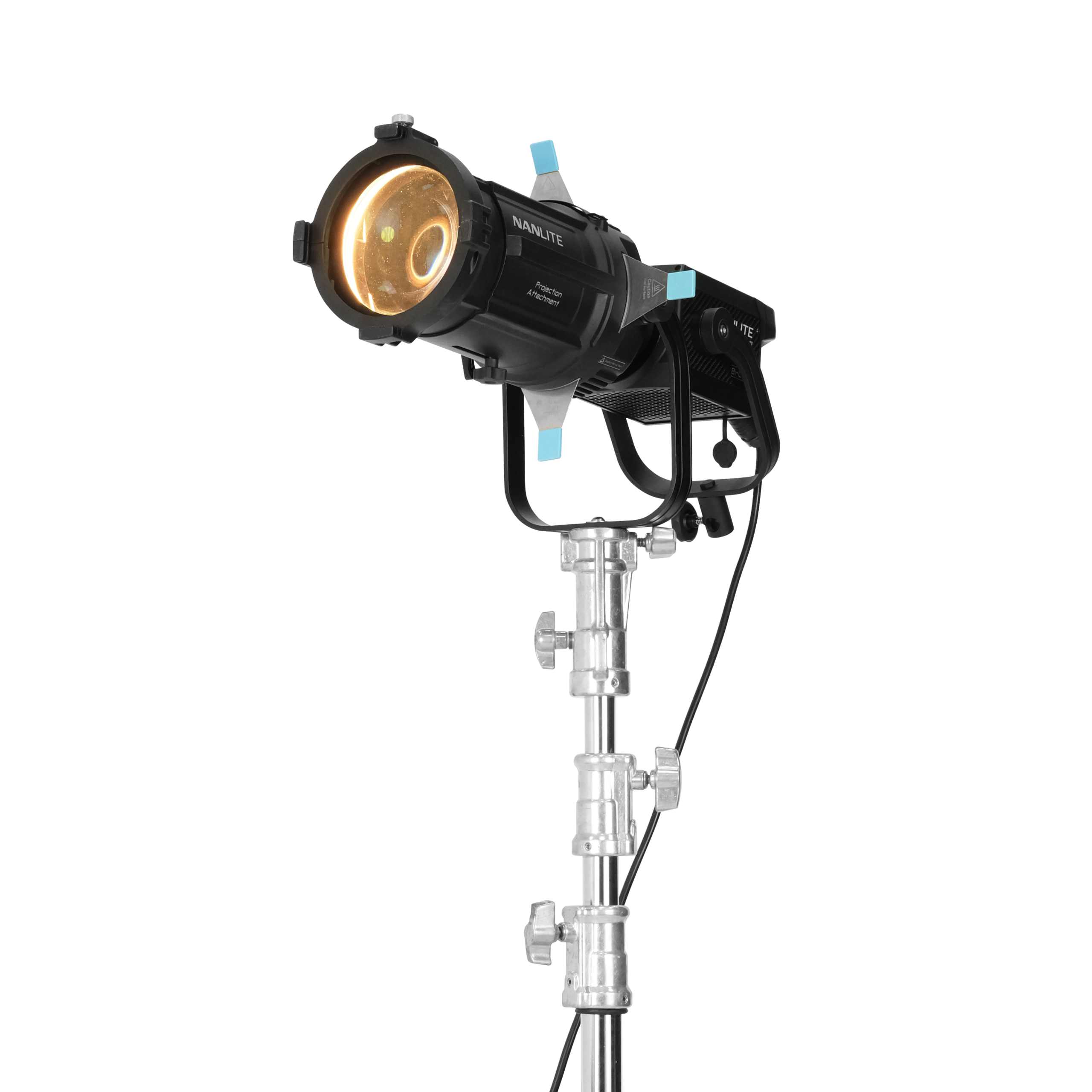 Forza 300B II with the PJ-BM Projection Attachment (sold separately)
Direct Bluetooth Control
The first generation Forza 300 did not have built-in Bluetooth, but both the new Forza 300 II and 300B II have it, which means they can be directly controlled with Android and Apple mobile devices with the free NANLINK app. Like the old generation, the new Forza 500 II's also have 2.4G, which lets you control them with the WS-RC-C2 Handheld Remote or WS-TB-1 Transmitter Box for larger setups (both sold separately). They also have built-in DMX/RDM ports.
Protected COBs
Both the new Forza 300 II and 300B II spotlights have protected, glass-covered COB light sources. This may seem like a minor detail, but it adds a high-degree of protection to the light source. As you're likely aware, some flying insects are attracted to bright lights. Without glass-covered COBs, tiny moths can cause big problems.
Quieter Fans
The fans that are built into the heads of the new Forza 300 II and 300B II are 9 dBA quieter than the last generation. The fans also now have 4 modes: Smart, Low speed, Full speed, and Off, when complete silence is required on set.
USB Ports for Firmware & Power
Both new Forza 300 II spotlights have USB-A ports so new features can be added in the future with firmware updates. These ports also output 5V/0.5A so they can be used to power wireless DMX receivers. The original 300B had a USB port, but it did not supply power, so this is progress.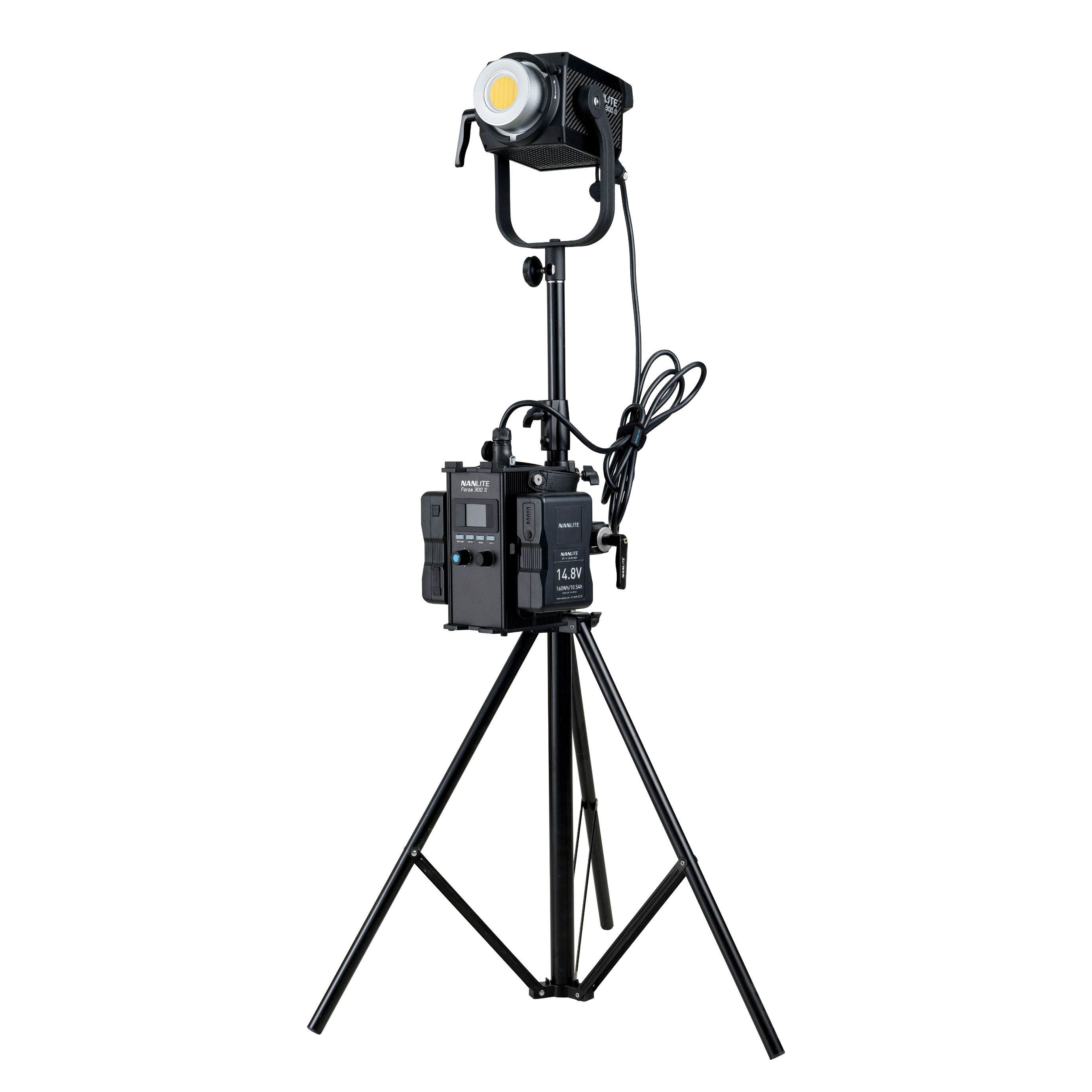 Improved Carrying Case
Nanlite Forza lights always come with good quality padded cases, but we stepped it up a notch. The cases have been redesigned, and now feature better cushioning and overall protection.
Increased Light Output
Last but not least, the new Forza 300 II and 300B II supply more output than the previous generation. With a color temperature of 5600K at 1 meter with the included RF-BM Reflector, the 300 II provides 69400 (compared to 68060 from the original 300), and, more substantially, the 300B II provides 43480 Lux (compared to 39180 from the original 300B).
So there you have it... Two lights that were enthusiastically appreciated by many have now been dramatically improved. Please take a moment to check out the other products we are launching today: Forza 60 II and 60B II, Forza 500 II and 500B II, and last but not least, PavoTube II 15C and 30C.
If you have any questions about the new Forza 300 II and 300B II, please contact us, and we will respond as quickly as possible.