Posted by Nanlite Admin on Feb 13th 2020
It's no secret that softboxes are a popular light modifiers for video and photo. The soft light they create has a very appealing quality that makes your subjects look their best. However, the downside is that they're large — they consume lots of space when you're shooting, and can be difficult or impossible to use when space is tight. Another downside is that you often need to set them up and break them down each time, which is time consuming. The Nanlite Compac Series of LED panel lights was designed to solve both of these problems.
The soft light of a softbox, without the softbox
Like the name implies, "Compac" lights are compact LED panels that provide the appealing, soft light of a soft box without the chunky size, and without the time-consuming set up and break down process. They make it possible to achieve softbox-quality light in tight spaces, such as on a small desk that's up against a wall.
Whether you need a small light for a confined space like a desk, or a larger fixture that can act as a main key light in a shoot, there are a number of different Nanlite Compac LED panels available to suit your needs. All of the Compac lights are dimmable from 0 to 100%, and many of them are bi-color.
The line starts with the affordable 8-inch Compac 20, and runs up to the 32-inch Compac 200B. Every Nanlite lighting fixture has a CRI rating of 95 or higher, so you can always be confident your colors will be accurate.
More advanced Compac LED panel lights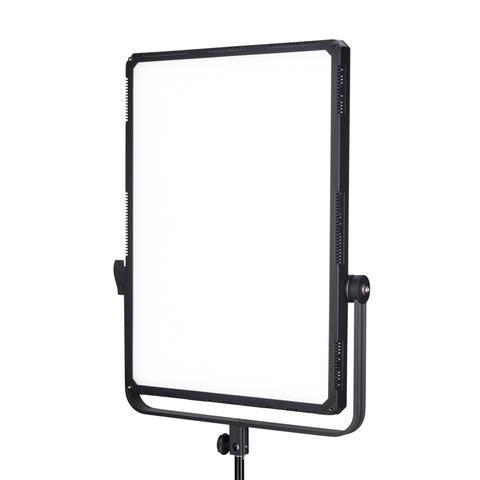 The Compac 200 and 200B have yoke mounts
The larger Nanlite Compac models have more advanced features and available accessories. If you want to make their light even softer, there are dedicated softbox accessories for the 200, 100, and 68 series lights. There are different kinds of softboxes for these lights: regular and lantern style. The regular softboxes are more directional, casting light primarily in front of the fixture. Latern-style softboxes emit light from the sides as well, creating more of an omnidirectional cast, which can be useful when boomed from above.
If you've ever opened and closed a 5-in-1 collapsible reflector disc on a shoot, then you already have a good understanding of the construction and operation of the Compac series softboxes. This is why we call them "rapid fold" softboxes. True to the design of the Compact lights themselves, these softboxes are also highly space efficient. Here are the available softboxes:
Any Compac model with a B in its model name is bi-color. It will have separate knobs to control dimming and color temperature, and the 68, 100, and 200 models also have an LCD display showing your current color temperature setting.
You can control the 200 and 200B Compac lights wirelessly with the separately available Nanlite W-2 Wi-Fi adapter. This enables you to make changes to the light's settings remotely using the Nanlink mobile app.
Learn more about the Nanlite Compac series:
Compac 200B Adjustable Bicolor Slim Soft Light Studio LED Panel
Compac 200 Dimmable 5600K Slim Soft Light Studio LED Panel
Compac 100B Adjustable Bicolor Slim Soft Light Studio LED Panel
Compac 100 5600K Slim Soft Light Studio LED Panel
Compac 68B Adjustable Bicolor Slim Soft Light Studio LED Panel
Compac 68 5600K Slim Soft Light Studio LED Panel
Compac 40B Adjustable Bicolor Slim Soft Light Studio LED Panel
Compac 40 5600K Slim Soft Light Studio LED Panel
Compac 24B Adjustable Bicolor Slim Soft Light Studio LED Panel
Compac 24 5600K Slim Soft Light Studio LED Panel