Posted by Sam Mallery on Nov 15th 2023
There are many point-source LED spotlights on the market these days, and it's understandably confusing to figure out what makes them different from one another. This article adds clarity to the situation. We carefully explain the differences between the Nanlite Forza, FC, and FS Series spotlights, so you can be confident you're choosing the best option for your needs.
Difference #1: Powering Options
When choosing a light, the first question you need to answer is if you'll ever need to use it in locations where AC power is not available, and running on battery power is required. You may not be doing this today, but these are high-quality lights that will last for years, so you need to determine if running on battery is something you'll need in the future.
Why do you need to figure this out now? Because not all LED spotlights can run on batteries. If you'll never need the ability to run on battery power, then the Nanlite FS Series lights are a good choice for you, because they can only be powered by AC.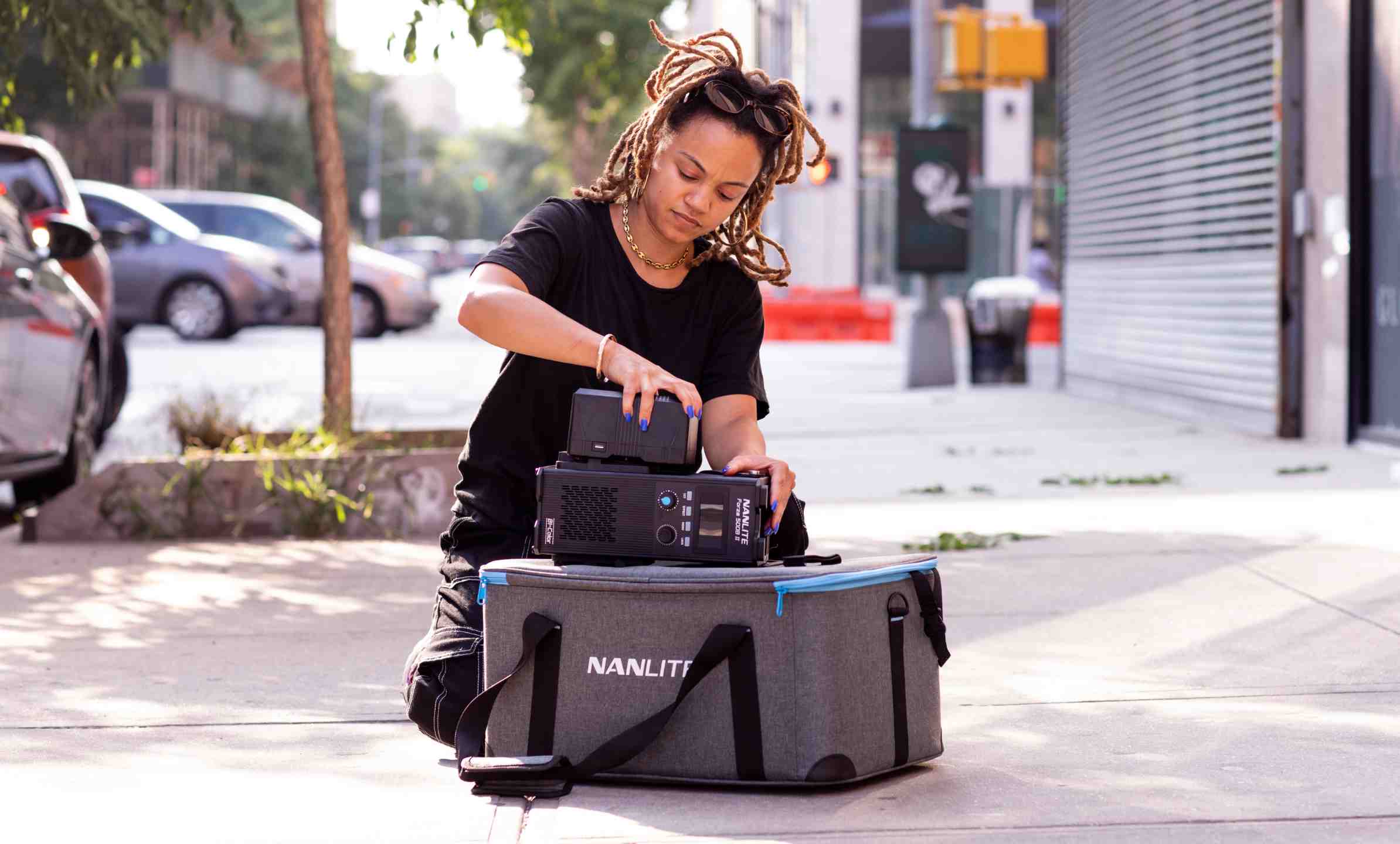 Attaching a V-Mount battery to the Control Unit of Forza 500B II
If you need the ability to run on battery power, then you should choose between Forza and the FC spotlights. Every Forza model comes with integrated hardware for attaching batteries so you can use them in the field. For the FC lights, you'll need to purchase a separate battery accessory (which will be released in early 2024).
Difference #2: Materials
Every Nanlite fixture is carefully designed and built to a high standard for durability. In fact, Nanlite makes nearly everything in our own factory, which gives us the greatest possible quality control. In contrast, most of our competitors outsource the manufacturing of their lights to third-parties.
Even though the build quality is high on all Nanlite products, the materials used to construct them are a differentiator between the product families. If you're going to use these lights frequently, change set-ups often, and travel to locations, you will likely want the strongest construction possible. For this type of person, the Forza spotlights are the best choice. Every Forza model features durable metal construction.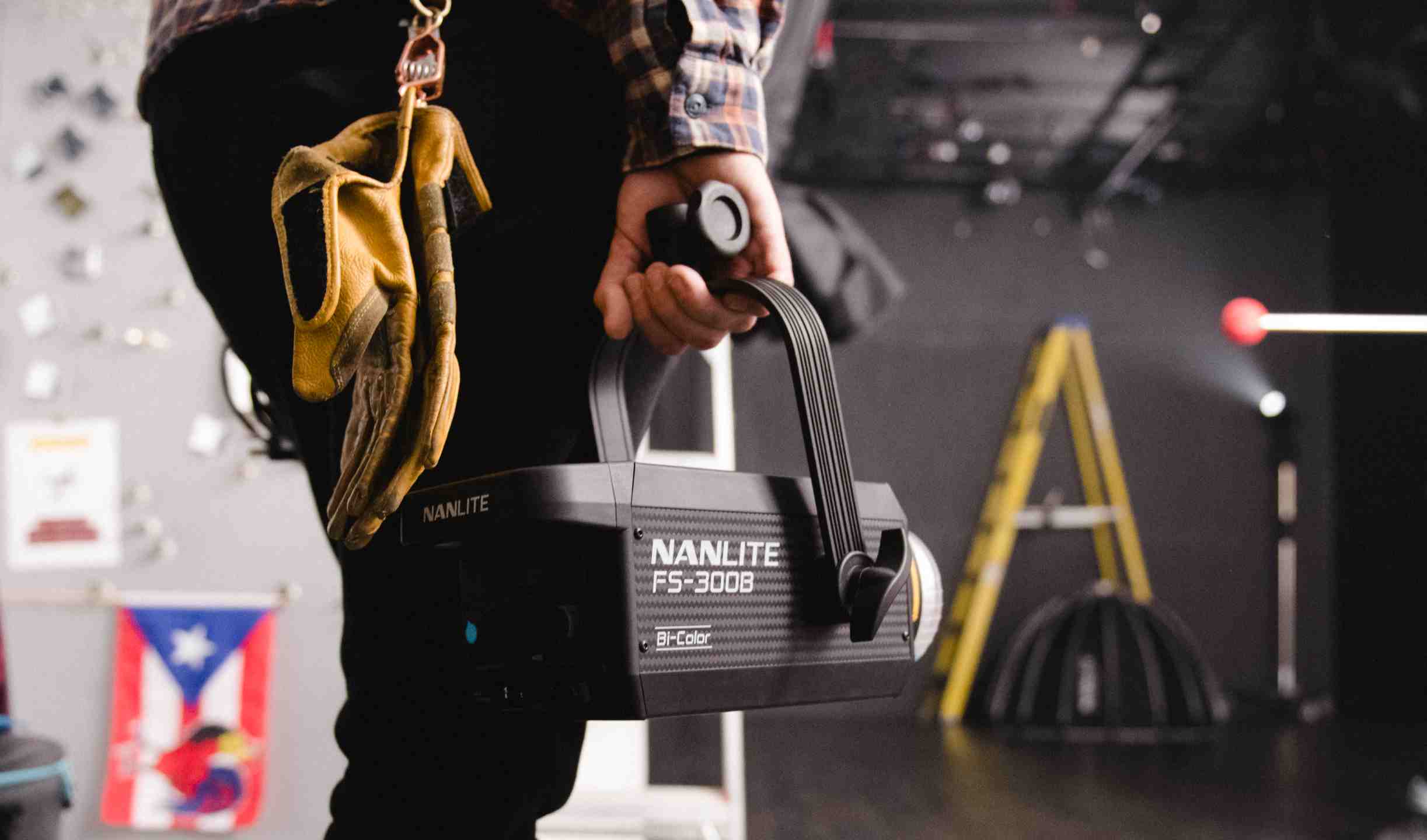 Some of the FS Series lights are made of metal as well, like the FS-300B, but others have sturdy polymer bodies, like the FS-60B. The Nanlite FC spotlights also have polymer exteriors, but one benefit is that this material makes them more lightweight.
Difference #3: Yoke Locks
This might seem like a somewhat minor detail, but the yoke lock what you use to freeze the position of the light exactly where you want it. The easier and more precise it is to use, the better. Not all spotlights have the same kind of yoke locks, and some are better than others.
The Forza and FC spotlights both have more advanced, single-sided "stepless" yoke locks. The stepless aspect means it can be tightened and locked at the exact position you choose. Because it's single sided, you only need to tighten and loosen on one side. The larger Forza models also have curved yokes, which provide more tilting range when large light modifiers are attached.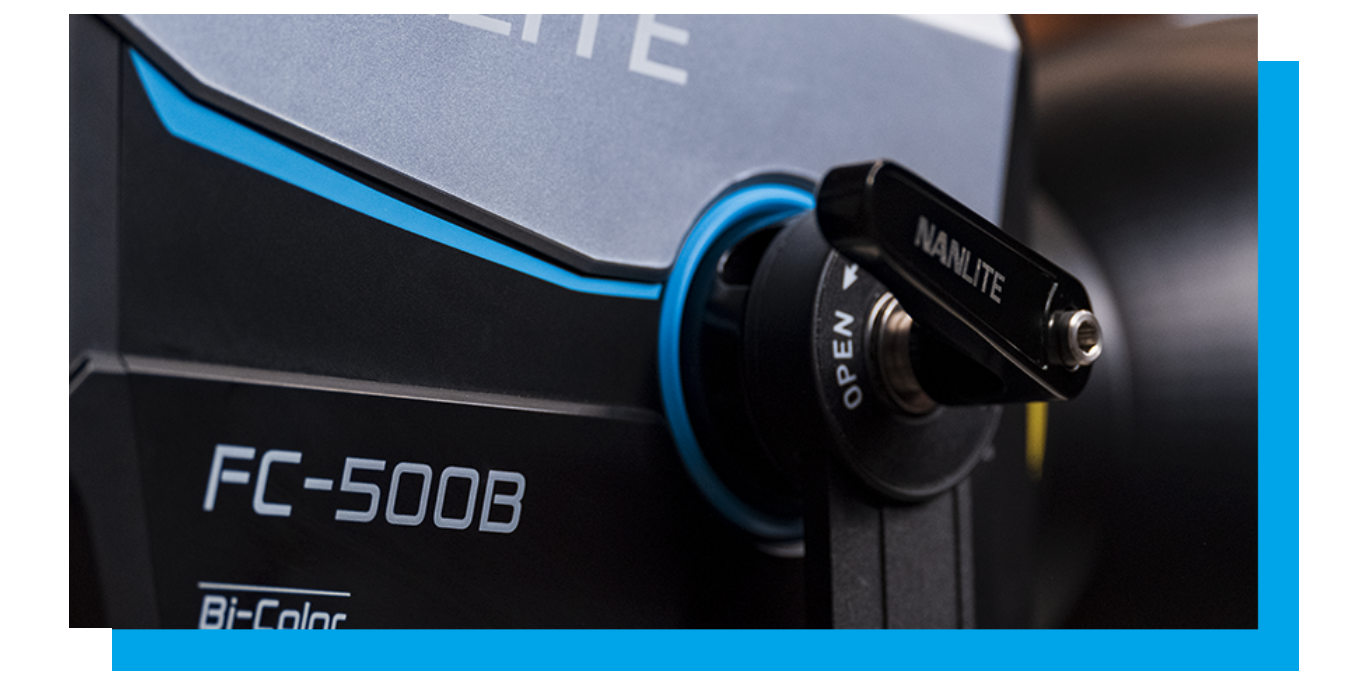 The FS Series have yoke locks that need to be tightened and loosened on two sides. The locks also have rosettes, which provide secure fastening, but the downside is that they sometimes move ever so slightly when tightened down. On the bright side, most of the competing lights from other brands don't have yokes at all and instead have inferior swiveling plastic brackets at their base. Every Nanlite yoke is made of metal.
Difference #4: Control Units, Power Supplies & Monolights
All three of these product families are powerful LED lights for filmmaking, video production, photography, live streaming and more, they all deliver highly accurate light that remains flicker free even at incredibly high frame rates, but they are majorly different when you consider where their onboard controls are located and how they get power.
The larger Forza spotlights that have the Bowens Mount (300 II, 300B II, 500 II, 500B II, 720, and 720B) all have separate "Control Units." This part of the light houses the power supply, the battery plates, and built-in controls and screen. Separating them makes the light head much more compact and lightweight. Plus, if you raise the head up high on a stand, you can keep the Control Unit down low near you to access the controls and powering.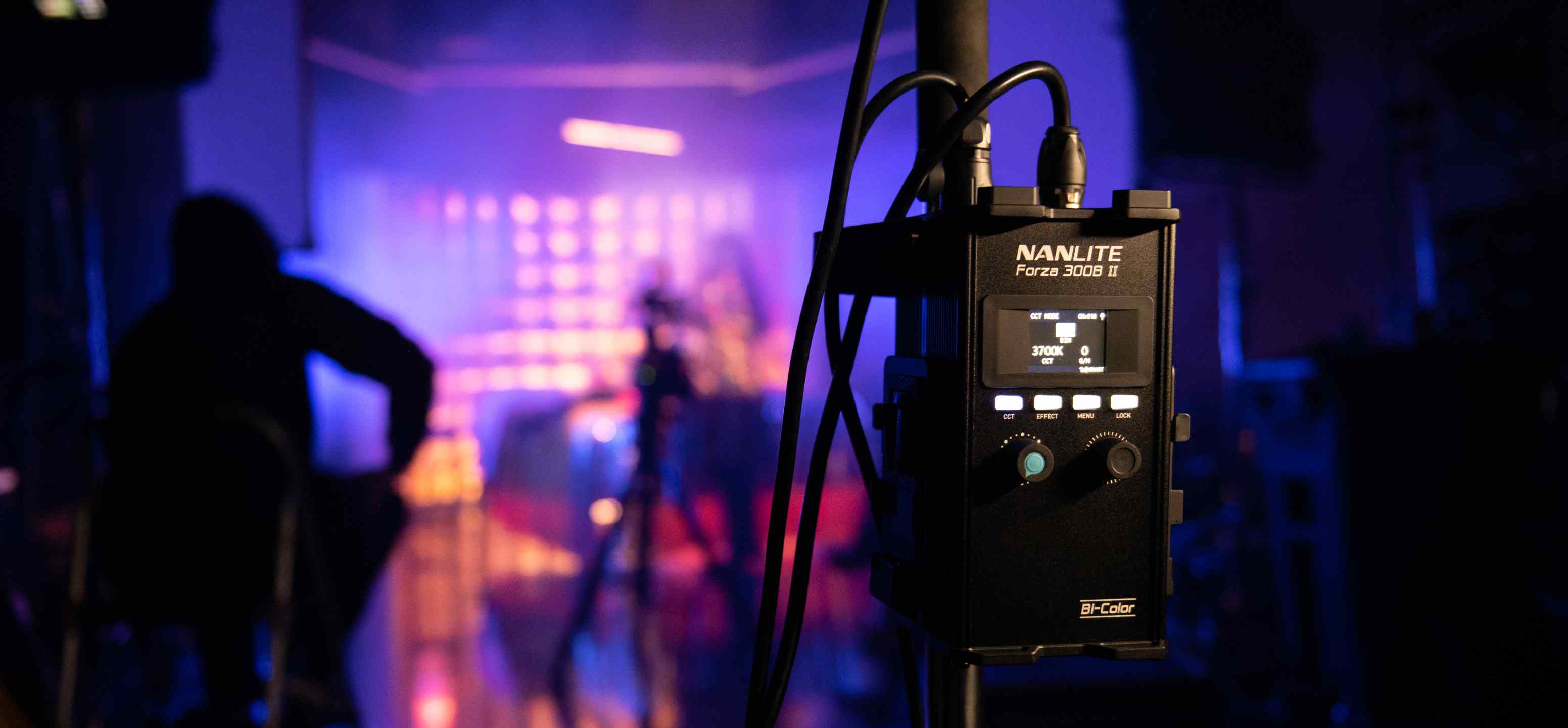 The smaller Forza spotlights with the FM Mount (60 II, 60B II, 60C, 150, 150B) don't have Control Units, they have smaller external power supplies. Similarly, the FC-300B has a larger external power supply, and the FC-500B has an even larger one. The FS Series, on the other hand, are true "monolights." This means that the light is an all-in-one, no external components. With the FS Series, you just plug a standard AC cable directly into the light and that's it.
Difference #5: Cases
When picking out new lights, it's always a good idea to see if it has an included case. The Forza II LED spotlights are second-generation models, and the improvements to this line extend to the included cases. They are soft and padded, and have enough reinforcement to supply ample protection and many compartments for the gear.
The included cases that come with FC-300B and FC-500B are quite different. They might seem like basic internal styrofoam packaging that's been fashioned into a case, but there's a bit more to it. These cases are a more durable hard foam, and they have integrated parts for the hinge, latching mechanisms, and handle. The cases are actually quite functional, protective, and lightweight. The FC lights and their components can quickly be pulled out and put back.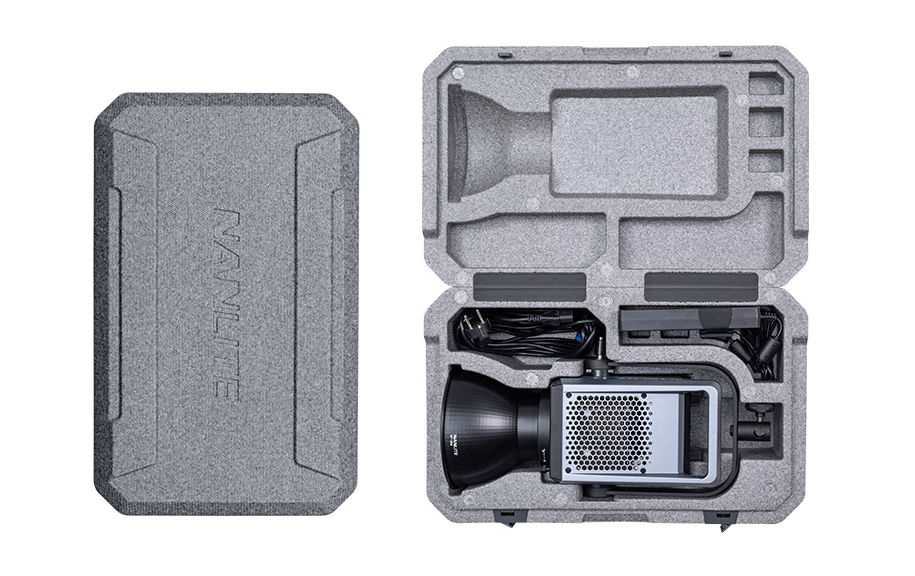 Since the FS Series are AC-powered only, they are generally thought of as studio lights, and they do not come with cases. But, if you want a case for your FS Series lights, they are sold separately. This case is the Nanlite CC-S-FS, and it can accommodate any of the FS Series lights, except for the FS-60B, which is too compact. If you need a case for the FS-60B, you should pick up a Nanlite CC-S-FZ-60II, which fits it perfectly.
Difference #6: G/M Adjustment and DMX
The last two differences are specifically for more advanced users. When you mix Nanlite LED spotlights with lights from other manufacturers, practical lights at your shooting location, ambient light, or sunlight, you can sometimes run into situations where the color looks skewed. When this happens, it's helpful to have a light that allows you to adjust the green-to-magenta shift of its output, to correct the colors you're shooting.
The FC and FS Series do not have any built-in G/M adjustment, but a few notable Forza models do. If this is something you need, the Forza 300 II, 300B II, 500 II, and 500B II all offer +/- 80 G/M adjustment. These lights have red and green LEDs in their light source that make this possible. The ultracompact Forza 60C, which has a full-spectrum RGBLAC LED source, offers +/- 100 G/M adjustment.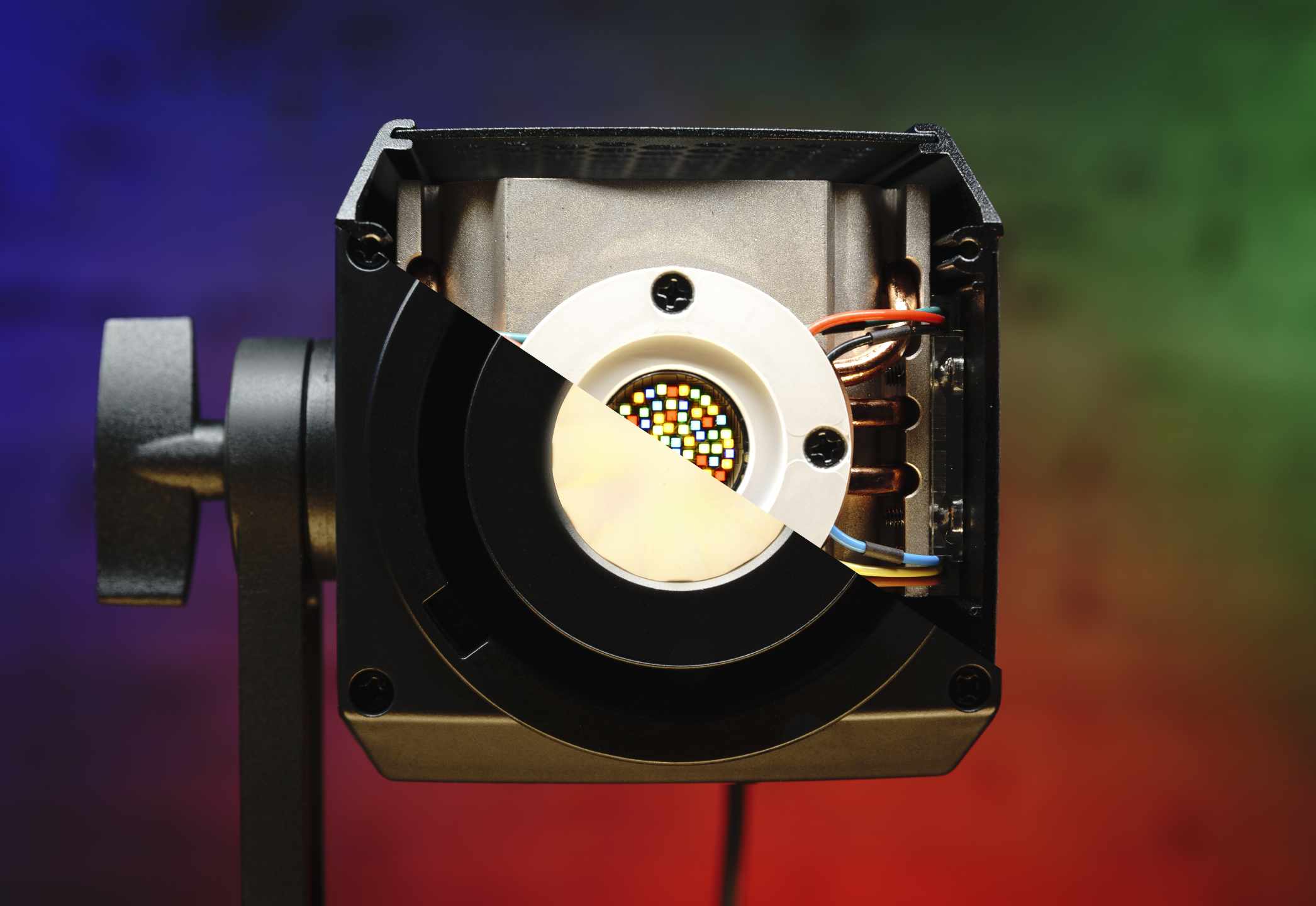 The RGBLAC source of Forza 60C enables G/M adjustment in addition to rich and vibrant color
Another advanced feature that separates these model lines is DMX. This a control protocol preferred by some users. The larger Forza models all feature locking 3-pin XLR inputs and outputs for DMX/RDM control. The smaller Forza lights and the FC models all have locking 3.5mm DMX/RDM ports. The FS Series does not have DMX.
Hopefully you have a much clearer understanding of the differences between the Nanlite FS Series, FC, and Forza models, besides just good, better, and best. If you have any questions, please contact us and we will respond as quickly as possible. Thanks for checking out this article!