Posted by Sam Mallery on Mar 16th 2022
LED tube lights have become incredibly popular in video production, portrait photography and many other creative pursuits, but until now entry-level models have been limited in functionality. The new Nanlite PavoTube T8-7X changes this story completely. It's a 3-foot (1 m) LED tube light that provides highly accurate light in 36,000 different colors as well as daylight and warm indoor tones, it has animated pixel effects and Bluetooth for direct control with the free NANLINK mobile app for iOS and Android. There are appealing features for beginners, more experienced users, and professionals. That's why we call it the LED tube light for everyone.
For starters, PavoTube T8-7X has excellent built-in diffusion. You can't see the individual LEDs glow, just a seamless shaft of light. A built-in battery will run T8-7X at 100% brightness for 56 minutes, or up to 3.5 hours at 10% brightness. A USB-C port lets you connect standard powerbank batteries if you need more juice in the field, and a USB-A charging cable is included that can easily be adapted to plug into an AC outlet for charging and power.
The T8-7X is incredibly lightweight at 0.61 lbs (0.28 kg), which means that traveling and handling it when you're creating it is about as easy as it gets. This also makes it a great instrument for light painting in night photography. PavoTube T8-7X dims from 0 to 100%, making it ideal for low-light situations. With an output of 117 lux (11 fc) at 5600K @1m, it can act as a key light when placed close to a subject in a dimly-lit environment for a dark and moody look. The T8-7X is perhaps best suited as an in-frame practical light that can add interest and visual flare to a wide range of scenes.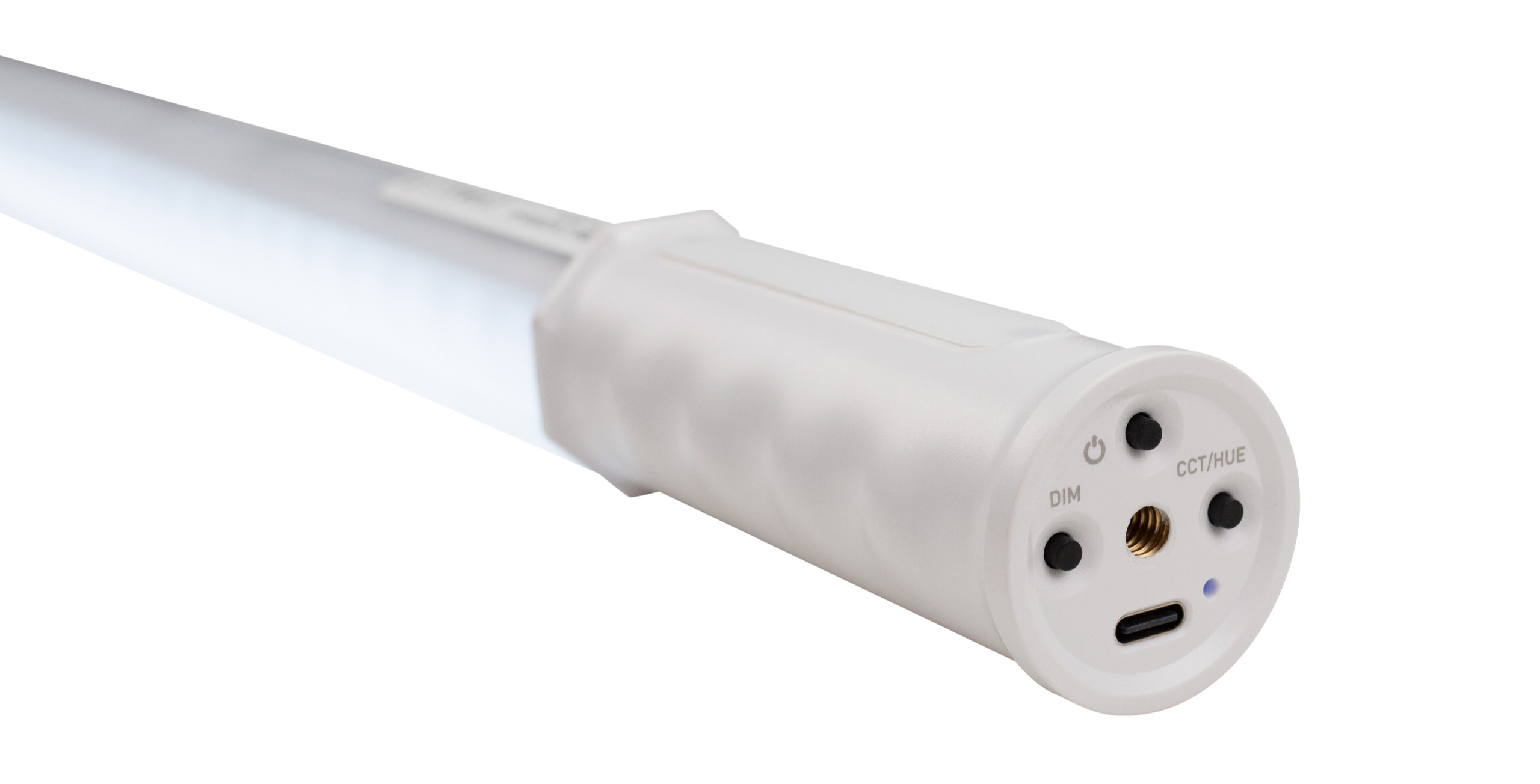 If you've never used a professional lighting fixture before you can pick up a PavoTube T8-7X and figure it out in seconds. The three built-in buttons give you basic control over the settings, but if you want deeper control you can quickly find it in the NANLINK mobile app.
There may be times when you prefer not to use an app for control, like when your phone battery is low. In these instances, you can plug the separately available Nanlite Control Bank into the USB-C port on PavoTube T8-7X. This device provides a screen for seeing the settings and more buttons for control. It also has an external battery that gives you lots of extra run-time in the field.

A 3-foot long pixel tube with a remarkably affordable price-tag couldn't possibly provide high quality light, could it? The Nanlite PavoTube T8-7X does exactly that. The RGBWW LEDs deliver an average CRI of 96 and an average TLCI of 97. The CCT range is 2700K-7500K and it features green-to-magenta shift for blending with other light sources.
More experienced users will appreciate the narrower tube size of the T8-7X. The diameter of the tube is half an inch smaller than the T12-sized PavoTube II X-Series and PavoTube C-Series. This means you can fit it into even tighter spaces, hide it behind narrower gaps, and fit it into T8-sized clips that are commonly found in overhead lighting installations. PavoTube T8-7X is also fully prepared to be used in professional settings. The separately available Nanlite USB-C to DMX Cable lets you control this fixture via wired DMX. The cable features XLR in and out, and a female USB-C port to supply the T8-7X with power for long shoots.

For effects the PavoTube T8-7X has 10 practical effects like Hue Pulse, Storm, Police Car, TV, and Paparazzi. It also features the same animated pixel effects that are found in our top-of-the-line PavoTube II X-Series lights, with favorites like Multicolor, Fire, Rainbow, and the popular Driving effect that recreates the lights that pass by when you're inside a vehicle. All of these effects can be deeply customized and saved as quickly recallable presets in the free NANLINK mobile app.
The PavoTube T8-7X is available individually and in a 4-light kit. The 4-light kit includes a semi-rigid carrying case that has an extra compartment for storing the charging/powering cables. The base of the handled end of PavoTube T8-7X features a 1/4 20 socket, which makes it possible to mount in a variety of ways, especially when you consider how lightweight it is. This is also where you can attach the separately available Nanlite Foldable Floor Stand, which makes the light a free-standing fixture.

It seems like every company says this when they put out a new product, but we sincerely cannot wait to see the evocative images and videos people are going create using PavoTube T8-7X! We're excited that some of our most advanced pixel-tube technology will be accessible to a much larger number of creators.
Thank you for checking out this post! If you have any questions about the PavoTube T8-7X, please contact us and we will respond as soon as we can. Taking care of our customers and future customers is our top priority! :)