Posted by Sam Mallery on Aug 19th 2021
The Nanlite MixPad II series provides a useful variety of lighting styles and effects for studio work, or for battery use when you're out on location. From bicolor options to vibrant RGB colors, as well as hard and soft light — they have you covered in any situation. Like all Nanlite products, they deliver accurate color with high CRI and TLCI ratings. Even though they're versatile and durably built, they're still affordably priced. You can get one when you're just starting out and continue using it throughout your career.
There are two models: MixPad II 27C and MixPad II 11C. The 27C is dramatically larger, measuring around 16-inches diagonally, while the 11C is so compact that it comes with a camera-shoe mount installed. You can attach the 11C to a camera or a tripod head with the included mount, or adapt it to a light stand. The 27C comes with a standard 5/8" receiver light-stand mount. The angle of both lights can be adjusted and locked in a fixed position, and they each come with an AC power adapter in the box.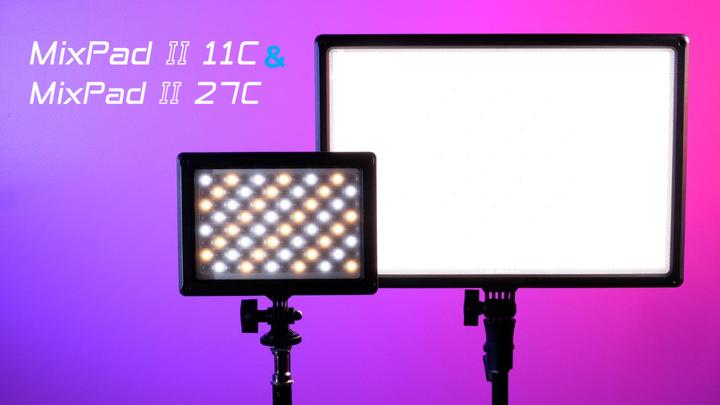 Even though these lights are radically different in size they have the same color temperature range of 2700 - 6500K, the same CRI rating of 95 and TLCI of 98, and they have nearly identical features. Energy-efficient OLED displays are found on both, and they have USB-C ports as well, so their software can easily be updated. Because the MixPad II 27C is larger, it has more space for controls, so it has a second scrolling knob and a dedicated Menu button (the Menu function can easily be accessed with the Mode button on the 11C).
The 27C also has a Trigger button and 2 effects modes that aren't on the 11C: Storm Manual, and Explosion Manual. Pressing the Trigger button activates these effects, so you can precisely time when you want them to light up. The 11C has Storm and Explosion effects as well, they just trigger automatically (the 27C has these auto modes, too).
The MixPad II 27C has 2 slots for NP-F batteries (sold separately), while the MixPad II 11C only has 1. You can use the smaller NP-F550 or beefier NP-F970 batteries with either light. The bigger the battery, the longer it will last. At 100% brightness the 11C runs for 3 hours and 18 minutes with an NP-F970, and at the same settings the 27C lasts 2 hours and 48 minutes using 2 NP-F970 batteries. Both lights have locking mechanisms that prevent the batteries from accidentally detaching.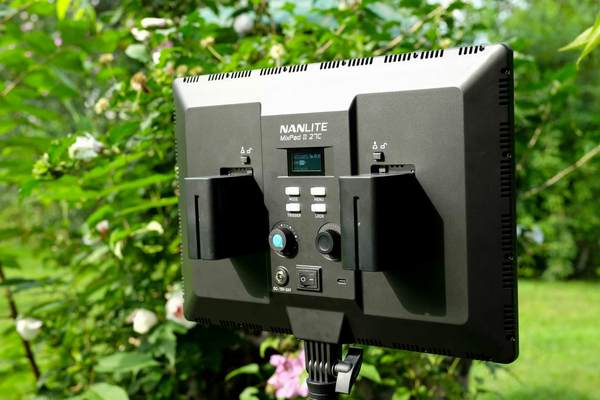 Hard and Soft Light LED Panels for Video and Photo
Similar to the more advanced Nanlite MixPanel 150 and MixPanel 60, the new MixPad II light panels have the ability to switch between hard and soft light. On your end, you just need to press the Mode button. The light, on the other hand, needs to instantly switch between multiple sets of LEDs that achieve these different looks.
When in Hard Light CCT mode, the LEDs that are used come from behind the panel. It should be noted that this mode lets you adjust the green and magenta shift, if needed. In Soft Light CCT mode, the LEDs that are used come from the edges. The rim lighting activates a built-in diffusion layer, which helps it achieve the soft light look, without the need for a softbox. In modes that use colors, the RGB LEDs are used, which again are separate. We think of the MixPad II series as being 3-lights-in-1, because that's exactly what they are.
Even though the new MixPad II LED panels can achieve different looks without the need for additional accessories, creative people always want more control, so Nanlite offers a range of light modifier accessories that let you further shape your light.
MixPad II Light Modifiers: Softbox, Barndoors, and More
The Nanlite EC-LP25 is a fabric grid that was originally made as an accessory for the Nanlite LumiPad 25, but it fits the MixPad II 27C like a glove. The EC-LP25 weighs almost nothing and folds down to a wad smaller than your fist, so you can easily bring it with you on every shoot. To attach it, you just unfurl and pull it over the front edges of the light. It fits nice and snuggly, and you can pull a hook-and-loop fastener to make the fit even more secure.
The EC-LP25 grid does a remarkable job of eliminating light spill from the MixPad II 27C. This is incredibly useful when you want to cast light on a specific subject or area, and avoid directing light at surrounding walls, floors, ceilings or other objects.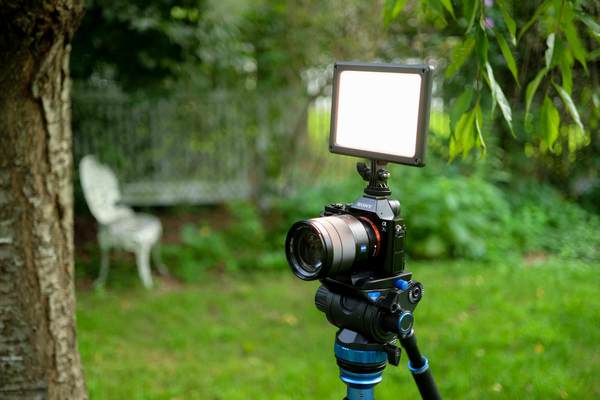 Nanlite has 2 new accessory products coming out soon for the MixPad II series: the Barndoor and Softbox Set for MixPad II 27C, and the Barndoors for Mixpad II 11C. You may have noticed the metal 1/4-20 sockets in the corners of the face of the new MixPad II lights. This is where you attach these metal barndoors, as well as the softbox for the 27C.
Both the 11C and 27C let you control dimming from 0 to 100% and every step in-between, but the softbox accessory lets you maximize the brightness, when needed. It features a reflective silver interior that intensifies the output of the light, as well as a removable layer of diffusion. A set of fabric grids are also included, making this a complete solution.
Hopefully these details about the new MixPad II series has been helpful! If you have any questions, please contact us and we'll respond as soon as we can.