Posted by Kelly Mena on Dec 23rd 2021
Over here at Nanlite USA we have had a few people ask us a very good question:
"What's the difference between the Nanlite MixPanels and MixPads II?"
This is an excellent question and we are so glad you asked! I'm always a big fan of starting with the similarities of fixtures since that is usually where the question emerges. We notice what is similar and then ask what might be different.
How are MixPanel 150 & 60 similar to MixPad II 27C & 11C?
So in terms of the similarities, the MixPanel 150 & 60 as well as the MixPad II 27C & 11C are all light panels that are basically three lights in one. They are not only bi-color but are also RGB, giving you an array of colors to work with. And they can all project a hard light or a soft light with the click of a button. Switching between a "traditional" multi-LED array for hard light with more throw and a diffused SMD LED panel for soft, flattering light. They all also have a variety of lighting effects from hue loops to practical effects like simulating a tv screen or candle light.
In terms of light quality, all of these fixtures have a high CRI and TLCI. Nanlite always has above a 95 in terms of light quality so anything Nanlite will provide you with accurate color. One of my favorite features that all of these panels have is a plus and minus green magenta, which means that when you are using CCT mode you can add green or magenta to finesse the color coming out of the light. So for instance, if you find yourself in a location that has lighting already in the space that cannot be turned off and must be matched you can fine tune these Nanlite panels to best match the space you are filming within.
All of them also have the option to have portable batteries. The MixPanels require a V-mount battery (the MixPanel 60 takes a 14.8v battery and the 150 takes a 26v battery) while the MixPad II's take Sony NP-F batteries. The 27C takes 2 Sony batteries in order to be powered while the smaller MixPad II 11C only needs 1.
How are MixPanel 150 & 60 different than MixPad II 27C & 11C?
Now where these lights start to differ is in their brightness, build quality, and versatility. The MixPanels are more like a filmmakers workhorse. Their build is more durable and they are much brighter than the MixPad II's. How much brighter you might ask? Well here's a nifty chart we pulled from the Nanlite USA website:
MixPanel 150
| | | |
| --- | --- | --- |
| @ 1m 2700K | 10360 lux / 966 fc | @ 1m |
MixPanel 60
| | | |
| --- | --- | --- |
| @ 1m 2700K | 4756 lux / 442 fc | @ 1m Red |
MixPad II 27C
| | | |
| --- | --- | --- |
| @ 1m 2700K | 2964 lux / 275.3 fc | @ 1m Red |
MixPad II 11C
| | | |
| --- | --- | --- |
| @ 1m 2700K | 905 lux / 84 fc | @ 1m |
Basically, with all lights set to a hard light setting and using 1 meter lux readings, the MixPanel 150 is almost 2X brighter than the MixPanel 60. The MixPanel 150 is more than 2.5X brighter than the MixPad II 27C. The MixPanel 60 is 1.5X brighter than the MixPad II 27C.
So not only are the MixPanels brighter but they are also more durable in terms of build quality in comparison to the MixPad II's. If you place the MixPanel 60 right next to the MixPad II 27C you'll see that the MixPanel is thicker and has a metal yoke adjustment. This build quality is a significant one since the MixPanel is built to be on film sets and I like to refer to it as a filmmaker's workhorse.
Another pretty big difference between the light panels is that the MixPanels have the ability to do DMX in which case you can actually have the MixPanels connected to a DMX board with various other lights for a bigger production. Again this is a major difference depending on how you plan on using the lights or what you may want to use the lights for in the future. The MixPanels also have an active cooling fan to keep the light cool during long periods of use. There's actually 3 different fan modes, silent which is all the way off which brings the intensity of the light to 50%, Normal mode which is a quiet fan with a 75% intensity and Max mode which is 100% intensity of the light with the fan on fully.
We now also know that all these lights are bi-color. The user can adjust from a warmer light in CCT mode to a cooler light, depending if they need more tungsten-type light or daylight. One difference though is that the MixPanels have a larger kelvin range of 2700K-7500K while the MixPad II's go from a 2700K-6500K. This is not a huge difference but it is worth noting.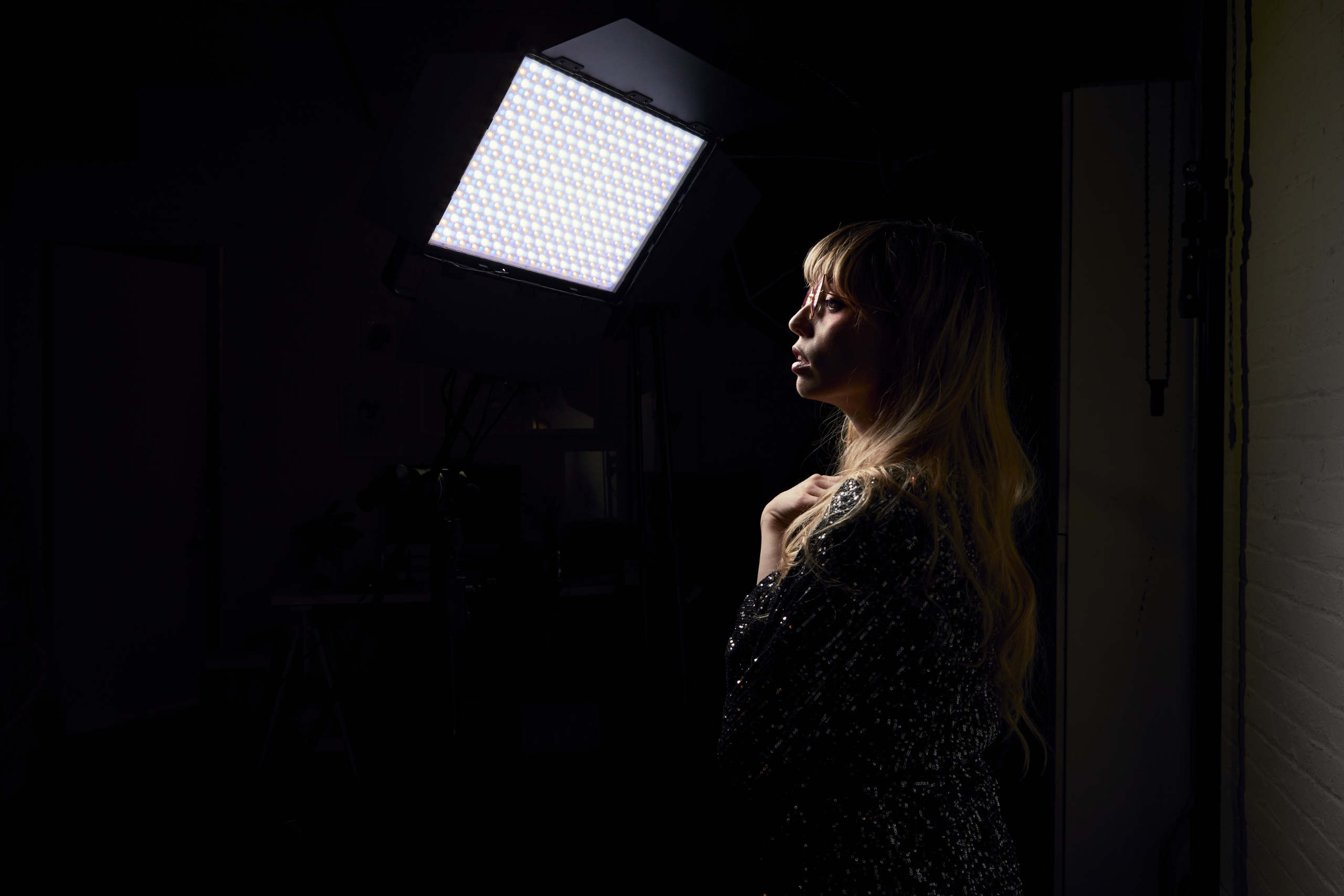 Additionally, the MixPanels come with their own Nanlite carrying bag and with barndoors. There are multiple softbox accessories available as well. The MixPad II's do not come with barndoors but the MixPad II 27C has an optional barndoor and softbox combination accessory which is sold separately. The MixPad II 11C has a set of barndoors that are sold separately as well.
On top of that both the MixPanel 60 & 150 go beyond just RGB and provide gel emulation which allows the user to choose their base kelvin (5600 daylight or 3200 tungsten) and then apply gels on top of that much like you would use actual gels on a fresnel light. That includes CTB and CTO gel emulations and the color gels are very close to the typical gels you'd see from Rosco.
Something else to note is that the only light with a mount other than a typical standard 5/8in receiver is the MixPad II 11C which has a 1/4'' 20 and cold shoe since it is meant as more of an on-camera light. The MixPad II 11C can also be placed on a light stands, but mounted onto a camera is an ideal use for it.
So as you can see there are definitely some differences and that reflects in the pricing. The MixPanels cost more than the MixPad II's considering these differences but all of the lights give you an incredible amount of variety and the MixPads are an incredibly cost effective route to take, especially considering how many features you get in the one light.
We also have some good news. Both the MixPanels and the MixPads are actually on sale now up until January 15th, 2022. You can get any of them for 20% off! Nanlite is providing various promotions for the holidays and new year. Make sure to check them out here: https://nanlite.swipepages.net/fall-2021
Thanks for checking out this post! Hopefully you have a stronger understanding of these lighting fixtures now. If you have any additional questions, please contact us and we'll respond as soon as we can.