Posted by Nanlite Admin on Feb 21st 2020
There are many options to choose from when you're looking for a ring light, but the Halo series from Nanlite offers something special. Every Nanlite product has a CRI rating of 95 or higher. What does this mean? It means your colors and skintones will be as accurate as possible. Whether you're shooting video or stills, or doing hair and makeup — you can have total confidence in what you see. Lesser quality ring lights shift the colors, making it difficult to deliver polished work. Every Nanlite ring light provides professional results.
Halo: The Best LED Ring Lights for Phones and Beauty
Nanlite offers a full range of ring lights to suit various needs. The details are explained below, but if you prefer learning by watching, check out this video:
There are six Nanlite Halo ring lights available: the 10-inch Halo 10B, the 14-inch Halo 14 and Halo 14U (which has a built-in rechargeable battery), the 16-inch Halo 16 and Halo 16C (which can do multi-colors), and the largest model is the 18-inch Halo 18.
All of the Nanlite Halo ring lights are bicolor, which means they can provide warm light similar to what you get from lamps indoors, and cool light like you get from the sky outdoors. This allows you to achieve different looks, or match the ambient light around you whether you're shooting indoors or out.
The Nanlite Halo ring lights also all include a smartphone bracket and a mirror. The bracket allows you to mount your phone in the center of the ring to shoot horizontally or vertically. The mirror can be used for hair and makeup, and to get ready for the camera. All of the Halo ring lights come with AC power adapters and carrying cases as well.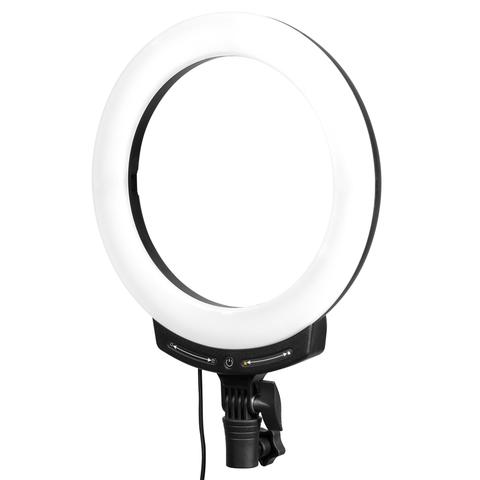 Nanlite Halo 10B LED Ring Light
If you need a ring light that's compact and easy to travel with, the Halo 10B is a great option. A pair of Smart Touch Switches on the front of the Halo 10B let you easily adjust the dimming and the color temperature with a simple swipe of your finger. If you have a portable power bank phone charger, you can connect it to the 10B to use it in the field when you're away from electrical outlets.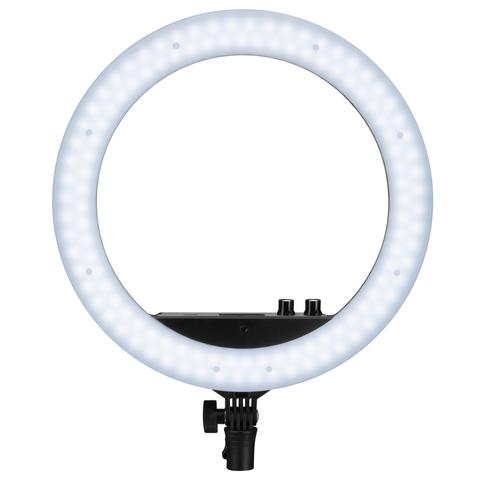 Nanlite Halo 14 LED Ring Light
While still compact and portable at 14-inches, the Nanlite Halo 14 provides a slightly brighter output than its smaller sibling, the 10B. The knobs to control dimming and color temperature on the Halo 14 are positioned upwards so they can easily be controlled whether you're in front of the ring light or behind it. USB port is provided to keep your smartphone charged so it will keep working for long shoots and livestreams.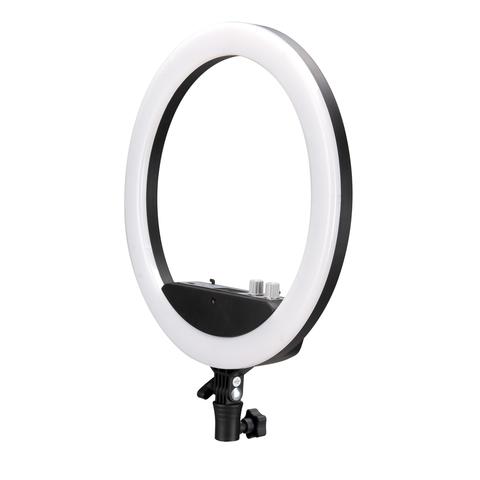 Nanlite Halo 14U LED Ring Light
With a similar size and design as the Halo 14, the Nanlite Halo 14U goes one step further by including a built-in Li-ion rechargeable battery that can power the light at full brightness for 1.5 hours. If you need more time than that, you can connect an external power bank as well. The 14U also includes a power adapter to plug it into an AC outlet, and a USB port to connect to a smartphone to keep it charged for your entire shoot.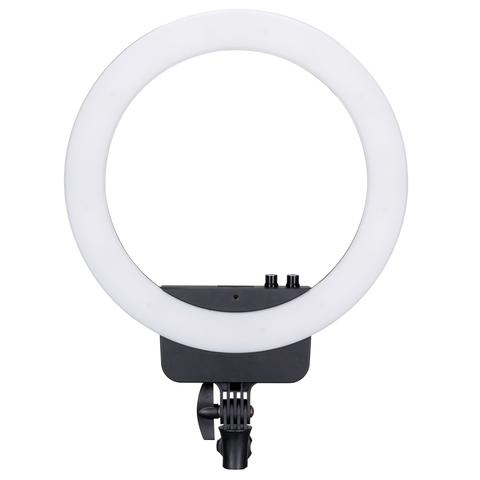 Nanlite Halo 16 LED Ring Light
If you want a larger LED ring light that provides a more professional battery-powering option for use in the field, check out the Nanlite Halo 16. This light can be powered with the included AC adapter or with a Sony NP-F style battery (sold separately). A USB port allows you to charge connected smartphones. You can even control the Halo 16 wirelessly if you use the separately available Nanlite CN-W2 Wi-Fi Adapter.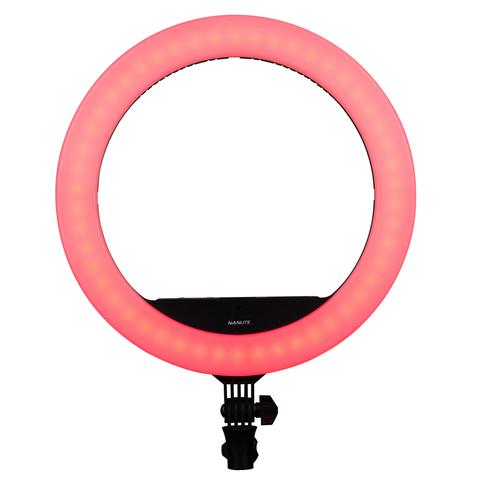 Nanlite Halo 16C RGB LED Ring Light
The Nanlite Halo 16C shares many of the features of the Halo 16, but it has one additional feature: multi-color! In addition to the warm indoor and cool daylight tones of the other Halo ring lights, the 16C has RGB LEDs, which makes it possible to create over 360 different colors. This opens the door to a whole world of creative options. It has easy-to-use touch controls, and even a flash effect, and an effect that smoothly cycles between different colors.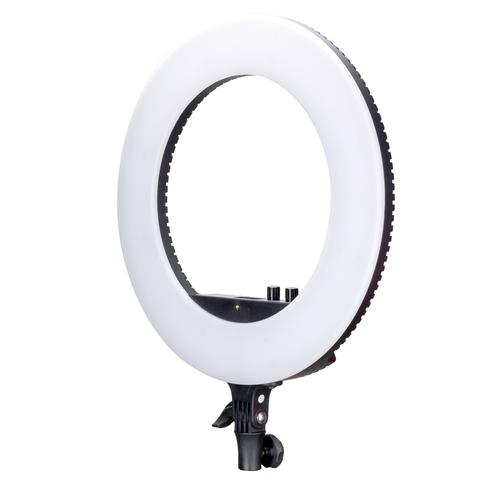 Nanlite Halo 18 LED Ring Light
If you're looking for the biggest and brightest ring light that provides Nanlite's highly accurate color temperature, you've found it in the Halo 18. The exterior diameter of this light is 18 inches, and the interior diameter is 12 inches, which means the LED ring itself is notably wider than the other ring lights in this series. The mirror that comes with the Halo 18 is dual sided, with the reverse featuring a 2X mirror for close-up work.
Thanks for checking this out! If you have any questions about Nanlite products, please contact us and we'll respond as soon as we can.