Posted by Kelly Mena on Apr 13th 2020
It isn't everyday that you encounter gear that immediately makes your mind race with creative ideas for how you can use it, but this is exactly what the Nanlite PavoTube 15C and PavoTube 30C LED tube lights do. When people get them in their hands and start using them in their video and photo shoots, the PavoTubes deliver on their promise and quickly become a favorite tool. In this post, we'll take a deeper look at these versatile LED tubes, explain their core features, and show you the accessories that make these lights even more useful.
Core features of the Nanlite PavoTube 15C and 30C
The great thing about PavoTubes is that they can be used in so many different ways. They're striking, eye-catching practical lights when used in frame, yet they're equally as useful off-camera. Their slim profile allows you to fit them into tight spaces, such as inside vehicles, hidden behind a piece of furniture, etc.
The PavoTube 15C and 30C provide an impressive amount of light, and can be dimmed from 0 to 100%. The color temperature can be adjusted from 2700 to 6500K, and the full-spectrum RGBs can produce over 360 colors. They have many useful pre-programmed effects, and the user manual is printed on the exterior of the light so you can quickly pull up the look you want with its easy-to-use control dials.
The diameter of these lights is 1.9 inches (48.26 mm), and they're compatible with the T12 standard of tube light fixtures. T12 is a common size for fluorescent bulbs (the T stands for tubular). The end caps of the PavoTubes are hexagonal, so they won't roll away when placed on flat surfaces, and you can use the flat sides to point the light in a desired direction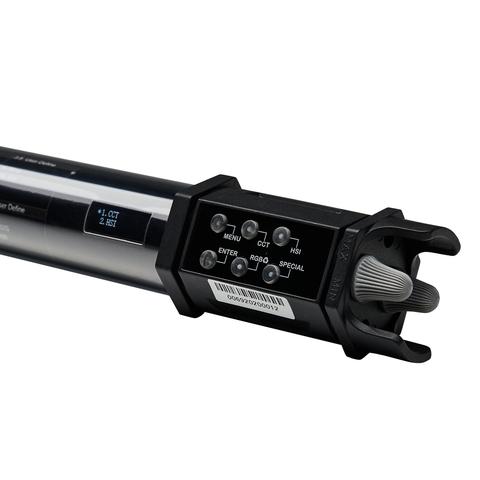 Controlling the PavoTube 15C and 30C is carried out with six buttons, two knobs, and a useful OLED screen. The intuitive, user-friendly design of the controls is one of the many reasons these tubes are so popular.
With the separately available WS-RC-C1 remote control, you can adjust the brightness, color temperature, hue, and saturation wirelessly of multiple PavoTube LED tube lights. If you prefer to use a mobile app to wirelessly control your lights, you can do this with the free Nanlink app and the separately available Nanlite W-2 Wi-Fi adapter.
Tube holders and other included accessories
When you buy a single PavoTube 15C, it comes with a Transparent Polycarbonate T12 LED Tube Mounting Clip (the 30C comes with two). They are simple, see-through mounting accessories that have 2 female 1/4-20 receivers, the same size thread that's on the base of a camera. There's another version of this mount with a 5/8in baby pin attached to it that's available separately.
There is an entire range of useful accessories available for the PavoTube 15C and 30C that truly expand the creative possibilities of these LED tube lights. We have a dedicated article about PavoTube accessories that you can check out here.
A padded carrying case is also included when you buy a PavoTube 15C or 30C. You also get an AC power adapter, which charges the internal battery when connected, and powers the light. A fully charged battery gets you 2.4 hours of use with the 15C, and 2.2 hours with the 30C. Kits with multiple PavoTubes come with a cable that enables you to charge multiple tubes with a single AC adapter.
Another included accessory with multiple PavoTube kits are sync cables. They let you plug the tubes into each other, and the first PavoTube in the chain will the master, so all of the connected PavoTubes will mimic the same settings as the master.
The PavoTube 15C and 30C also come with two short wires that can be attached to either end of the tube. This allows you to easily hang them, like on an extension arm of a C-stand, for example
Learn more about all the PavoTube units and kits:
https://nanliteus.com/shop-collections-pavotube-rgbww-led-tubes/
2ft PavoTubes:
Fabric Barndoors And Grid For Pavotube 15C LED Tubes
4ft PavoTubes:
Fabric Barndoors And Grid For Pavotube 15C LED Tubes
Mounting Accessories:
Pavotube Single T12 LED Tube Holder With 5/8in Receiver
Pavotube Single T12 LED Tube Holder With Swivel Ball Joint And 5/8in Baby Pin
Pavotube Double Bank 2 T12 LED Tube Mount With Gooseneck And 5/8in Receiver
Pavotube Quad Bank 4 T12 LED Tube Mount With Gooseneck And 5/8in Reciever