Posted by Sam Mallery on Dec 1st 2022
The Nanlite FS Series is a line of AC-powered studio lights that all feature durable construction, pristine light quality, easy-to-use controls, and budget friendly prices. Not surprisingly, these appealing characteristics have proven to be popular with live streamers, photographers, video shooters, and creators of all kinds. As interest in the FS Series has grown, so has the product line itself, with the recent additions of the FS-300B and FS-60B. Today we're excited to add two more excellent fixtures to the FS Series: the new FS-150B and FS-200B.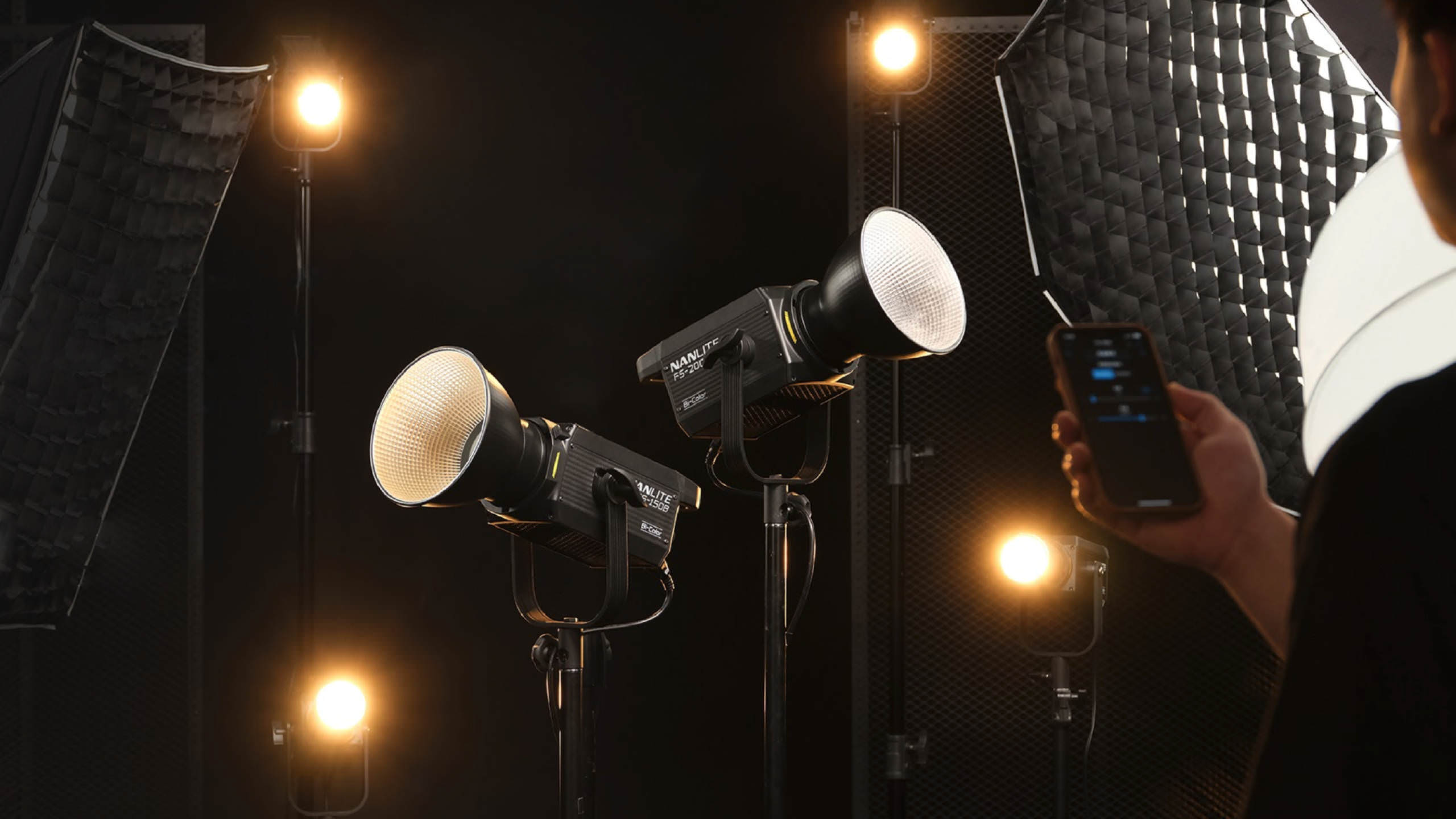 With these two new lights in the lineup, the FS Series has truly become a complete family that suits a vast number of purposes. The compact FS-60B could act as a key light in small rooms where the camera is close, but often will be better suited as a flexible, bi-color fill or backlight. There is the FS-150, which is more than twice as powerful and can act as a key light in medium-sized rooms, but again may be more useful as a fill or backlight for wider shots. The new FS-150B fills the same roles with the versatility of bi-color. When shooting in slightly larger rooms with wider shots, we have the FS-200 and now the FS-200B to handily light up these spaces. When you need a powerful key to do the heavy lifting, we have the FS-300 and the bi-color FS-300B. This is just a tiny sample of what you can do with these lights, of course, as they're used in a myriad of different ways.
Get the Look You Want in Seconds
Both the new FS-150B and FS-200B are bi-color lights with a color temperature range of 2700K–6500K, which means with the turn of a single knob you can adjust the look from white sunlight to warmer, indoor lamp tones, and all vibes in-between. It lets you easily dial in the perfect look for your shots. If you find yourself starting a live stream where you're indoors near a window that's letting in sunlight, having an adjustable color temperature range lets you blend the color coming from your FS-Series light with the ambient light of the room. If the sun is going down, or if clouds roll in and change the light coming from the window, you can adjust your FS-Series light again so everything looks its best.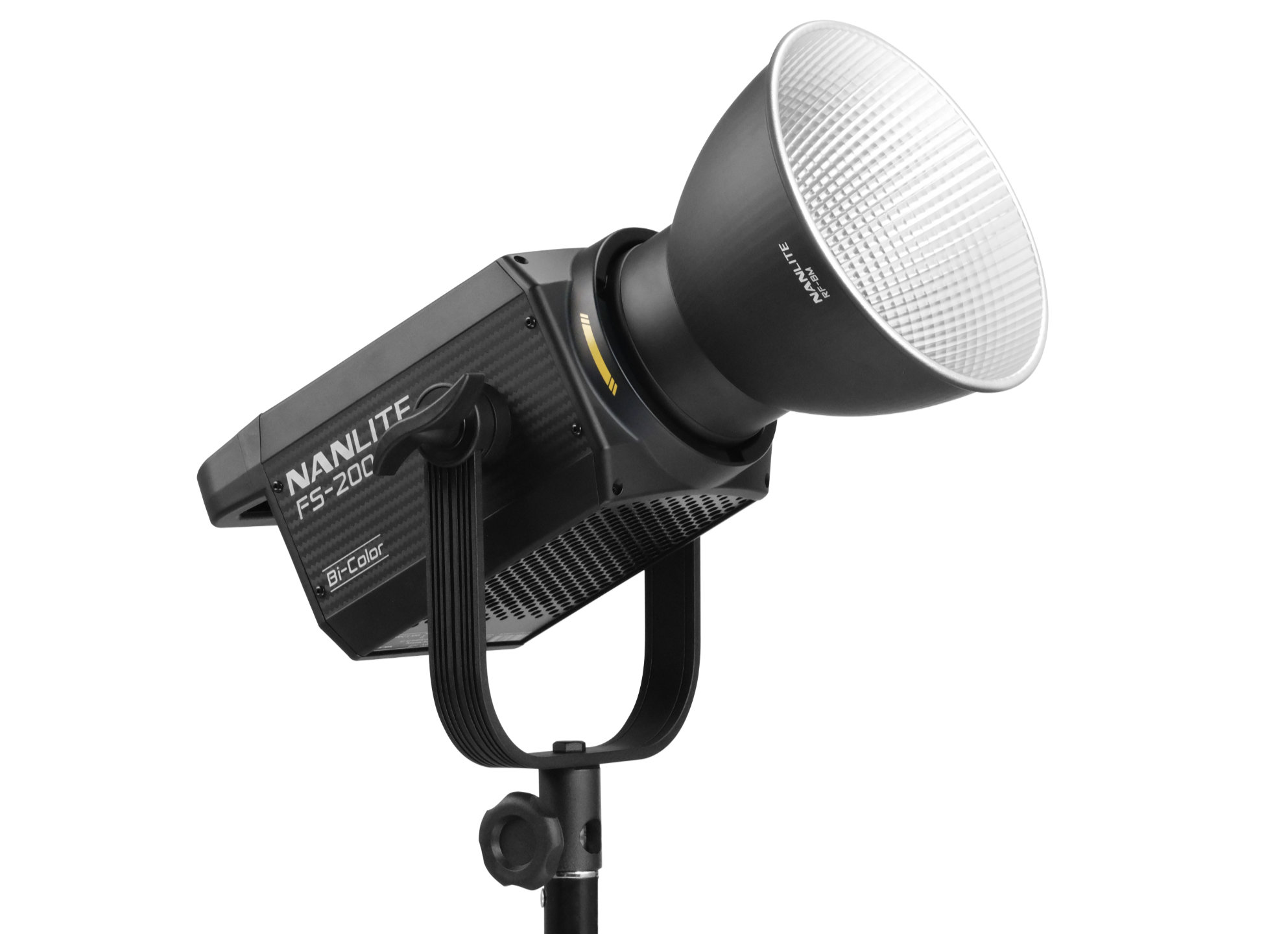 Another thing these lights have in common is that they both have the nearly universal Bowens Mount. If you want softer light, there are a vast number of modifiers that are compatible, including Nanlite's own offerings. The new FS-150B and FS-200B also have built-in umbrella mounts that give you even more cost-effective, light-softening options.
Highly Accurate Performance
When you power-up a light to start shooting, it's important that the quality of the light is accurate. You don't want skin tones and other elements of your shot to have different hues on screen than they do in real life. This is why the color performance of your lights is crucially important. All lights that wear the Nanlite name deliver high accuracy, and the new FS-150B and FS-200B are no different. Here are their scores:
CRI: Average 96
TLCI: Average 97
TM-30 Rg: Average 102
TM-30 Rf: Average 95
Hands-On or Wireless Control
It doesn't matter if you're setting up for the first time or several hours into hosting a livestream, it's easy to control the FS-150B and FS-200B. There are two simple knobs to adjust: dimming and color temperature, and a single dedicated button to switch modes. A built-in 1.3-inch OLED screen lets you clearly see the settings you have dialed in.
Built-in Bluetooth lets you wireless control these lights with the free NANLINK app for iOS and Android. If you're shooting by yourself and you're on camera, that app lets you quickly adjust to the perfect dimming and color temperature settings. If you don't want to involve your phone, you can use the WS-RC-C2 handheld remote control (sold separately) that connects to these lights with 2.4G. If you end up with an entire studio filled with Nanlite fixtures, you can use the WS-TB-1 Transmitter Box, which lets you control large numbers of lights at the same time without bandwidth constraints.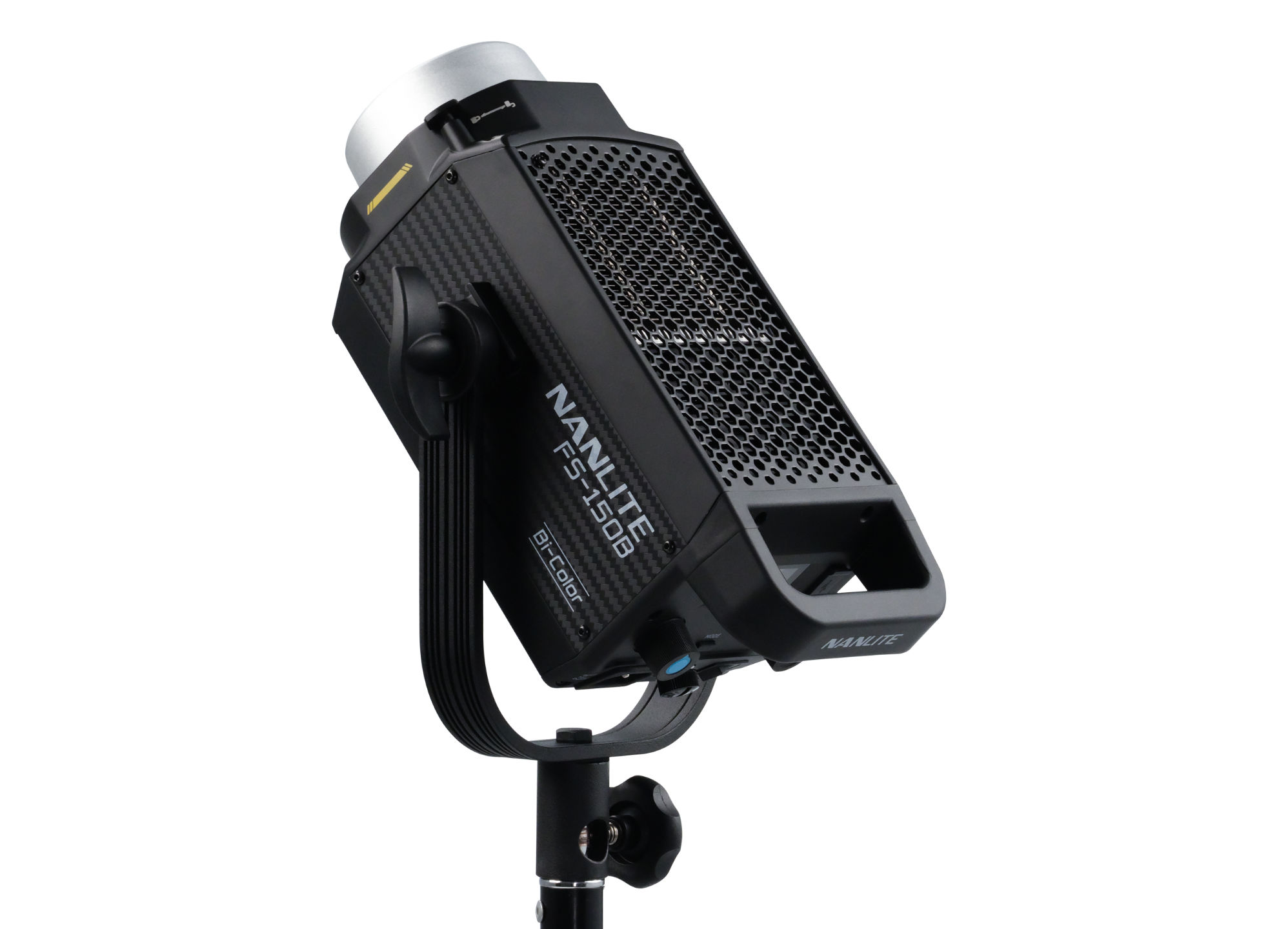 Quiet Fan or Complete Silence
The built-in fan on the FS-150B and FS-200B is remarkably quiet and will not interfere with your audio when shooting. However, should a situation arise where you need absolute silence on set, the fan on these lights can be turned off. The maximum output is limited to 15% when the fan is off, but it can be a useful feature to have in some scenarios. It's also important to note that the fan cools the internal components of these lights. Because they're LEDs, they never get too hot to handle when in use, even though they have sturdy construction.
The physical appearance of all of the FS-Series lights is similar. They're good looking and have an unmistakably professional sheen. They're tasteful and do not try to attract attention to themselves with unnecessary gaudiness. The rectangular shape of their bodies allows you to confidently stack them, which can be surprisingly useful when setting up, breaking down, or storing them on shelves or surfaces.
Designed to Make Life Easier
Neither the FS-150B nor the FS-200B has a wall-wart power adapter or a control box that you need to deal with. The included AC cable, which is over 14 feet in length, just plugs directly into the light. There are 12 built-in effects that you can get creative with, and you can easily tweak and save your own presets in the NANLINK app. A USB port is built into both of these lights so firmware updates can be added in the future. These updates sometimes add entirely new features to the lights. The yoke has a standard-sized receiver, so it can be mounted to any regular light stand either vertically or horizontally.
They have two operation modes: Maximum Output and Constant Output. Like the name implies, Maximum Output mode lets the light provide the brightest possible light. Constant Output mode is different. When you change the color temperature, the output of the light can sometimes get dimmer or brighter. Constant Output mode eliminates these changes in intensity. This way you can change the color temperature, you won't need to then adjust the camera's settings to compensate for changes in brightness.
All in all, they're both just extremely well built, high-quality lights with incredibly reasonable price tags. What's not to love about that? We hope this article has been helpful. If you have any questions about the new Nanlite FS-150B or FS-200B, please contact us, and we will respond as quickly as possible.