Posted by Sam Mallery on Mar 30th 2022
We're excited to announce the new Nanlite 720 and 720B spot lights, the brightest fixtures ever in the Nanlite product line — and the 720B has the distinction of being the brightest bi-color LED light in the world. The innovation required for the engineering and manufacturing of these lights was no small feat, and we're looking forward to getting them into the hands of creatives around the world to help them elevate their craft.
The new Forza 720 and 720B are relatively compact and lightweight, but they both pack a powerful punch. Whether you're shooting outdoors on a clear day and you need a light that can compete with direct sunlight to fill in the shadows, or if you're lighting through a window to create artificial sunshine on set, both of these lights have you more than covered. With the included reflector the Forza 720 outputs 124,000 lux (11,529 fc) at 1 meter, and set to 5600K the Forza 720B outputs 84,460 lux (7,846.6 fc) at the same distance.
These output specs grow dramatically higher when you attach a separately available Nanlite FL-20G fresnel lens or a Nanlite PJ-BM Projector. While high output has a lot of appeal and is extremely useful for productions, there's a lot more to appreciate about these lights besides the record-breaking amount of light they produce. Every aspect of their design was taken into consideration to provide a fast, safe, and user-friendly experience.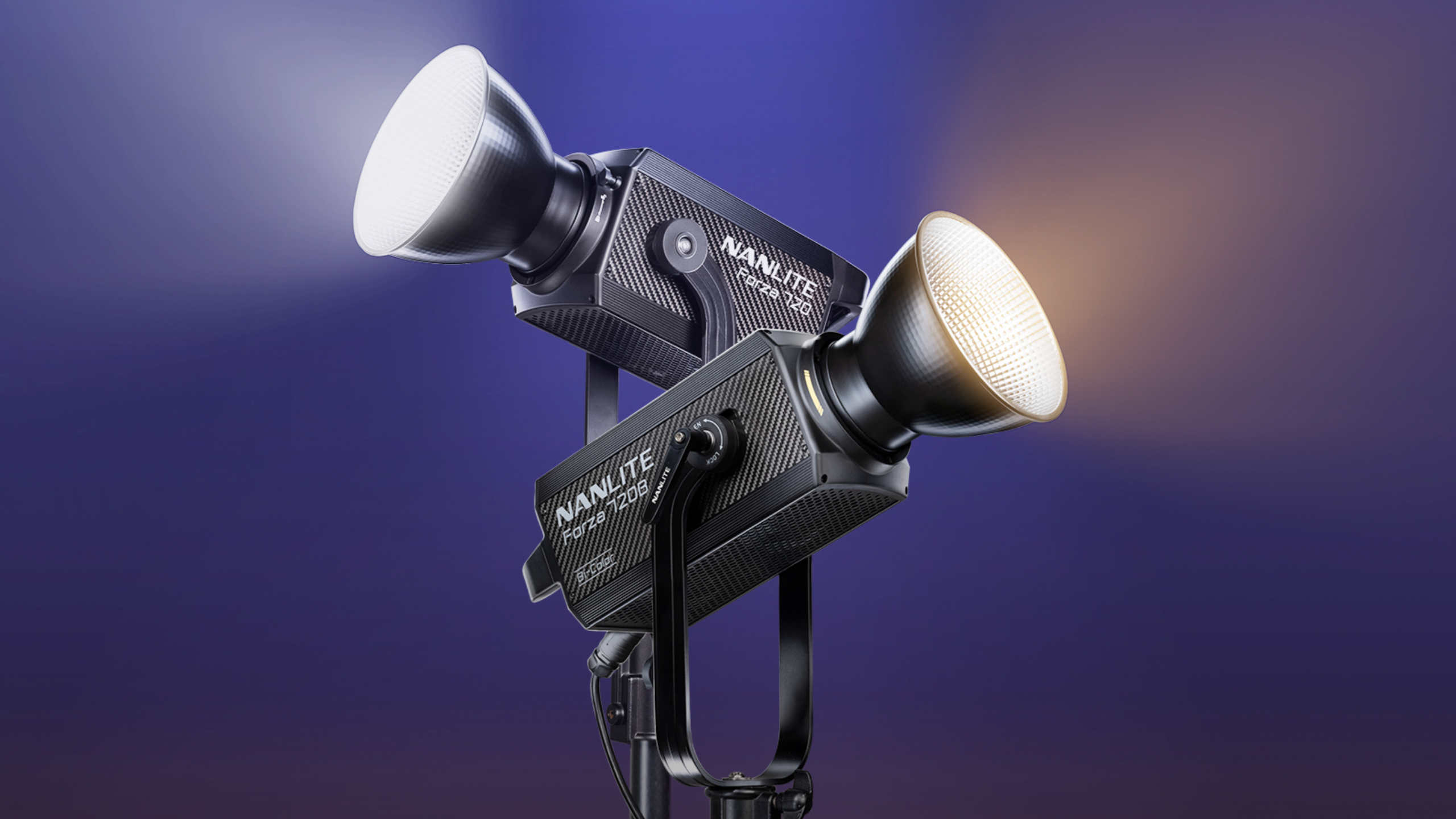 Built for Professional Production
Both the heads and the Control Units of these lights are constructed with rigid, metal frames. They were made for daily use on set, and to travel from location to location. The lighting elements are coated with glass for protection. The Control Unit features several loops for threading safety wires to make a more secure mount. The base of the yoke features a mount that's compatible with both junior and baby pins, so it can go right on to a C-stand. A 16.4 foot (5m) cable is included to go between the head and Control Unit, so you have the option to mount it up high.
The yoke also features a single-sided locking mechanism that's easy to position and fix into place. It's a rosette-free design so you can precisely aim the beam. The yoke is also angled, which gives you more space to tilt the fixture when it has a large modifier attached. An umbrella mount is also built-in to give you more light-shaping options.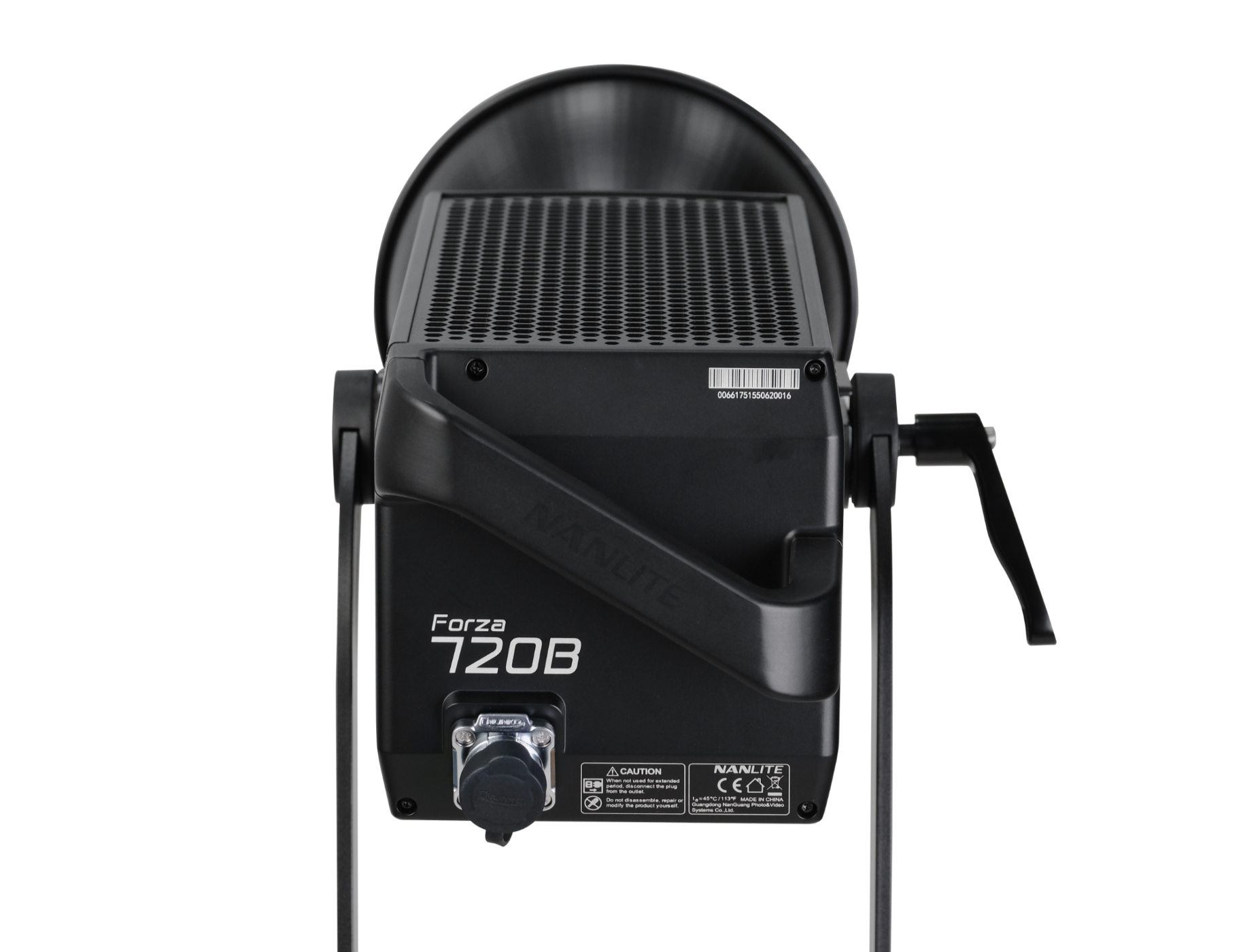 Forza 720 and 720B can plug into a standard AC outlet for power but they also can run on V-Mount batteries in the field. The Control Unit features battery mounting plates on the sides for easy access. When running on batteries these lights continue to deliver an impressive amount of output. With two 26V batteries the Forza 720B can supply up to 65% brightness, and with the same batteries the 720 can provide an industry-leading 70% brightness. These lights are also compatible with 14V V-Mount batteries.
A Breakthrough in Bi-color
The new Forza 720B has a variable CCT range of 2700K-6500K with the ability to provide a currently unmatched amount of output. This is achieved in part by Nanlite's development of its CSP light source (Chip-Scale Package) which provides the highest efficiency when transitioning from daylight to bi-color.
Rather than being satisfied with producing the brightest bi-color LED light in the world, Nanlite innovated further with the Forza 720B. It features two new operating modes: Max Output and Constant Output. When Max Output is engaged, the 720B will only provide the brightest possible amount of light for the current CCT setting. In Constant Output mode the 720B will output the same luminance level as you adjust through the CCT range. This way you can change the CCT without needing to make changes to the camera settings and other equipment, speeding up your workflow on set.
Brightest Nanlite Ever
If the brightest possible output is what you need, the new Forza 720 is over 20% brighter than the 720B. Both lights have a rated power of 800 watts, but the Forza 720 has an edge for overall power because it's dedicated to providing 5600K daylight-balanced light. The head of the 720 is also around 1 inch shorter than the 720B, and it's 1 pound lighter, so it has a slight size and weight advantage as well.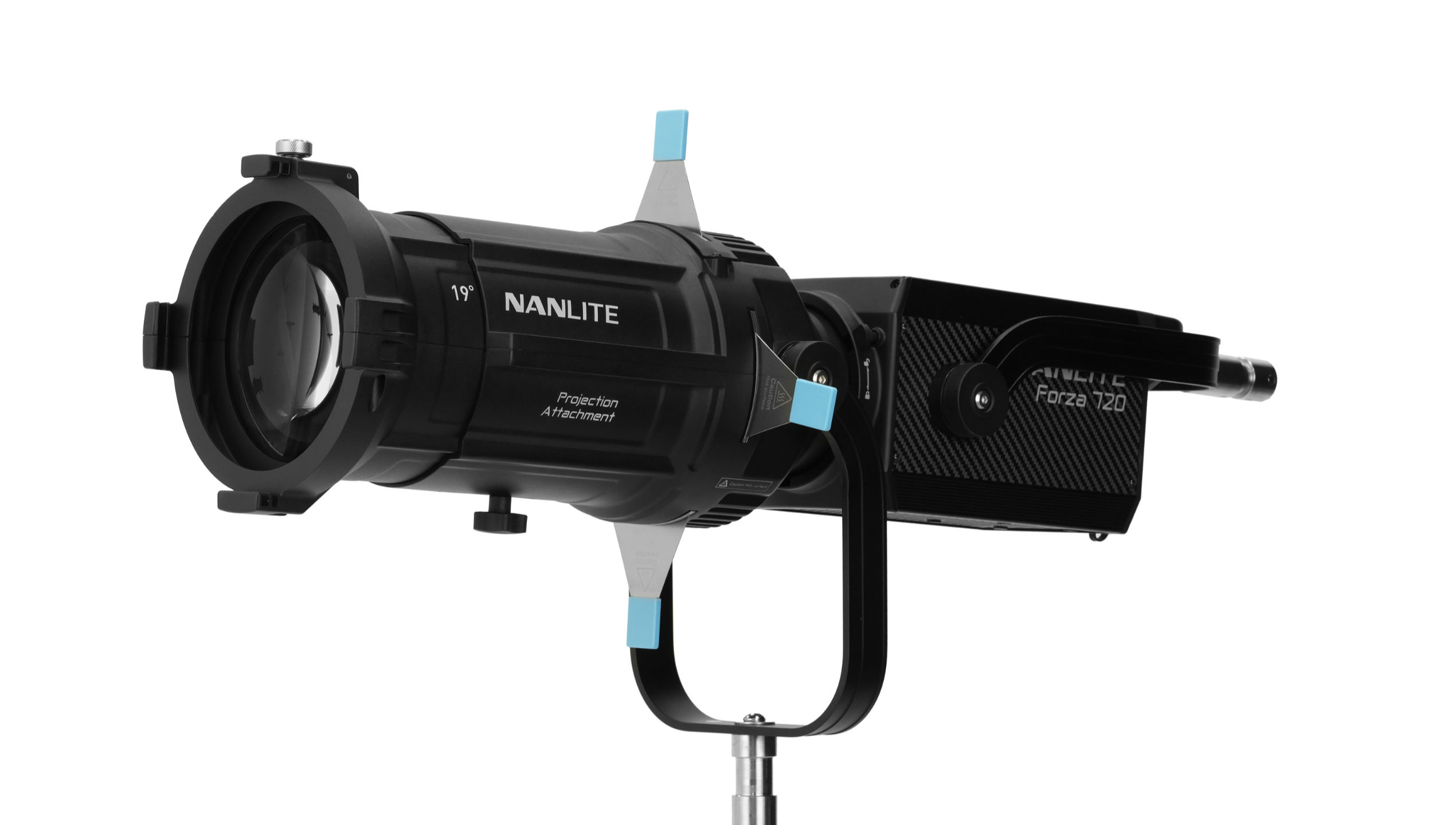 A standard Bowens Mount is provided on both lights, giving them vast compatibility options for light modifiers. But when you attach the separately available Nanlite PJ-BM Projector, the creative options and light output both increase greatly. With the 19 degree lens attached the 720 outputs 22,930 lux (2130 fc) at a healthy 9.8 feet (3m). With the same projector and lens attachment the 720B outputs 17,440 lux (1620 fc). The projector lets you cut the light into specific shapes, add patterns from gobo discs, adjust focus from sharp to blurry, swap lenses, add an adjustable iris and gels.
Multiple Control Options
Both Forza 720 models come with built-in Bluetooth for direct wireless control with the NANLINK mobile app for iOS and Android. The app gives you deep control over every parameter of the light, with the ability to create groups of lights and save customized settings as quickly recallable presets. There are 11 effects in the 720 and 12 effects in the 720B, but with the NANLINK app you can save an unlimited number of custom effects.
The lights also have a 2.4G wireless module built in. This lets you easily control them with the WS-RC-C2 remote control (sold separately), or for more elaborate setups where you want to control a larger number of lights with the NANLINK app, the 2.4G makes it possible to use the WS-TB-1 Transmitter Box (sold separately). This is the best way to control multiple Forzas, PavoTubes, PavoBulbs, and Nanlite panels at the same time.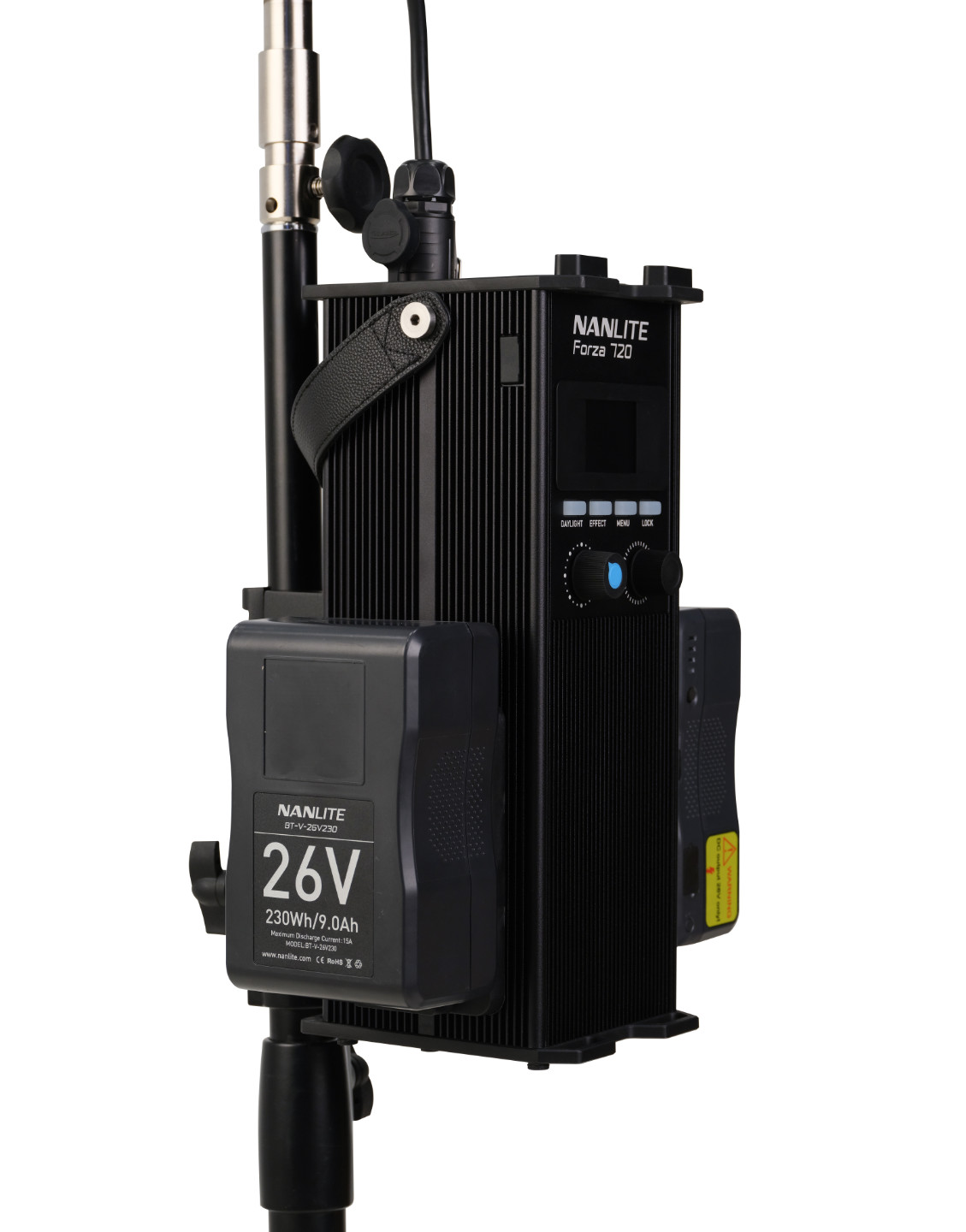 There are also hardware controls directly on the aptly named Control Unit. There are four buttons, two push-button knobs and a 2.2 inch LCD screen. XLR input and output on the Control Unit also make it possible to control these lights with DMX/RDM. USB-A is provided for firmware updates, but it's intentionally a powered port so you can send juice a wireless DMX receiver (sold separately).
Every Detail Was Considered
Even though these lights are capable of incredible output, they both have surprisingly quiet cooling systems, so you can always record clean audio when they're nearby. On extremely sound-sensitive sets the fans can be turned off completely, limiting you to 15% max power.
A sturdy quick-release clamp is included, which lets you confidently mount the Control Unit to light stands, C-stands, and trusses. A padded carrying case is included as well.
You can fine-tune the 0-100% dimming of these lights in 0.1 increments, making it possible to dial-in just the right amount of light for any scene, whether you need something extremely bright or not. There are even four different DMX dimming curves on both lights.
Nanlite has been making LED lights for video production and photography for 30 years, and the Forza 720 and 720B are the culmination of decades of refining, learning, and trying new ideas. They're marks of achievement, but also a signal of where things are going. Just like the content created by our users, Nanlite will continue to improve upon past accomplishments to make something even better tomorrow.
Thanks for checking out this article! If you have any questions about the Nanlite Forza 720 or 720B, we encourage you to contact us and we will respond as quickly as we can.