Posted by Sam Mallery on May 4th 2022
After a 2-year absence the 2022 NAB Show finally returned to Las Vegas Convention Center, and Nanlite was there to let its colors shine. After such a long break from in-person events, the team was eager to put their products on display so attendees could try them out and ask as many questions as they could possibly think of. NAB repeats itself every year somewhat mechanically, but this time it was genuinely appreciated by everyone. It was so nice to meet face to face again, and to talk at-length about lighting and creative production.
The booth was split into three sections. At one end was Nanlite, the middle was dedicated to NANLINK, and the other end was inhabited by our cinema-grade sister brand Nanlux. The mobile app NANLINK and the hardware products that accompany it, such as the WS-TB-1 Transmitter Box and the WS-RC-C2 handheld remote, all work with fixtures from either brand. Both teams helped each other out and got to know one another for the first time.
Since an NAB hadn't taken place since 2019, the majority of our products had never been shown at the show before. A large PavoTube display anchored the corner of our booth. Attendees were free to walk up and adjust the settings of the various tube lights with the NANLINK app, which was running on a mounted iPad. Some of the tubes on this display were being controlled by the WS-TB-1 Transmitter Box, and others directly through Bluetooth.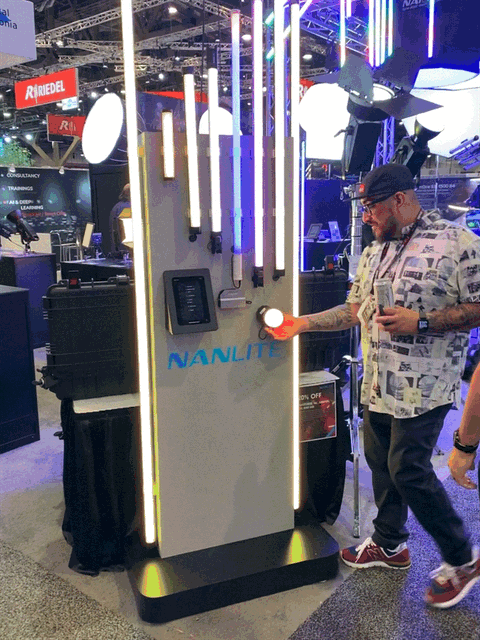 The new PavoBulb 10C and E27 Magnetic Mount were also on this display, and we synced the bulb's Hue Loop effect with some of the tubes. You can also see the new PavoTube T8-7X showing off the Driving pixel effect. A popular thing for the attendees to do was to turn all of the tubes up to 100% brightness with the app. We would walk over to it every so often and turn them all back down to 15% because it looked like the brightest slot machine in all of Las Vegas, and it was hard to approach without squinting.
On the opposite side of the PavoTube display were our 30X hard case kits. The crowd at NAB tend to be mostly serious production people, and this type of person truly appreciates equipment in hard cases. So, these two kits got a lot of attention. The top kit is our PavoTube II 30X 8-Light Kit, and our new PavoTube II 30X 4-Light Kit with Hard Case is below it.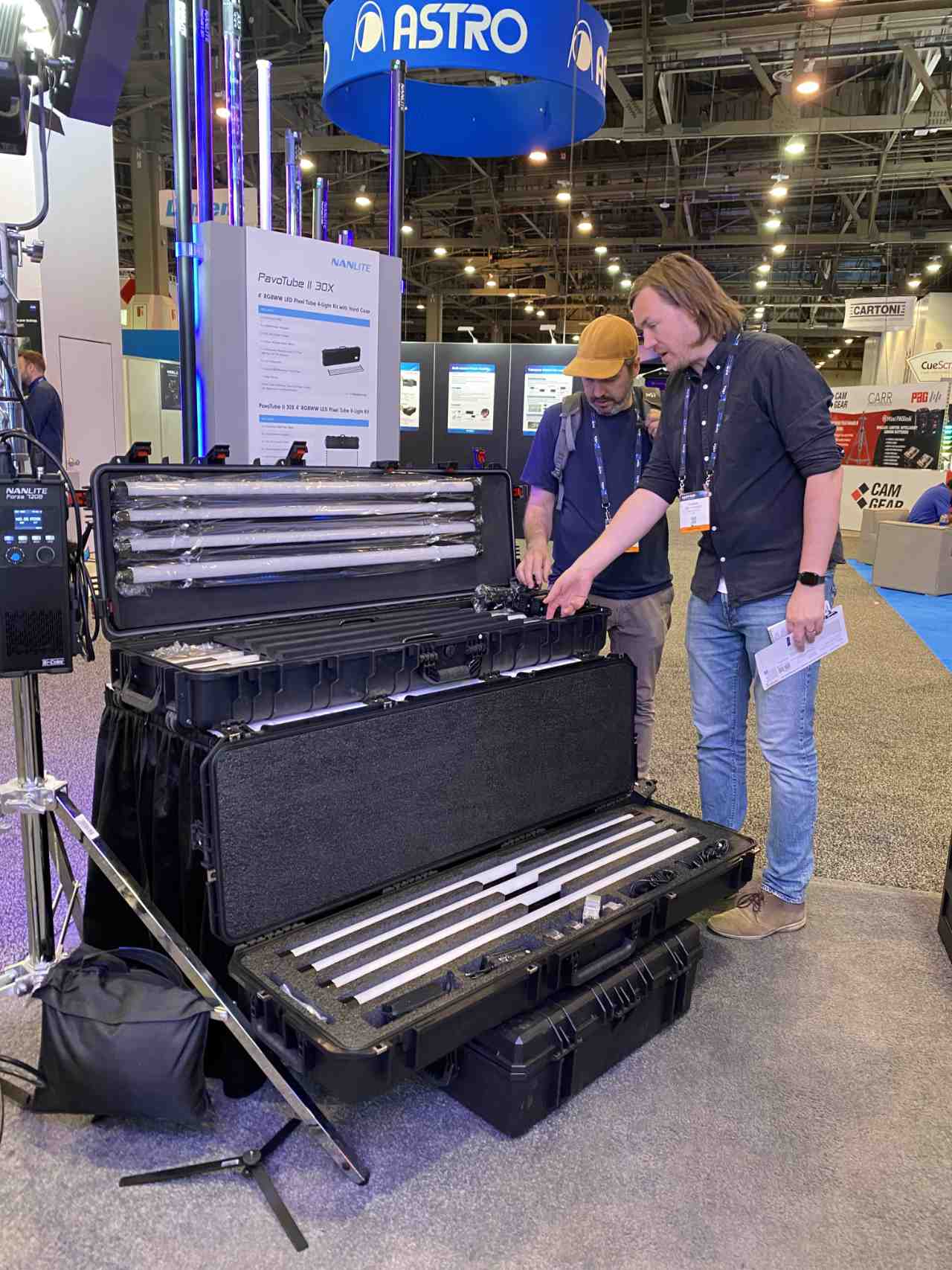 Flying high above the booth was an inflatable Nanlite and Nanlux donut. Fittingly, it was illumined by RGB LEDs, and it changed colors every few moments. In a big show like NAB, unconventional signs like these make it easy to find your booth, and, like recognizable skyscrapers in a city skyline, they also help you navigate around the entire floor. We were all happy to have the donut above us. Anyone who walked the floor at NAB certainly saw the name Nanlite.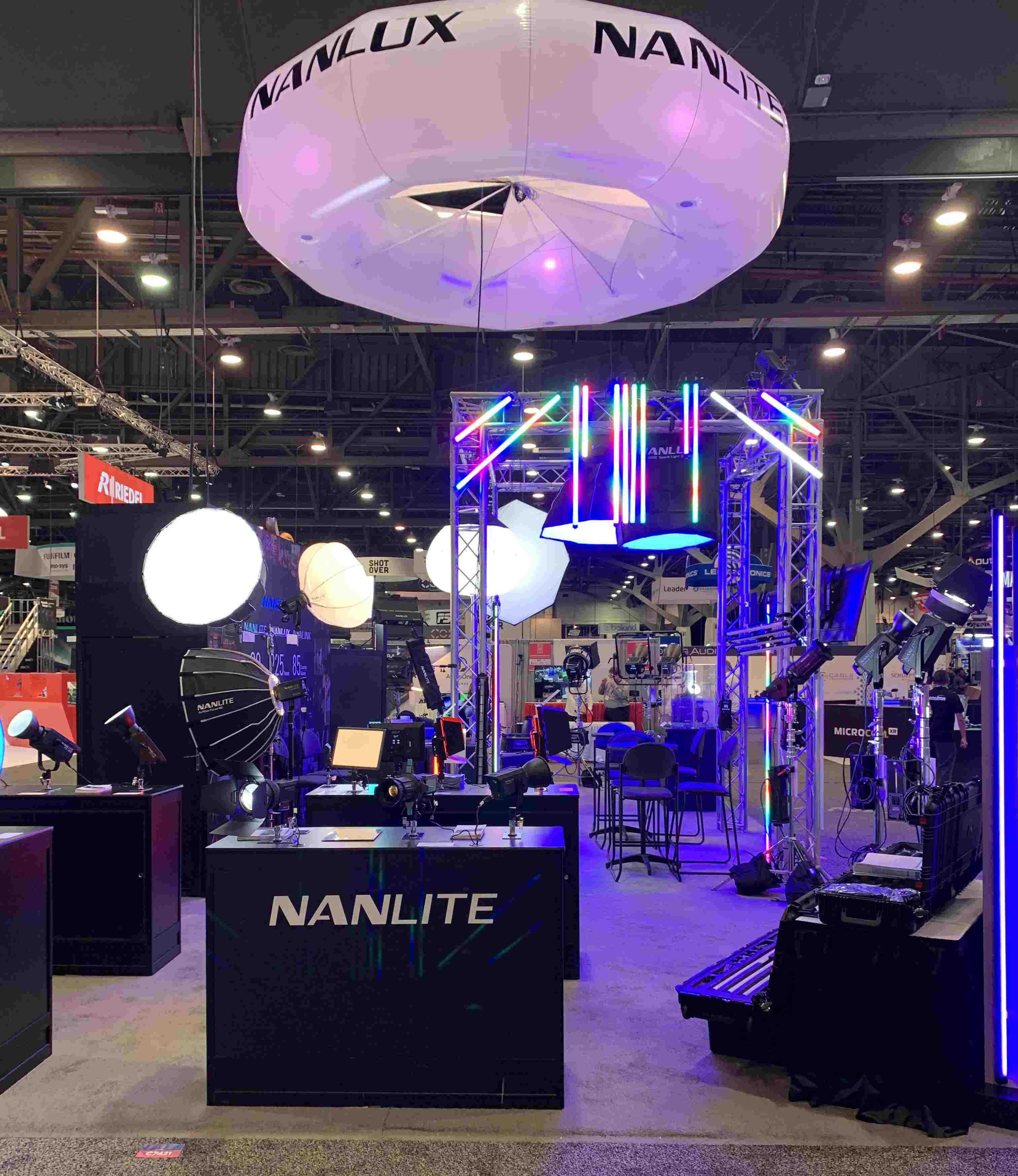 The new Forza 720 and 720B Spot Lights were on display at the show and both got lots of attention from the attendees. It was truly impressive to see how much light they could throw high up into the rafters of the massive convention center. The Forza 150, 60B, and 60 also turned lots of heads. Almost everyone wanted to play with the PJFMM projector and FL-11 fresnel. We heard it over and over again, "Wow, the Forzas are so small!" The new PavoBulb kits were also popular items among the show goers.
As much as we love talking about technical stuff with DPs and gaffers, an unmistakable highlight of the show was simply enjoying the company of our own teammates. Several of us had only met before in video meetings. Granted, we've had so many video meetings at this point that we know one another really well, but to be able to be together at as team in-person was a rare treat.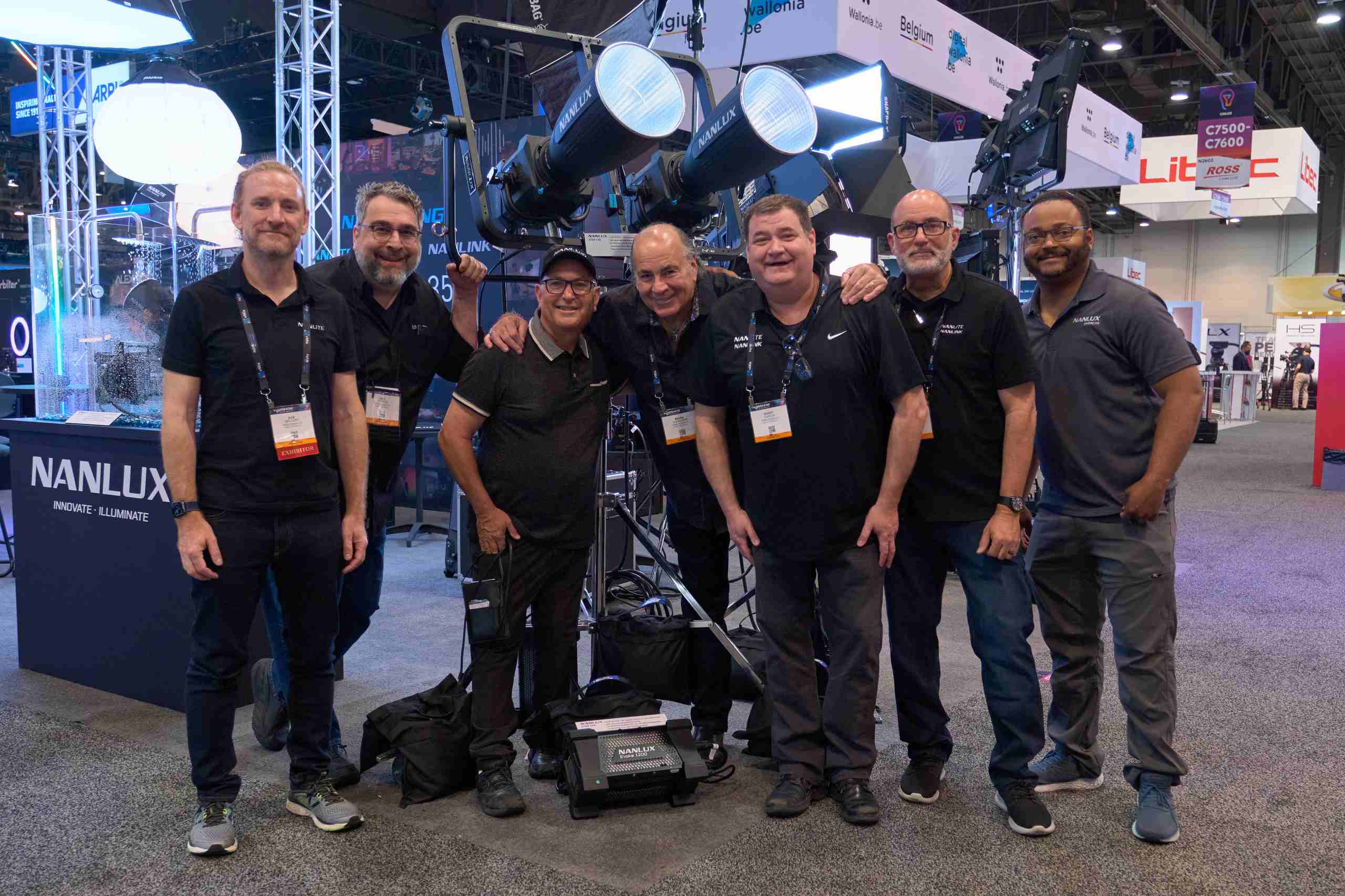 If you had the chance to visit our booth at NAB 2022, we are thrilled you stopped by! If you're sad that you missed it, don't worry. Start making plans now to see us in Los Angeles at the Cine Gear Expo from June 9th through 12th. See you soon!