Posted by Kelly Mena on Dec 5th 2019
With an ultracompact body that weighs only 1.8 lbs (0.82 kg) and is about the size of a DSLR body, the Nanlite Forza 60 is a COB LED monolight that packs a lot of punch into a tiny footprint. Don't let the size fool you, this light provides 18,820 Lux at 3.3' (1 m) at 5600K. Plus, it's incredibly color accurate with an outstanding CRI rating of 98 and TLCI of 95. [Editor's Note: the original Forza 60 has been replaced by the updated Forza 60 II]
Built to be dependable in the studio and on location, the Forza 60 features an all-metal body with a carbon-fiber overlay. It runs on AC power with the included adapter, but it can also run on two NP-F batteries (sold separaetly). The battery adapter doubles as a handgrip, so you can hold and position the Forza 60 without a stand.
The battery-grip accessory used to be sold separately, but now it's included with the Forza 60 Kit, along with a Bowens-mount adapter. You get $50 of useful accessories at no additional cost. The same kit is available for the bi-color Forza 60B.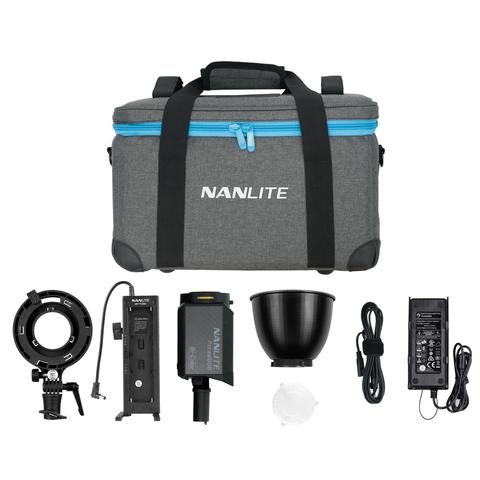 The Nanlite Forza 60 Kit includes a battery handgrip and a Bowens Mount adapter
A Bowens adapter is invaluable because the Forza 60 has the FM Mount built in. The compact FM Mount helps the fixture remain as small as possible when necessary. Because a Bowens adapter is now included, you can use the Forza 60 with a vast number of compatible light modifiers, such as the Nanlite Para 120 softbox.
Light modifiers and accessories for LED monolights
There are several excellent modifiers available that take advantage of the smaller mount of the Forza 60. It comes with an high-performance reflector that's compatible with the FM Mount, but there are several other modifiers and battery accessories available that we explain in detail in a dedicated post entitled Light Modifiers and Other Accessories for the Nanlite Forza 60 and 60B.
In addition to common controls, such as the ability to dim from 0 to 100%, the Forza 60 also has these built-in effects:
Flash 1 (flashes every 0.25 seconds)

Flash 2 (flashes every second)

Flash 3 (intermittent flashes between 1 - 6 seconds)

Storm 1 (flashes with random 0.2 to 5 second pauses)

Storm 2 (flashes with random 5 to 10 second pauses)

Storm 3 (flashes with random 10 to 15 second pauses)

TV (mimics the ambient light cast from a television set)

Bad Bulb (mimics the light of a faulty bulb)
There are several different ways to control the Nanlite Forza 60. The rear features two knobs and an LCD display. The left knob is dedicated to dimming, the right knob is multi-function for controlling mode, address code, and turning the fan on or off.
If you have the separately available Nanlite WS-RC-C2 remote control, you can adjust the brightness of multiple Forza 60 lights wirelessly. If you want to control more functions of the Forza 60 remotely with the NANLINK mobile app, this can be done with the separately available WS-TB-1 Transmitter Box.
Hopefully this article has been helpful! If you have any questions about Nanlite products, please contact us and we'll respond as soon as we can