Posted by Sam Mallery on Oct 11th 2021
The new Nanlite PavoTube II X-Series LED pixel tubes have arrived, and they represent a substantial leap forward in design, features, and capabilities for professional and enthusiast video producers and photographers alike. A central focus in their creation was listening closely to user feedback from our popular LED tube lights to make sure we delivered exactly what you need with this new generation. So, what's new about the PavoTube II X-Series?
App Control of the PavoTube II 15X, 30X, and 60X
First and foremost, the X-Series can be directly controlled with our new NANLINK mobile app. They have 10 new pixel effects and 15 practical effects, and you can group, sync, and control them all with the NANLINK mobile app. They also have an expanded CCT range of 2700K-12000K with green/magenta shift and full HSI control. These parameters are fully supported by the mobile app as well.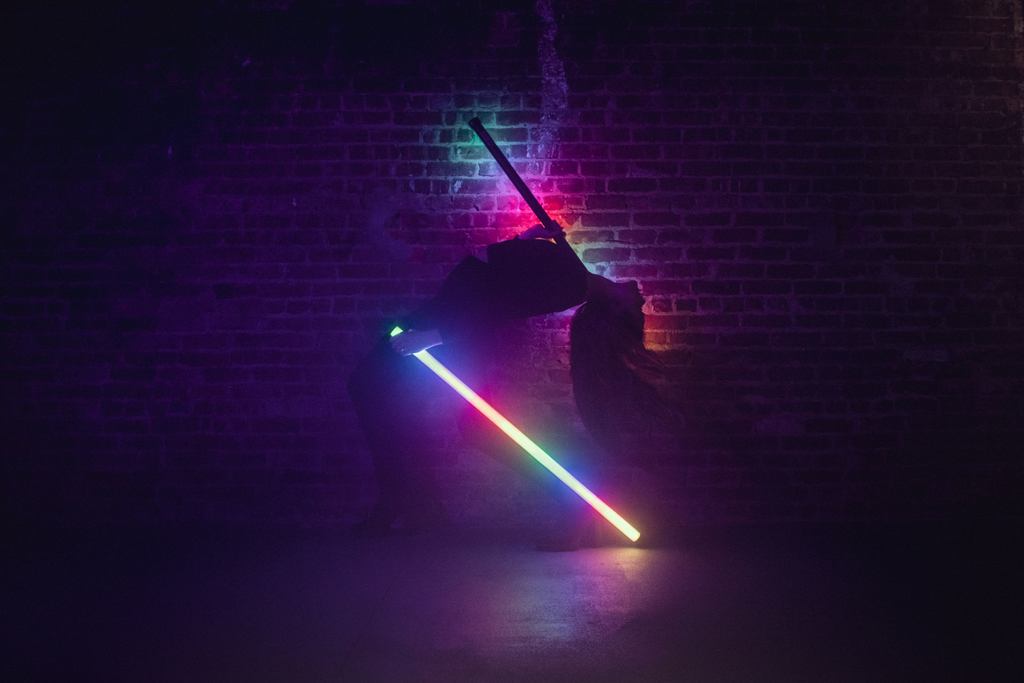 The new X-Series takes everything people love about our popular PavoTube 30C and 15C and improves upon them. However, they are not a replacement, the X-Series is an entirely new model line. They are brighter, more color accurate, and have durable metal construction. Their end caps are more visually appealing, and the internal diffusion has been improved so you always just see a shaft of light – not individual bulbs. They have more mounting options and a richer assortment of useful accessories. You can control them through DMX, 2.4Ghz, or Bluetooth and the new NANLINK mobile app gives you direct control of multiple fixtures using only a smartphone or tablet.
Available in Medium, Large, and XXX-Large!
There are 3 separate models in the X-Series: the 2-foot PavoTube II 15X, the 4-foot PavoTube II 30X, and the 8-foot PavoTube II 60X. They all have the same features and functionality and only differ in size. Because there are more internal batteries and light elements in the larger models, they will have longer run times and more output, but the overall idea is to think of them as the same fixture in three different sizes to suit any production and inspire creative ideas for imaging.

What's better than having a PavoTube on your shoot? Yup, having more than one. That's why the new X-Series tubes are available in bundled kits. The 15X and 30X are available in 1, 2, 4, and 8-light kits. The 60X is only sold in a 2-light kit. Every multi-light kit includes separate power adapters for every tube, making charging much easier. The included chargers can also be used to power the PavoTube II X models continuously when you need them to run uninterrupted on longer shoots.
A Complete Ecosystem of LED Tube Light Accessories
Because the new PavoTube II X-Series lights have a standard T12 tube diameter, every mounting clip made for the 30C and 15C is fully compatible. Feel free to mount and position two X-Series tubes with the Double Bank mount, or do the same with four tubes using the Quad Bank mount. If you want the ultimate in flexibility for positioning a single tube, check out the Swivel Ball Joint tube holder. The Transparent Polycarbonate T12 Clip that comes with the 30C and 15C works perfectly as well, and it comes included with every X-Series tube.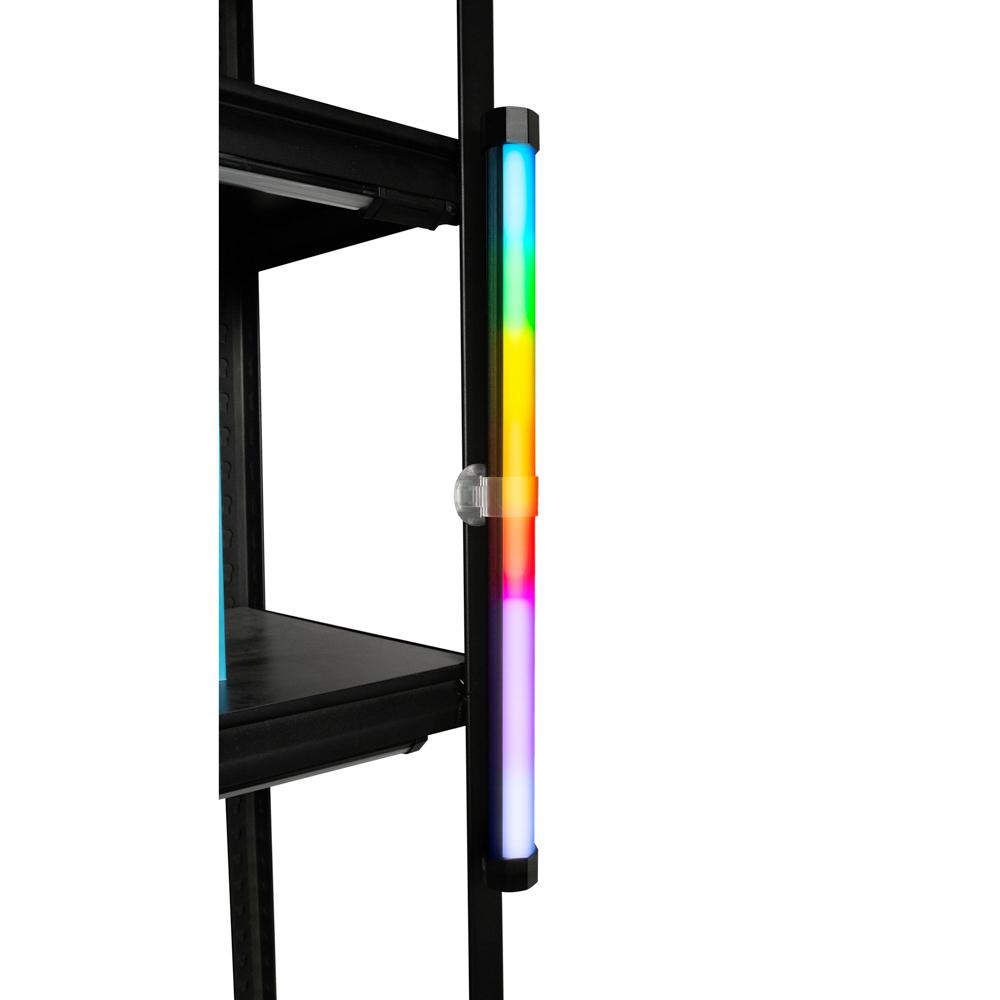 A similar type of T12 tube holder clip is being introduced with the X-Series called the Transparent Polycarbonate T12 LED Tube Mounting Clip with Magnet. Instead of having two 1/4 20 sockets it features a surprisingly strong magnet. One clip is powerful enough to confidently hold a 15X in place on a metal surface. It's compatible with all T12 tube lights, but there are several more new accessories that work exclusively with the X-Series.

Got ideas for how you would use a PavoTube II X in an environment with moisture or dust? Good news! You can chase after those ideas with the Waterproof Housing for PavoTube II 15X, Waterproof Housing for PavoTube II 30X, and Waterproof Housing for PavoTube II 60X. They're easy to use and have an IP68 certification that protect your tubes to a depth of 32.8 feet (10m). They have 1/4 20 sockets on both ends for mounting, and like the end caps of the PavoTube II X-Series, one side of the waterproof housing is hexagonal, which prevents it from rolling away and allows you to position the beam.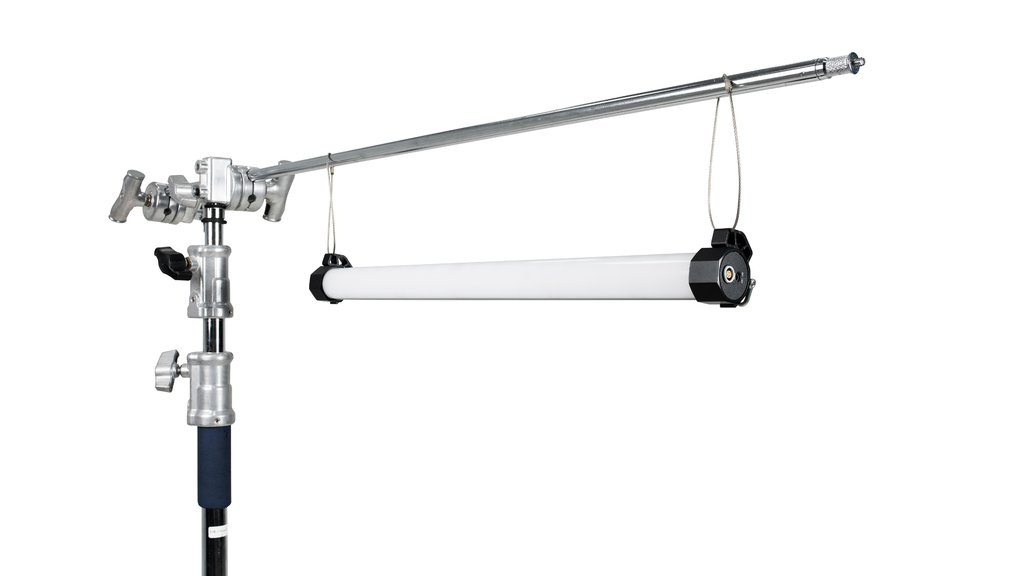 Every PavoTube II X-Series light comes with two "Eyebolts," which are small 1/4 20 screws with a mounting ring at the end. They can be attached to the base of the light, or the back. When you attach two Eyebolts to the back of a PavoTube II X and hang it horizontally, the light will be facing downward. If you want more options for positioning the light beam you can use the separately available Nanlite PavoTube II X Multi-Angle Mount. It attaches to the same 1/4 20 sockets on the back, but gives you three more mounting options so you have more control.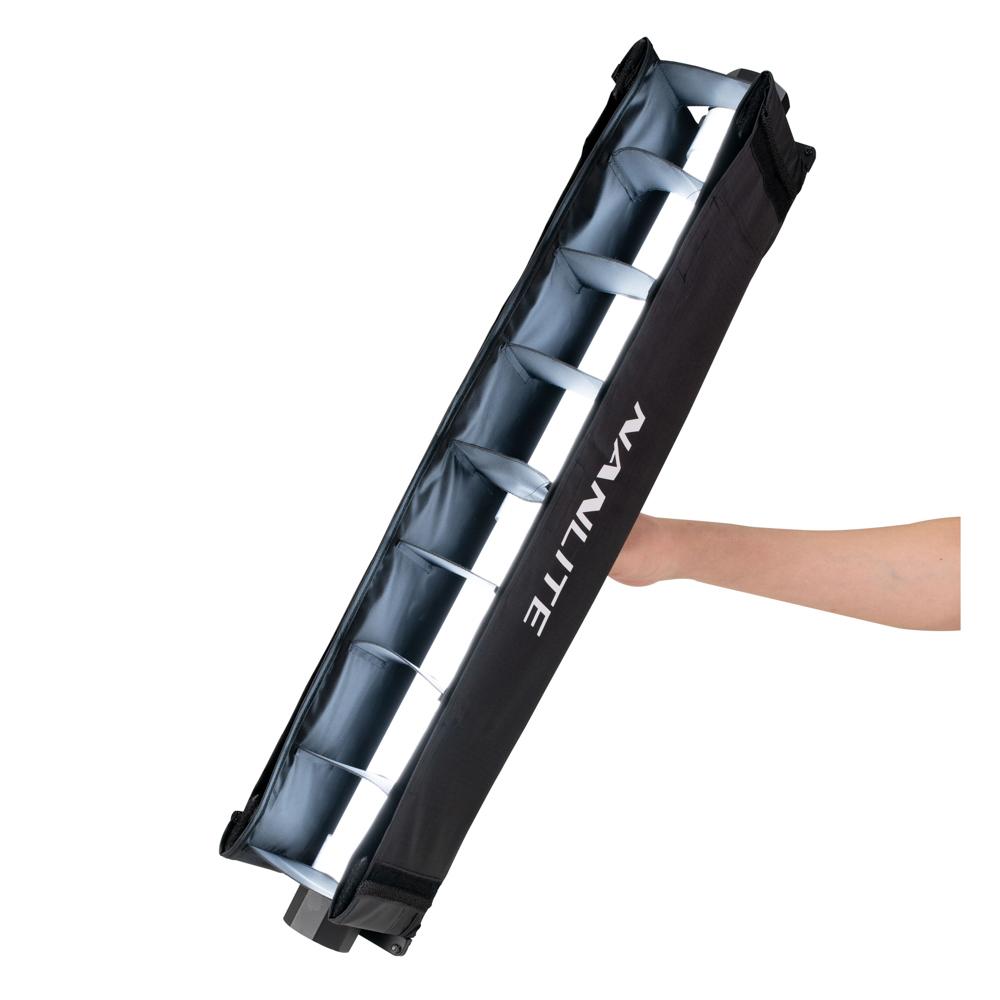 Controlling light is always desirable, so Nanlite is also introducing the Fabric Barndoor and Grid Kit for the PavoTube II 15X and Fabric Barndoor and Grid Kit for PavoTube II 30X. They are similar in design and function to the versions we make for the 30C and 15C tube lights, but the new models feature a door that allows you to easily access the rear control panel and screen on the X-Series lights. There is also an opening on the back that allows you to use various mounts, clips, and tube holders. Both openings can be closed to eliminate light spill, and the kits are compatible with other T12 tube lights as well.
Nanlite has also introduced a compact yet sturdy floor stand for the PavoTube II X tube lights. You can learn more about it and many more technical details about the X-Series in our PavoTube X vs PavoTube C — What's the Difference? post.
More is Coming to the NANLINK Mobile App
At launch, the new NANLINK app is only available on Apple's iOS, but we're hard at work on versions for both Android and iPadOS that we plan to release before the end of 2021. You can only directly control the new X-Series tube lights with the app at launch, but will be bringing this capability to every Nanlite fixture that has built-in Bluetooth as quickly as we can.
If you have Nanlite fixtures that don't have built-in Bluetooth, such as the PavoTube 30C and 15C, or the Forza 500, 300, and 60, you can control these lights with the new NANLINK mobile app if you also use the new WS-TB-1 Transmitter Box. Full details about this are provided in our dedicated post entitled The Impressively Powerful NANLINK Mobile App Is Here.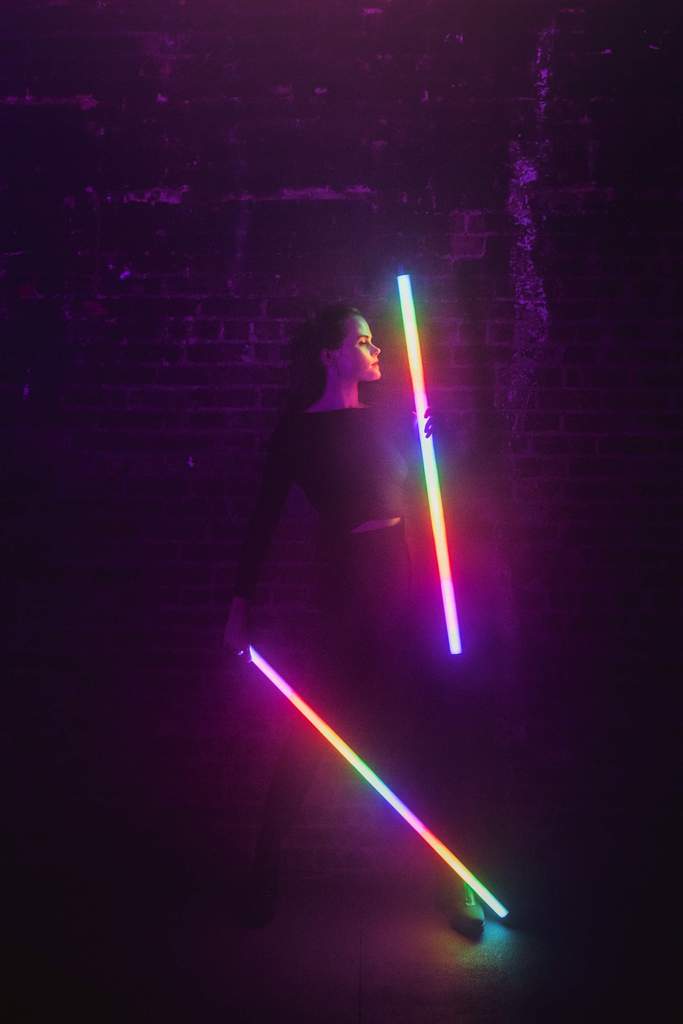 Inspiring Tools, Made for Creatives
One of the best things about making lights like the new PavoTube II X-Series is seeing the amazing images and footage that you create with them. We're thrilled to see how you will use the new features and capabilities of the X-Series! Be sure to take a look at the other articles we have about our new LED tube lights and NANLINK app: PavoTube X vs. PavoTube C — What's the Difference? and The Impressively Powerful NANLINK Mobile App Is Here.
Thank you for checking out this post! If you have any questions about the new Nanlite PavoTube II X-Series, please contact us and we'll respond as soon as we can.