Posted by Sam Mallery on Jan 10th 2023
When the original Nanlite Forza 500 was announced in 2019, it stood out from the crowd as an exceptionally compact and lightweight LED fixture that delivered an immense amount of output for its size. It took years for products to arrive from other manufacturers that could match its output power, but none of them were more compact or lightweight. As much as people loved the daylight-balanced Forza 500, it never had a bi-color counterpart—until now.
The long wait for an updated and upgraded Forza 500 II and a bi-color Forza 500B II is almost over. These two new models won't be available to purchase for a few more months, but we wanted to launch the Forza II family at the same time because they share a similar vision.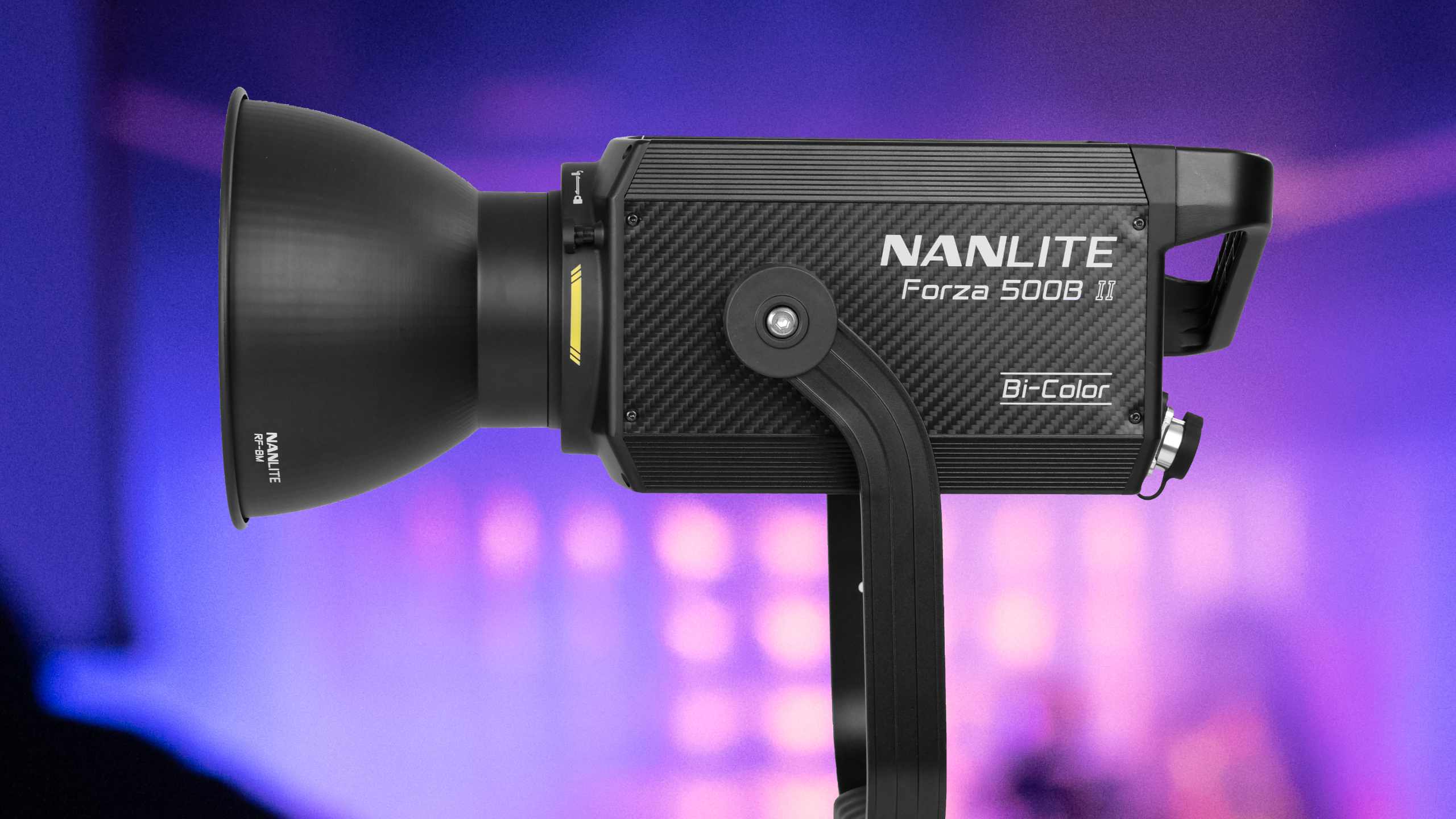 What's Different About Nanlite Forza 500 II and 500B II?
The new Forza 500 II is fairly different looking compared to the original Forza 500. The head of Forza 500 II is slightly longer and wider, but this tradeoff allowed us to make the Control Unit dramatically smaller. The yoke, including the lock and the entire base of the mount are all completely different.
The new Forza 500 II's feature G/M Adjustment
The new Forza 500 II's have our innovative W(RG) and WW(RG) light sources, which allows you to adjust the green-to-magenta by +/- 80. Since the Forza 500B II has both W and WW LEDS, a light chamber was added to manage the additional colors, similar to the one found on the Forza 60C. Not only do you get highly accurate light with high CRI and TLCI ratings, the G/M adjustment lets you easily fine-tune the color to match ambient light, and light from other fixtures, so your footage and images always achieve the best possible quality at capture.
Adjust Dimming in 0.1% Increments
This feature is not on our new Forza 300 II and 300B II Spotlights. The ability to fine-tune dimming in 0.1% increments is included in the top-of-the-line Forza 720 and 720B, and now it will also be present in the Forza 500 II and 500B II. This extra bit of control lets you truly dial-in the ideal amount of light for a scene.
Vastly Improved Yokes
The yokes on Forza 500 II and 500B II have been completely redesigned. They have new, single-sided, stepless locks that make it much easier to freeze the light in the position you want. They also have a forward curve that allows for greater tilting range when large modifiers are attached. Both yokes have umbrella mounts as well, for even more light-shaping options. The base of the yoke can be mounted on either Baby or Junior Pin stands. An ergonomic handgrip has even been added to make it more comfortable to hold and carry.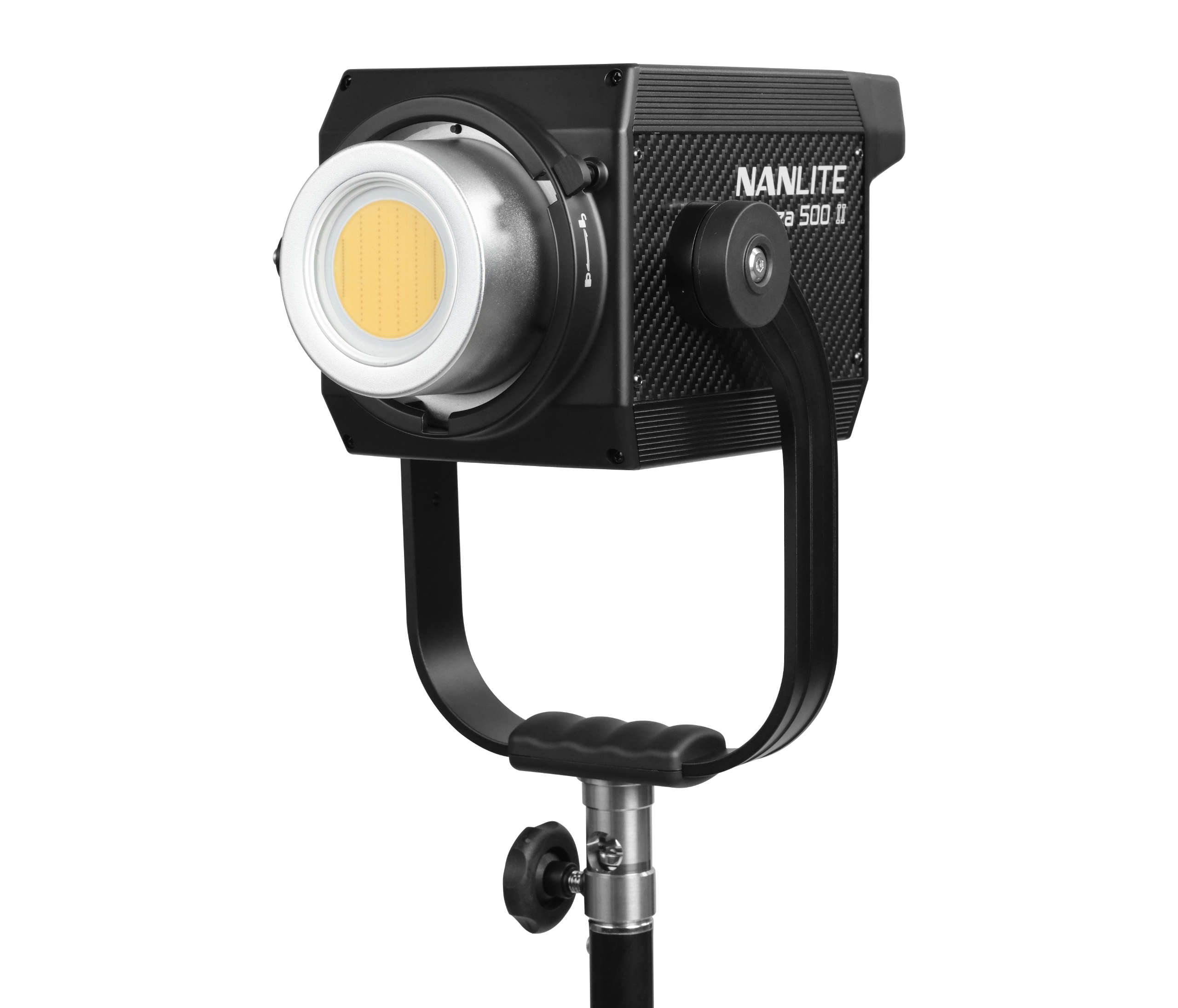 Radically Redesigned Control Units
The new Forza 500 II and 500B II have much smaller Control Units. They have integrated power supplies, and the V-Mount battery plates are on the sides for easy access, and to accommodate different sized and shaped batteries. All of the cables attach to the top, and flat bottoms are provided so you can rest them on surfaces when in use. Unlike the last generation, they do not have fans. Several metal loops for attaching safety wires are provided when rigging.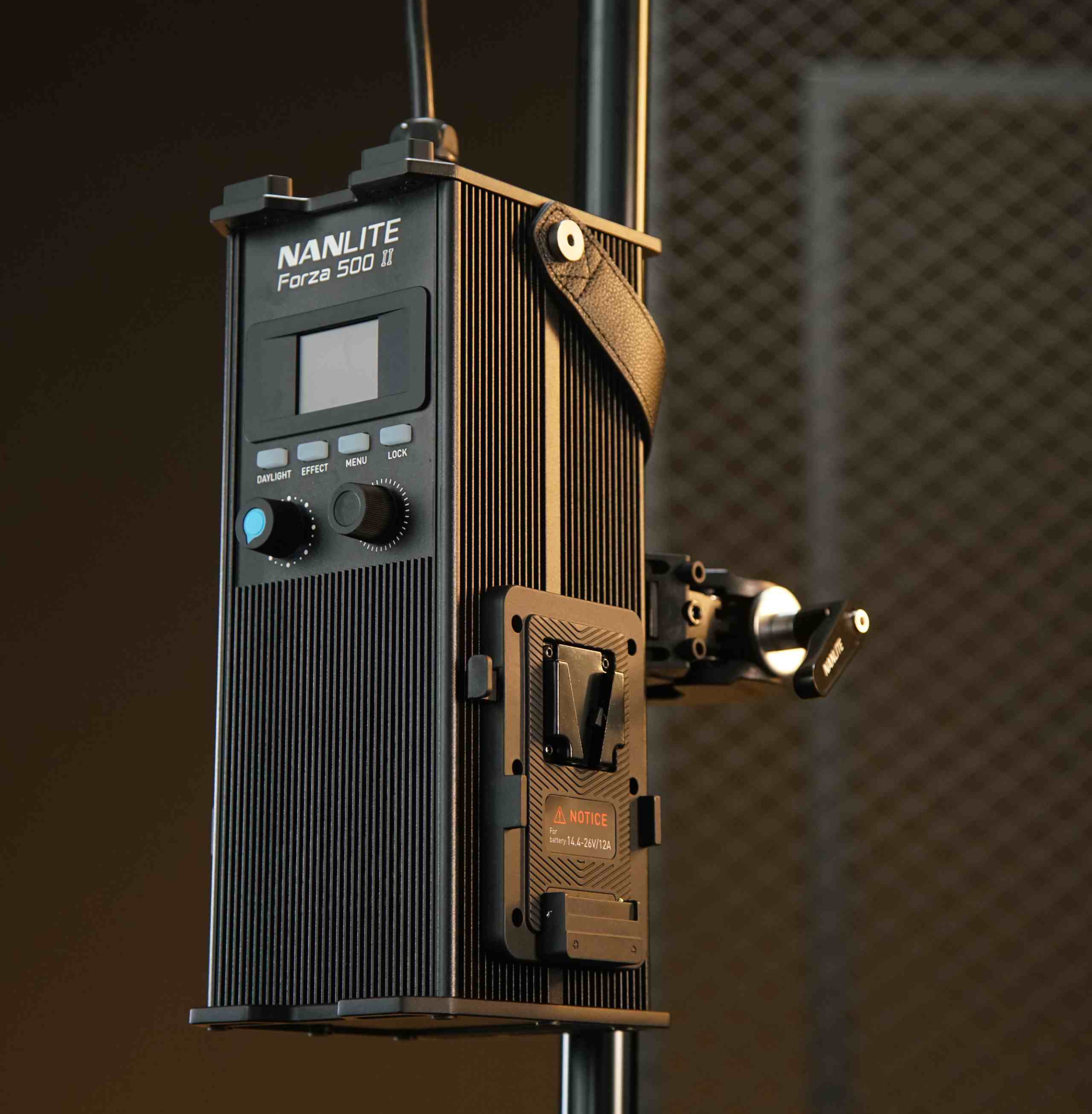 Direct Bluetooth Control Added
The original Forza 500 did not have Bluetooth, but both new Forza 500 II models have it, so they can be directly controlled by Android and Apple mobile devices that have the free NANLINK app installed. Like the old generation, the new Forza 500 II's also have 2.4G, which lets you control them with the WS-RC-C2 Handheld Remote or WS-TB-1 Transmitter Box for larger setups (both sold separately). They also have built-in DMX/RDM ports.
USB Ports for Firmware & Power
Both new Forza 500 II spotlights have USB-A ports so new features can be added in the future with firmware updates. These ports also output 5V/0.5A so they can be used to power wireless DMX receivers (sold separately).
Improved Quick-Release Clamps
The included clamps for attaching the Control Units to light stands have been vastly improved for Forza 500 II and 500B II. The durably built and easy to use Nanlite ASCPQRFZ Quick-Release Clamp is included, and it works on both round and square poles and trusses.
Runs On Different V-Mount Types
Forza 500 II and 500B II both work with 14.4V-14.8V and 26V batteries. The original Forza 500 could only run on two 26V batteries. This is another example of the increased versatility of these lights.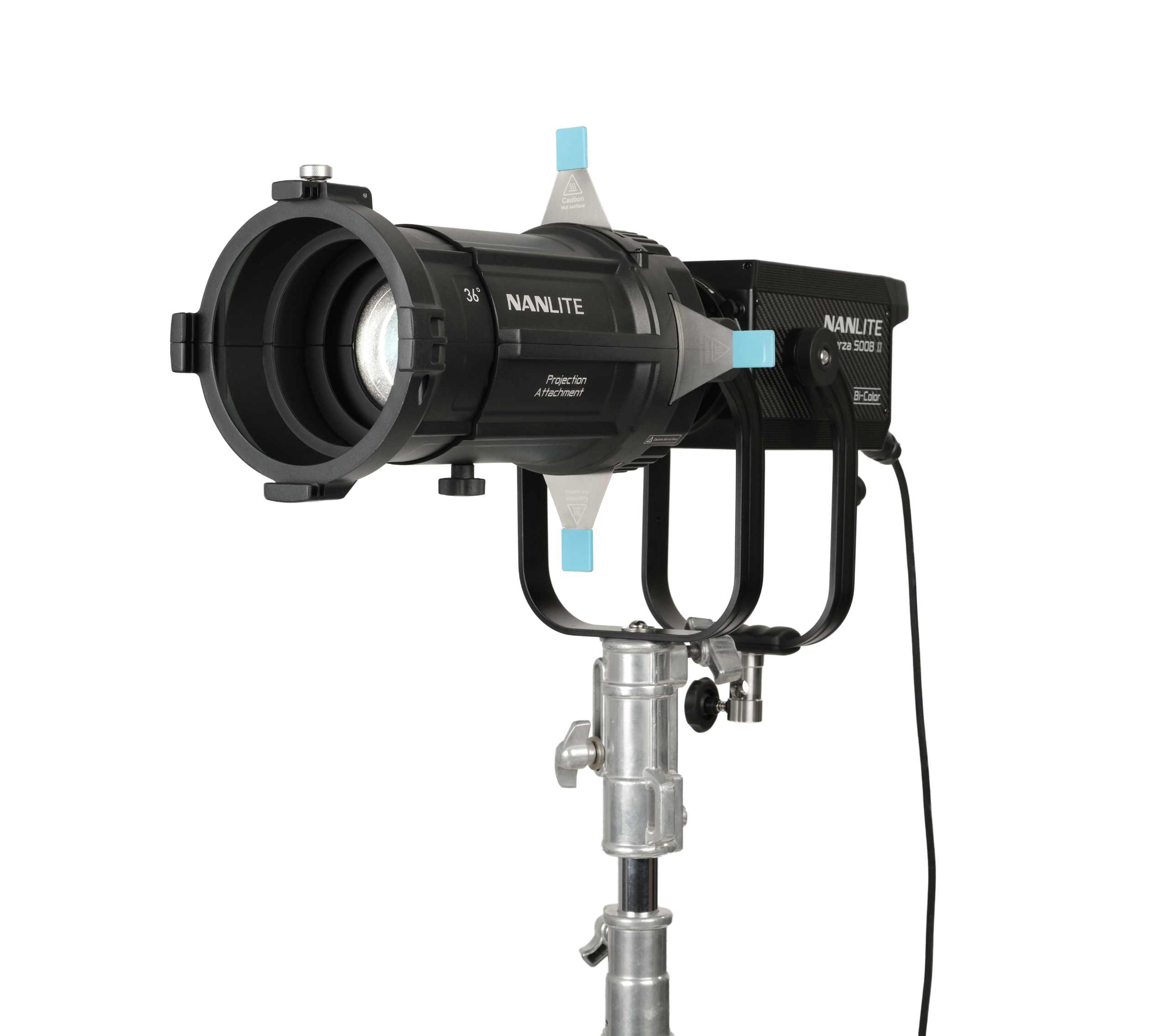 Forza 500 II with the PJ-BM Projection Attachment (sold separately)
Cables Are Much Longer
The included head cables that come with Forza 500 II and 500B II are 9.8 feet (3 m), and the power cables are 19.8 feet (6 m). If you need even more length to mount the 500 II's up high, you can get the 24.7-foot (7.5 m) CB-FZ-7.5M head cable, or the 39.5-foot (12 m) CB-FZ-12M head cable, both sold separately.
Protected COBs
The new Forza 500 II lights both have protected, glass-covered COB light sources. The glass on the 500B II is frosted, as well. This prevents damage to the light source when insects eventually flutter their way onto the hot COB when the light is operating. It's a tiny detail that's greatly appreciated by every professional gaffer on planet Earth.
Improved Carrying Cases
Nanlite Forza lights always come with good quality padded cases, but we stepped it up a notch. The cases have been redesigned, and now feature better cushioning and overall protection.
Fan Speed Control
The quiet fans built into the new Forza 500 II and 500B II have 4 modes: Smart, Low Speed, Full Speed, and Off. This feature was not present in the original Forza 500.
In a way, the new Forza 500 II and 500B II represent what we do best: Listening to the valuable feedback from our enthusiastic community of users and combining that insight with our latest innovations in LED technology. Our mission is to provide the best possible quality lighting fixtures, modifiers, and accessories at prices that are within reach for the majority of people, so your creative work always looks as good as it possibly can. In this regard, the new Forza 500 II and 500B II hit their targets perfectly.
Please take a moment to check out the other products we are launching today: Forza 60 II and 60B II, Forza 300 II and 300B II, and last but not least, PavoTube II 15C and 30C.
We sincerely hope this article has been helpful. If you have any questions about the new Nanlite Forza 500 II and 500B II, we encourage you to contact us. We will respond as quickly as possible.