Posted by Sam Mallery on Jan 10th 2023
As you can expect, we're about to say some really positive things about the new Forza 60 II and 60B II LED Spotlights, as this is the official Nanlite USA company blog. But even though we can't provide you with an unbiased opinion, we can still honestly tell you that both of these new lights are great. They're so small you can hide them behind an iPhone, so lightweight you can dangle them from a pinky finger without strain, they provide a crazy amount of output for their size, they're built tough, and there are many easy ways to control them either directly or remotely. Yes, we make these lights, and yes, they're sincerely awesome.
What's Different About the Nanlite Forza 60 II and 60B II?
If you placed the new versions of these lights beside the old models, it wouldn't be obvious which was which. This is partially because we got lots of things right in the original designs. Like the first generation, Forza 60 II provides daylight-balanced 5600K light, and Forza 60B II has a CCT range of 2700K to 6500K, but there are many aspects that have changed. The following are the most important advancements in the Forza 60 II lights...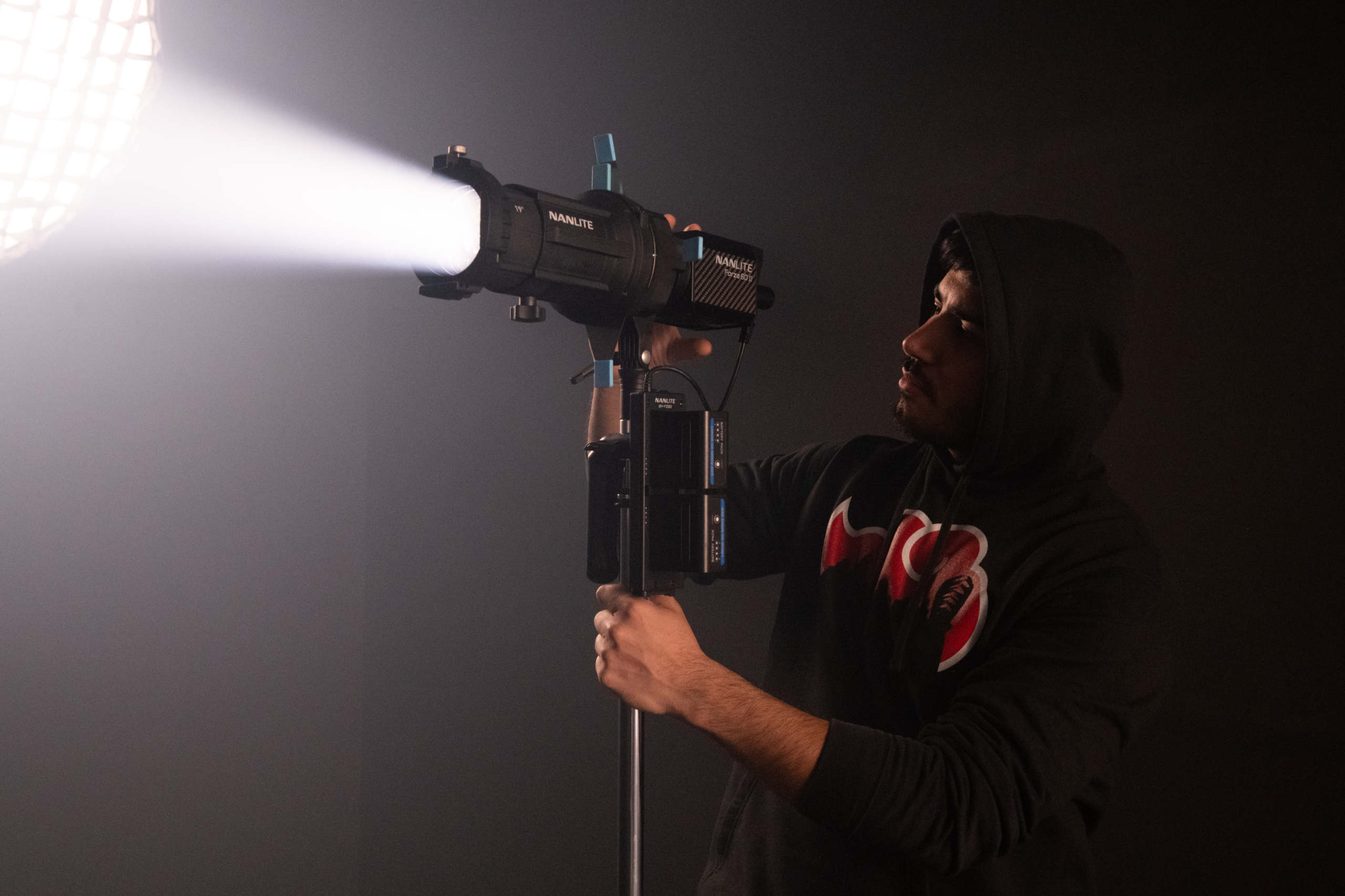 Forza 60 II with the PJ-FMM Projector (sold separately) and the included BH-FZ60 Handgrip
A Major Boost in Efficiency
The new Forza 60B II provides 15% more output, and the Forza 60 II provides 10% more output. They also get up to 28.5% longer run-times on battery power. They still run on AC with the included compact power supply, as well as on NP-F batteries with the included BH-FZ60 Handgrip, or on V-Mount batteries with the separately available BH-FZ60-V V-Mount Battery Handgrip. They can also be run on batteries with D-Tap ports using the CB-DT/DC D-Tap Power Cable (also sold separately). What's new with the Forza 60 II lights is their drastically improved efficiency. If you consider how expensive these batteries are, getting over 28% more life out of them is a meaningful improvement.
More Control Options
The new Forza 60 II Spotlights feature more comprehensive control options. The original Forza 60 did not have built-in Bluetooth, but both new Forza 60 II models have it. This means they both can be directly controlled with Android or Apple mobile devices using the free NANLINK app. In addition, they also have wireless 2.4G, which lets you control them with the WS-RC-C2 Handheld Remote or WS-TB-1 Transmitter Box for larger setups (both sold separately).
Another big new feature is that they have locking metal DMX/RDM ports that you can utilize with the CB-DMX-3.5C-1/2 Adapter Cable (sold separately). A Mode button has also been added to speed-up operation with the onboard controls. Whether one of the new Forza 60 II's is your first light, or if you're a seasoned professional in the prime of your career, these fixtures will be easy for you to pick up, start using, and get impressive results.
Quieter Fans
The built-in fans on Forza 60 II and 60B II are now 10 dBA quieter, which makes them even more useful on sound-sensitive sets. You can also turn the fans off completely when absolute silence is needed. This drops the maximum output down to 30%, but it can still be a useful feature to have.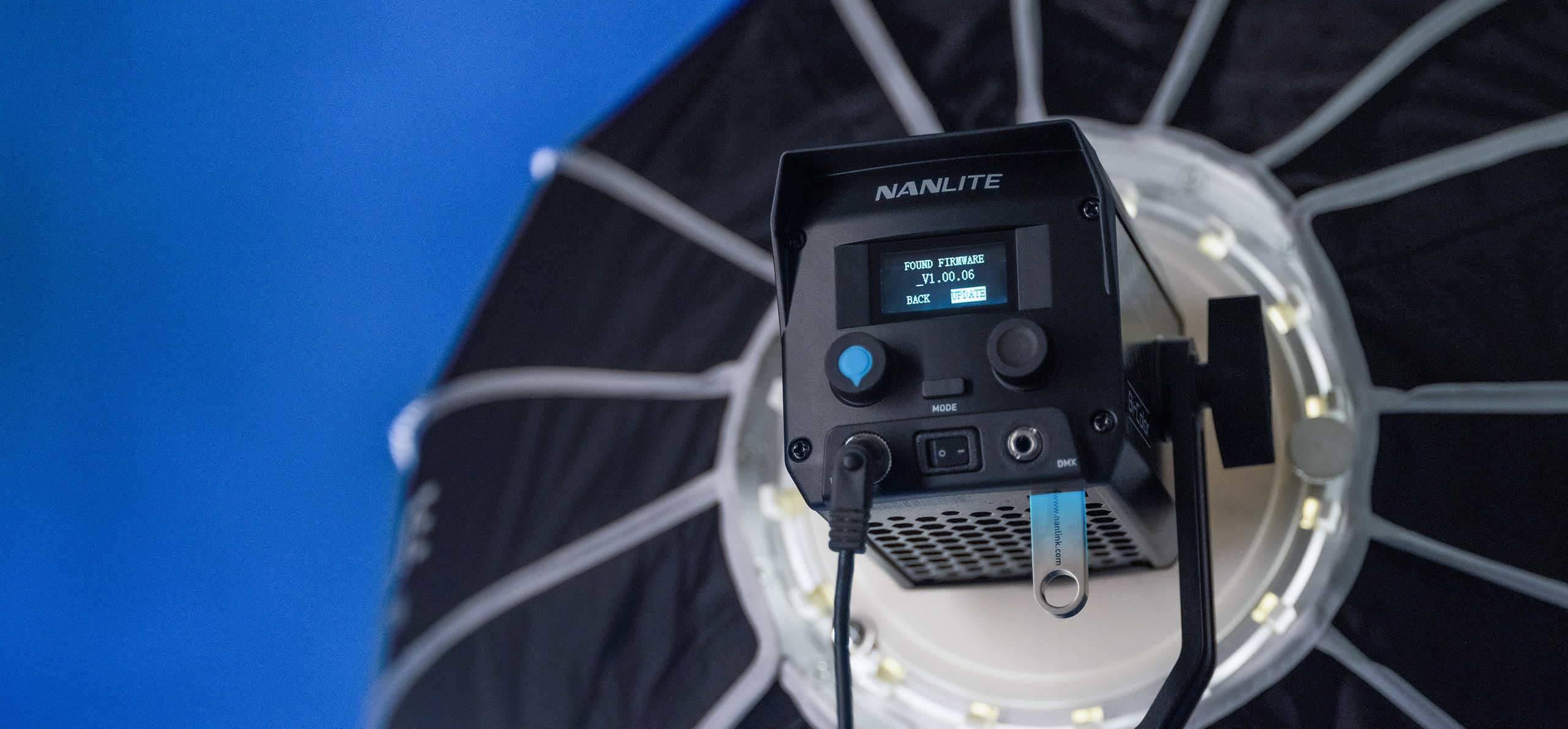 USB Ports for Firmware and Power
The first-generation Forza 60 did not have a USB-A port, but now both new Forza 60 II models are equipped with them. The ports allow you to load firmware updates, which means these lights can get new features added in the future, like when we added NANLINK app control to the original Forza 60B in December, 2021. These ports also supply a 5V/0.5A charge so they can be used to power wireless DMX receivers (sold separately).
Protected COBs
The new Forza 60 II models feature protected, glass-covered COB light sources. This might seem insignificant, but if an insect ends up landing on the COB of these lights when they're operating, the fixture will not be damaged. It's a small detail, and a big deal.
Included Mini Reflector
The new Forza 60 II models come with the Nanlite Forza 45 Degree Mini Reflector, which is the same notably compact reflector that comes with the Forza 60C. It's a useful light-shaper to have, and since it's smaller, it creates more available space in the included padded carrying bag.
The new Forza 60 II lights both feature the compact FM Mount, which has its own ecosystem of modifiers, like the popular Nanlite Forza Softbox with FM Mount, the FL-11 Fresnel Lens (which comes with a set of metal barn doors), and the always cool-to-the-touch PJ-FMM Projection Attachments.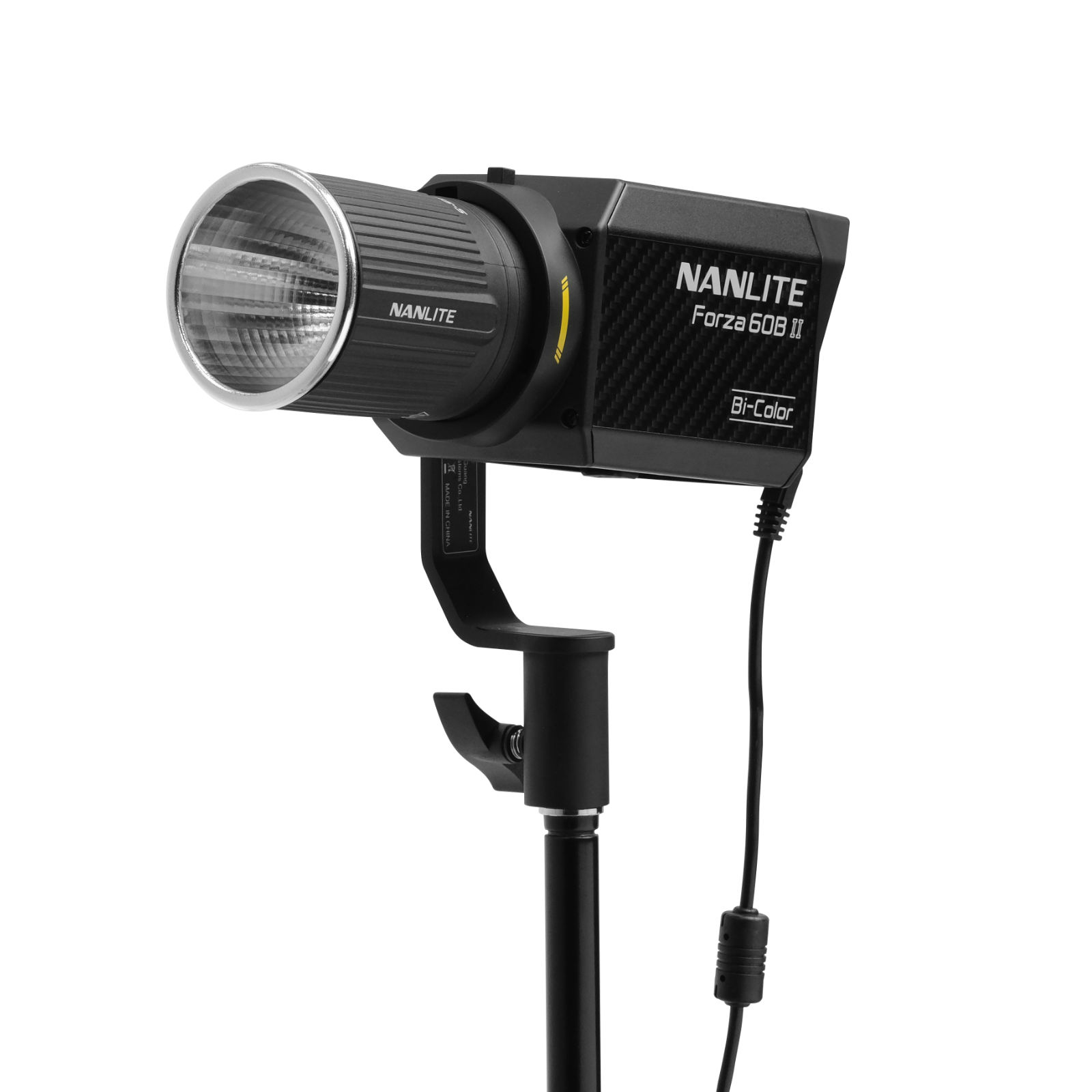 Think of these fixtures as comprehensive kits that come with the key components you need to get beautiful, shapeable light in the studio and in the field. The aforementioned BH-FZ60 Battery Handgrip and Mini Reflector are included, but you also get the ASBAFMM Bowens Mount Adapter, which makes these lights compatible with a vast number of light modifiers from both Nanlite and other manufacturers. This adapter has an umbrella mount as well, for even more light-shaping options. You also get the compact power adapter, which has a built-in V-Mount battery plate, and a loop so it can be hung from a light stand. A padded carrying case with a pocket is included as well, which safely holds everything.
Please take a moment to check out the other products we are launching today: Forza 300 II and 300B II, Forza 500 II and 500B II, and last but not least, PavoTube II 15C and 30C.
We sincerely hope you enjoy using these lights, and that they help you in your efforts to tell stories, communicate ideas, and create engaging images. If you have any questions about the Nanlite Forza 60 II and 60B II, we encourage you to contact us. We will respond as quickly as possible.